Ogunquit
A bustling and beautiful place by the sea
By Mimi Bigelow Steadman
Tiny Perkins Cove, Ogunquit's only harbor, is primarily the realm of local boats—with space for a few visitors on the seaward side of the pedestrian drawbridge. Photo by MImi Steadman
On a walk along Ogunquit's Marginal Way, I experienced a rare sighting: kids who weren't staring at smart phones. Instead, they were scrambling over giant rocks and calling out to their parents as they discovered seashells abandoned by the departing tide.
Bordered by beach roses and bayberry, this ultra-scenic paved path is a jewel in the crown of a town whose name means "beautiful place by the sea" in Abenaki. The perfect place to unplug, it stretches for just over a mile between Ogunquit Beach and Perkins Cove, threading the "margin," or narrow space, between land and sea. On that bluebird day, I also encountered single saunterers like me, a fellow gliding along in his electric wheelchair, teenagers, and twosomes of varying ages.
I'd just come from Perkins Cove, a pocket-sized inlet spanned by an arched pedestrian drawbridge. "It's true," harbormaster Fred Mayo told me. "We let the tourists push the button to open and close the bridge. Sometimes it gets a little crazy. I've seen people hold their babies' hands up to the button."
This skinny, shallow cut isn't for beginner boaters. "You must be adept at handling your vessel," Mayo advised. Even then, Ogunquit's only harbor can be challenging for visitors. The small mooring field beyond the bridge is reserved for local commercial and pleasure boats. In the outer harbor, tie-ups are permitted at a long, floating dock, but it fills fast. "You have to get here early," Mayo said. "People like to come over from Kennebunkport for lunch." There are also two overnight guest moorings.
Once the picturesque domain of fishermen and artists, Perkins Cove has become a tourist magnet. As with dock space, parking is scarce—I was lucky to score a spot in a paid lot. At the rustic Lobster Shack, one of several eateries and shops in repurposed fish shacks, I tucked into a perfect lobster roll stuffed with meat fresh from the dock where the 17 local lobstermen unload their catch.
What this stretch of coastline lacks in good harbors, it more than makes up for with broad sands. On a barrier peninsula carved from the mainland by the Ogunquit River, three-mile-long town-owned Ogunquit Beach invites quiet walks during the off-season.
On summer days, it's thronged with sun-lovers who stake out their spaces with colorful umbrellas and lounge chairs.
The village's compact downtown also overflows with visitors in the high season. Browsing the many appealing shops, they're sorely tempted at Bread and Roses Bakery or Harbor Candy Shop, where the same family has made chocolates since 1956. With more than 50 eateries within 4 square miles, no one goes hungry here.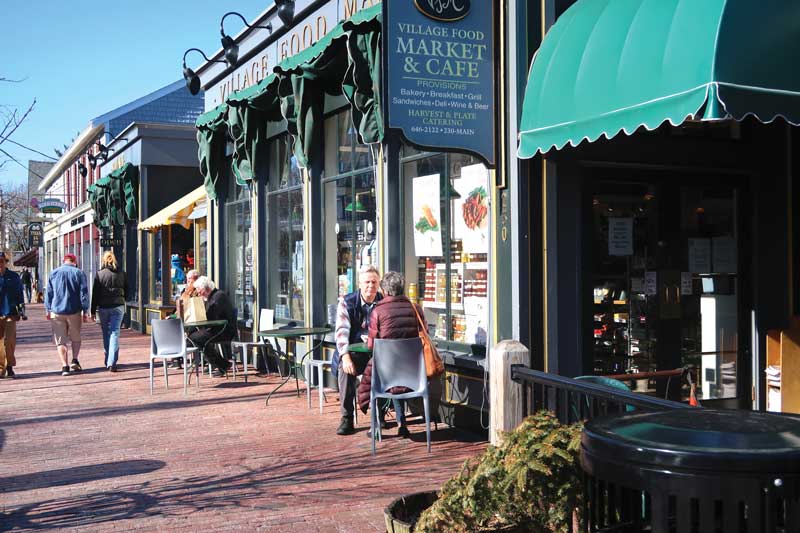 In the heart of the village, brick sidewalks lead to an inviting array of shops, cafés, and bars. Photo by MImi Steadman
Ogunquit offers lively after-dinner choices, too. There's a sing-along piano bar at the Front Porch; and at Jonathan's, upcoming performers include Judy Collins, Tom Rush, Noel Paul Stookey, Peter Yarrow, Jonathan Edwards, Paula Poundstone, and Bob Marley. A five-minute walk away is the revered Ogunquit Playhouse, an 86-year-old pioneer of the summer-stock circuit. From May through October, its stage lights up with a series of Broadway-caliber musicals, this year including Jersey Boys and Cabaret.
The playhouse's founders were drawn to Ogunquit in 1933 because of its notable arts colony, established in the late 1800s. The colony's legacy lives on in local galleries and the small but excellent Ogunquit Museum of American Art. As soon as I entered its lobby, a painting-worthy seascape framed by floor-to-
ceiling windows commanded my attention. Like the Marginal Way and Ogunquit Beach, the stunning view confirmed yet again that this charming village is truly a "beautiful place by the sea." 
---
Contributing Editor Mimi Bigelow Steadman lives on the Damariscotta River in Edgecomb.
If You Go to Ogunquit
On the Water
The floating dock in Perkins Cove (5 feet at low tide) accommodates yachts up to 42 feet. Available on a first-come, first-served basis, tie-ups are $20 per hour. Reserve up to two weeks in advance for one of two moorings; the overnight fee is $60. If you come by land, book a sail with Finestkind Cruises on their cat-ketch, sprit-rigged replica of a 19th-century lobstering vessel, or a sightseeing cruise aboard one of three wooden motor vessels.
Shopping
Take time to check out the shops on Shore Road, Beach Street, and Main Street. Personal favorites include On the Main, Spoiled Rotten, and Revelations. Do not miss the Harbor Candy Shop, delightful purveyor of all things sweet including chocolates made on site in the glassed-in kitchen. As I paid for my chocolate-dipped ginger, I heard a child declare, "Mom, I'm not ready to leave." I totally agreed.
Dining
It's hard to resist eating lobster in Perkins Cove. Half-a-dozen eateries include Footbridge Lobster's takeout window, the Lobster Shack, Barnacle Billy's, Oarweed Cove, and the upscale M. C. Perkins Cove. Ogunquit's many other restaurants offer creative menus featuring everything from burgers and sandwiches to Italian, Asian, and Mexican, to plenty of seafood. En route to a picnic on a Marginal Way bench, pick up delicious prepared foods at the Village Food Market and a sweet treat at Bread and Roses Bakery.
Share this article:
2023 Maine Boat & Home Show

Join Us for the Maine Boat & Home Show!
Art, Artisans, Food, Fun & Boats, Boats, Boats
August 11 - 13, 2023 | On the waterfront, Rockland, Maine
Click here to pre-order your tickets.
Show is produced by Maine Boats, Homes & Harbors magazine.