A Letter from Matinicus - The Littlest Caucus
The Littlest Caucus
By Eva Murray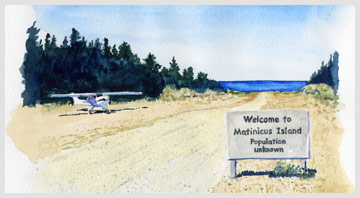 Illustration by Ted Walsh
It was 2004, and the party leader said, "It's the highest turnout that we've ever seen in the history of the Democratic Party in Maine." With the north wind blowing a screeching gale, as usual, and the Matinicus chill factor measurable in degrees Kelvin, I put on my Rocky the Flying Squirrel hat, scraped the windshield of Betsy's Subaru, during which procedure the passenger-side wiper fell off, and started that solid Republican riceburner up, to attend the Democratic Caucus on Matinicus Island. I hoped that the Subaru's owner wouldn't mind; she always voted straight GOP, except when Chellie Pingree was on the ballot. I am the substitute deputy registrar, and of course, the registrar of voters is present prior to the start of a caucus to register any new voters who may wish to participate. Jasmine is the town clerk this year, but she was busy on the mainland at the time and so not available. Paul the tax collector said he was enough of a town clerk to issue hunting licenses, but being occupied with various people's frozen pipes he didn't have time to sit at elections, so he and I split the deputy position. I used to be town clerk anyway.

Besides, Bill had baked a cake. Bill is fond of historical trivia (as evidenced by the details in his annual Groundhog Day Newsletter), and explained to me how the Democratic Party had once been referred to as "the party of rum, Romanism and rebellion." Not an entirely acceptable expression in modern parlance, but we're generally in favor of rum and rebellion. Needless to say, he baked a rum cake. It was very good, with whipped cream and chocolate icing and nuts. Rum and nuts. Bill is the owner and operator of Tuckanuck Lodge, our only bed-and-breakfast (and not Tuckanuck Lounge, as it was once called in the paper), and he was hosting the caucus at his place. He had requested the voter list from the town office a couple of weeks prior, received a couple of absentee ballots from Democrats who were spending the winter on the mainland, and gotten all the appropriate paperwork except for the municipal by-laws, because we couldn't locate any such document. He had everything in order. We counted four registered Democrats physically present on the island that Sunday: Bill, Ken, Pat, and me. I'm not even a real Democrat. I am most generally an "unenrolled." Last year, I happened to have registered just to vote for a particular island-connected candidate in the primary. (That was a hard decision, as I could just as easily have registered Republican to vote against the standing sheriff in the other primary, since we rock-rats considered him to be rather useless). It used to be said that Matinicus was predominantly Republican, but in recent decades it's been a pretty close three-way split, with the two parties and the unenrolled. We had a Green Party for a year, but she left to teach in Rumford. Bill and I ate big slabs of cake and voted, or caucused, and then discussed issues of politics such as how a man's imperfections fade in retrospect when somebody even itchier comes on the scene. For example, how we resented Dick yelling at us each day in the post office, but rallied behind him when that new fellow showed up with an attitude, a Bible, and a sidearm. Or our commander-in-chief's father, who was not always so articulate himself, but was at least a real pilot. Other political discussion touched on whether husky dogs would inevitably threaten poultry, and the relative merits of organized religion. Candidate Kucinich was an item of some local interest because it was discovered that he had fought to defend the Cleveland Municipal Electric Company, when he was the young mayor of said city. Municipal power companies being something near and dear to us, we thought perhaps Cleveland might make us a "sister city." I'm not quite sure what Cleveland would think of that. Eventually there were no problems left to solve, and I had to get the Subaru out of there before it realized I was asking it to do Democratic duty. The weather hadn't gotten any balmier and Ken, being 80 years old, was most likely not much for venturing outside. I called Pat to tell her about the cake (my "get out the vote" effort.) This all reminded me of the place in Dickens's "A Christmas Carol" where nobody takes much interest in attending Scrooge's funeral. Somebody says something along the lines of "I'll go, if there is to be a lunch provided." Thank you, Bill, for doing it, for bothering, even though there were only a couple of people. It mattered a great deal that the option to vote existed, even for so few. I say this in defiance of what might seem like common sense.We hear all the time how our votes don't matter. That's entirely possible. On this small-scale, local level, however, it is exceedingly important. I say this in defiance of apathy, conspiracy, and scandal; of the feeling that "we can't do anything about it;" of the worry that democracy's dead. We can't give it all up quite so easily. I say this in defiance of attrition, cabin fever, frozen pipes, lethargy, and ennui. Thank you also for the cake. I really showed up for the cake. Next trip to the mainland I'll pick up some new wipers for the Subaru.

Footnote: I submitted this column to a local newspaper four years ago, and it seems that not much has changed as we prepare for the 2008 caucuses. Betsy's old Subaru is still around, although the brakes are shot. I am still the on-again, off-again town clerk, and Ken's here too, only he's 84 of course. Oh, and Dennis Kucinich seems to still be around, too.
Share this article:
2023 Maine Boat & Home Show

Join Us for the Maine Boat & Home Show!
Art, Artisans, Food, Fun & Boats, Boats, Boats
August 11 - 13, 2023 | On the waterfront, Rockland, Maine
Click here to pre-order your tickets.
Show is produced by Maine Boats, Homes & Harbors magazine.