The Bateau: Forgotten Workhorse of Maine's Rivers
Way Back When | Photographs From Maine's Past
By Ronald Joseph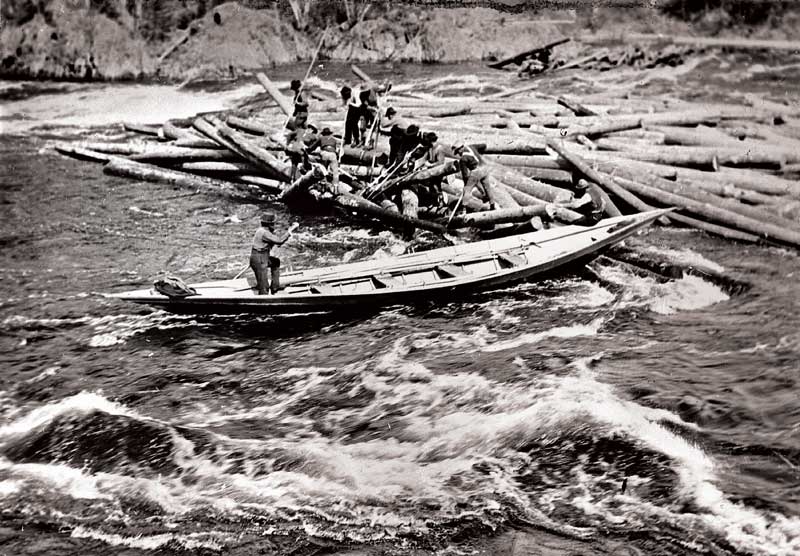 Photo courtesy Patten Lumbermen's Museum
In September 1846, Henry David Thoreau stepped into a bateau on the West Branch of the Penobscot River and was smitten. In The Maine Woods, published in 1864, he wrote, "There were six of us with our packs heaped up near the bows, with instructions not to move in case we should strike a rock. We pushed out into the first rapid. With Uncle George in the stern, and Tom in the bow, each using a spruce pole about twelve feet long, pointed with iron, and poling on the same side, we shot up the rapids like a salmon. I, who had had some experience in boating, had never experienced any half so exhilarating before."
The "light and shapely vessels," Thoreau added, were "from twenty to thirty feet long, only four or four and a half wide, sharp at both ends like a canoe, with the bottom perfectly flat."
The bateau was brought to North America by Frenchmen in 1603. The versatile utility boat was ideal for transporting trappers and trade goods throughout the interconnected waterways of the vast wilderness in what later became the state of Maine. By the 1830s, when Bangor was the lumber capital of the world, hundreds of bateaux, made in nearby Old Town, were essential to untangling log jams on the Penobscot River, like the one shown in this circa-1900 image from the Patten Lumbermen's Museum. Two men hold the boat steady, while river drivers use peaveys and pick poles to free tangled logs. Those who drowned in the process were memorialized by the hanging of their hob-nailed boots from shoreline trees.
Following Maine's last log drive in 1976, the bateau became a relic. Today, the craft Thoreau described as a "mongrel between the canoe and the boat" is being resurrected as a drift boat—a fly fishing variation of the bateau—with  oarsmen plying the same rivers once traveled by French explorers, Benedict Arnold, Thoreau, and generations of colorful lumberjacks. 
Online Bonus Videos:
 "From Stump to Ship" by Alfred Ames, a 27-minute film about a 1930's logging operation.
"The Last Log Drive"
Share this article:
Digital Edition Available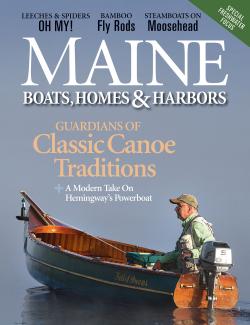 Can't get to the store to buy your magazine? We deliver the stories of Maine's coast right to your inbox. Sign up here for a digital edition.