Maine Yacht Center: Portland's Eclectic Home of Offshore Thoroughbreds
Boatyard Profile: Maine Yacht Center
By Ted Hugger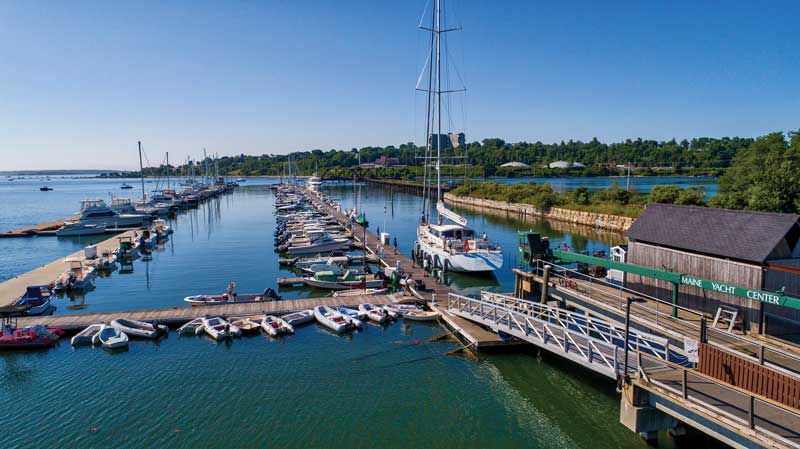 A 300' concrete, wave-attenuating dock system protects 100 deep-water slips at the Maine Yacht Center. Photo courtesy Maine Yacht Center
It's a habit. Anytime I'm driving north on I-295 out of Portland, Maine, I can't help but look toward the water, beyond the iconic Burnham & Morrill baked bean factory to a forest of masts and the sprawling docks of Maine Yacht Center on the eastern edge of Portland Harbor.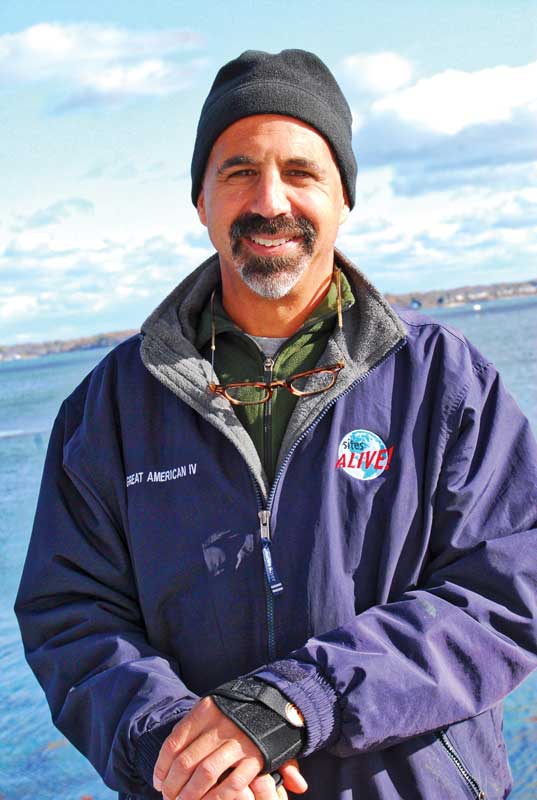 Brian Harris, General Manager at Maine Yacht Center. Photo by Ted Hugger An old friend, Brian Harris, is the general manager of Maine Yacht Center, one of Portland's fastest growing marine facilities. When Harris took over management in 2005, the business offered a questionable wooden dock system and a small outside storage yard. Today, the business has greatly expanded to 100-slips safely tucked behind a state-of-the-art, wave-attenuating, concrete-dock system, and off-season storage for nearly 200 boats up to 80′ in length. "The business has been operating at capacity for three or four years," Harris said with pride, adding "we were a new facility, so it took a while to get traction."
Harris's experience, skill, and connections have greatly influenced the development of the yard. Consider a snapshot of his curriculum vitae: bosun's mate on a sail-training tall-ship; graduate of the Landing School's yacht design program; yacht designer for Benford Design Group; UMass Boston graduate with a degree in applied physics; managing partner at Rumery's Boat Yard in Biddeford; and eight years in France working with the IMOCA 60 offshore racing fleet.
His hard-won experience managing ocean racers has kept a steady parade of high-end racing sailboat work coming MYC's way, in addition to a full plate of recreational boat repair, maintenance, service and storage work. Off season, the MYC employee roster includes 25 full-time tradespeople, including ABYC- and NMEA-certified technicians, and five administrative and support employees. In season, the addition of marina operations personnel brings the staffing level up to 35 employees.
Despite the impact of COVID-19, this year's workload comprises a typical mix of power and sailboat projects. First on the list, the yard has undertaken the refit of the Class 40 GryphonSolo2 for Joe Harris (no relation to Brian), who will be participating in the first Globe 40 race in June of 2021. The competition is a double-handed around the world race with stops.
The GryphonSolo2 refit is extensive. "We'll be replacing the rod-rigging, backstays, furlers, rudder bearings, steering system components, sails, and upgrading the satellite and electronics systems. She's on a really tight schedule, too. We'll launch her in early April, do sea trials mid-April, and by the end of April, Joe Harris will depart on the delivery sail to Europe for the start of the Globe 40 race on June 11," Harris said.
And then there are the Figaros. Several years ago, racer-educator Rich Wilson helped start the Collegiate Offshore Sailing Circuit, and partnered with Maine Yacht Center, to promote college-level short-handed offshore sailing competition. (Wilson raced the 2017 Vendee Globe single-handed, non-stop race around the world in Great American IV, which had been refit at Maine Yacht Center.) "College sailors do a lot of around-the-buoy racing, but there's no place for those sailors to go after that," Harris explained. "The thought is that by exposing them to offshore sailing, they may turn into lifelong sailors."
The collegiate sailing organization purchased a fleet of 10 retired Beneteau-built Figaro II-class performance boats in France and shipped them to Portland. Maine Yacht Center was commissioned to do a complete refit and upgrade program for the entire fleet. Under a charter/lease agreement with various universities, an offshore racing program and competition was established.
"They're really cool boats," Harris said. "They're water-ballasted, twin rudder, high-performance offshore racing machines. A large portion of our staff are competitive sailors, so it's special for the team to have the opportunity to work and sail on the Figaros."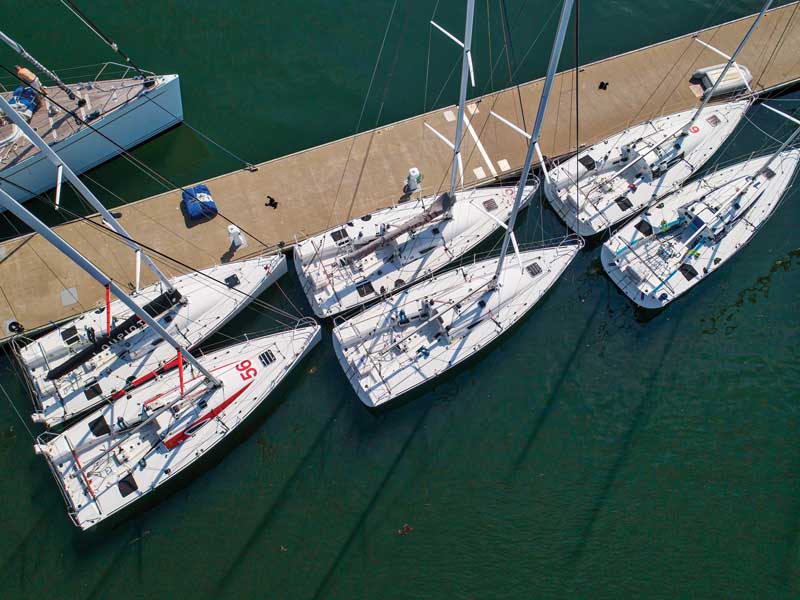 Maine Yacht Center refit 10 Figaro II-class offshore racing boats for the Collegiate Offshore Sailing Circuit. Photo courtesy Maine Yacht Center
In the summer of 2019, Harris' team refit a half-dozen of the Figaros, and the first competition was held in the Fall of 2019. Unfortunately, COVID-19 put the program on hold. Today, all the boats are stored at MYC, with hopes for a vibrant 2021 racing season.
Other projects on deck include a refit of one of the newest J/Boats, a 40-foot′ offshore racing machine. The MYC team will remove the water ballast system to get around the heavy racing handicap that water-ballasted boats incur. "It's simple," Harris said with a knowing grin. "They're playing the rating game!"
The Maine Yacht Center team also has their hands in the powerboat sector. A classic lobsterboat is in the shop waiting on an interior reconfiguration. And last season, the yard installed a Seakeeper gyro-stabilization system on a Grand Banks 49 motoryacht. The boat's new owner had owned a trawler with traditional stabilizers, but he wanted to go fast. The new boat did go three times faster than his old trawler, but she rolled, and he didn't like that. "It was a big project because we had to engineer and install structural longitudinal and transverse beams to take the load of the gyro unit. These inertial loads are enormous—you can rip the bottom right out of the boat if you're not careful," Harris warned.
Skeptical at first, Harris was shocked by the Seakeeper results. "It's like Star Trek stuff—it's unbelievably effective and efficient. For sea trials, we went out and did huge donuts with the Seakeeper off, and the rolling was bad," he recalled. "Then we did the same maneuvers with the Seakeeper on, and it was so smooth you could leave your coffee cup on the bridge deck and not spill a drop—rolling was reduced by 90 percent."
All Aboard
In 2015, MYC purchased three large buildings on nearby Presumpscot Street. One of the buildings has been leased to Hamilton Marine. A second building is leased to Eldridge Lumber, while the third, 30,000 square-foot building brings the company's total heated inside boat storage to 60,000 square feet. This year, MYC also leased a large piece of land from the adjacent B&M factory for additional outdoor winter storage.
The Presumpscot storage building came with a unique set of challenges. Boats that were hauled with the company's 80-ton Travelift at the main yard would have to be transported via Brownell hydraulic trailer to the Presumpscot building over city streets, by way of two low bridges with just 14 feet′ of air clearance. "Logistics aside, transporting boats on a Brownell trailer over city streets carries a huge potential for accidents and liability," said Harris, "and the potholes and bumps are not kind to a vessel."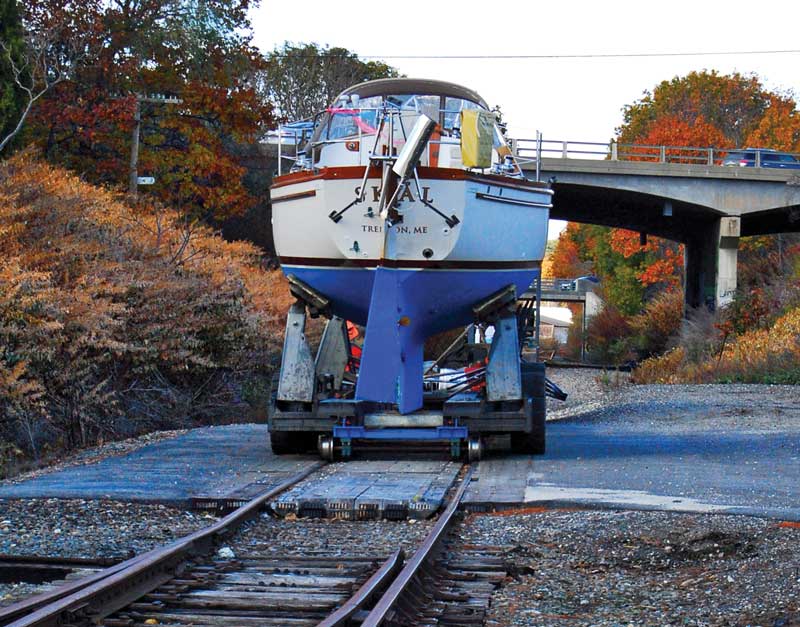 MYC's rail trolley runs under two 25'-clearance bridges en route to the yard's Presumpscot Street facility. Photo by Ted Hugger
It just so happens a railroad spur runs alongside the MYC main yard and passes next to the Presumpscot storage building. By luck and good fortune, the bridges that are over the railroad tracks have 25′feet of air draft.
"When we first started looking at the possibility of transporting boats via the tracks, it was still an active rail line," Harris recalled. The company had to apply to the Federal Railroad Authority for a special license to operate on the line. And because the line belongs to the State of Maine, Harris had to negotiate a lease agreement with the state. "It took years to sort all of this stuff out," he said.
With the paperwork out of the way, and his engineering hat on, Harris tackled the operational logistics of moving the boats by rail. The team first built a pair of railroad crossings, one at each building. "Then we designed and built a set of hydraulic-operated trolleys to fit under each end of our Brownell trailer," Harris said. "The steel trolleys, mounted on a set of railroad wheels, were engineered to carry the weight of the Brownell trailer and the boat being transported.
To move a boat, the trolleys are placed on the tracks with a forklift. The trailer and boat are then moved over the trolleys, and the trailer is lowered to sit on the trolly decks with the Brownell tires suspended in the air. Using quick-release fittings, the trailer's hydraulic plant is connected to the trolly's hydraulic drive motor. Harris breaks into a big grin here, "And then we choo-choo the half mile to the Presumpscot Street building at eight miles per hour! At the other end, we reverse the procedure to unload the trailer and boat."
Harris considers it a superior system to traditional over-the-road transport; no low bridges, no liability associated with over-the road travel, and, "the rail ride is smooth as silk since we don't have to deal with pot holes and bumps in the roads—it's so much easier on the boats!"
The innovative use of the now-abandoned rail spur has allowed Harris to dramatically expand the yard's storage capacity, and to ride the wave of increased demand for indoor heated storage. "Today, inside storage is what everybody's about in Maine. Ten years ago, the idea of storing an 80-foot′ motoryacht in a heated inside storage building wasn't even an option in Maine—you had to take it south for the winter."
"Personally, I've been really lucky that I've been able to satisfy my engineering curiosity with high-tech race boats and today's sophisticated cruising yachts while living here in Maine," Harris reflected. "Maine Yacht Center has come a long way in a relatively short time, and its largely because we have a lot of exceptionally talented, long-time employees. I think that speaks well of our company philosophy and culture."
---
Ted Hugger owns and operates the Cod Cove Inn in Edgecomb and the Cedar Crest Inn in Camden with his wife Jill.
For More Information:
Maine Yacht Center
100 Kensington Street
Portland, ME
207-842-9000
www.maineyacht.com
Share this article:
2023 Maine Boat & Home Show

Join Us for the Maine Boat & Home Show!
Art, Artisans, Food, Fun & Boats, Boats, Boats
August 11 - 13, 2023 | On the waterfront, Rockland, Maine
Click here to pre-order your tickets.
Show is produced by Maine Boats, Homes & Harbors magazine.