Boating Simplified: A Sailor takes to Canoes
By Ben Emory
Photos courtesy Ben Emory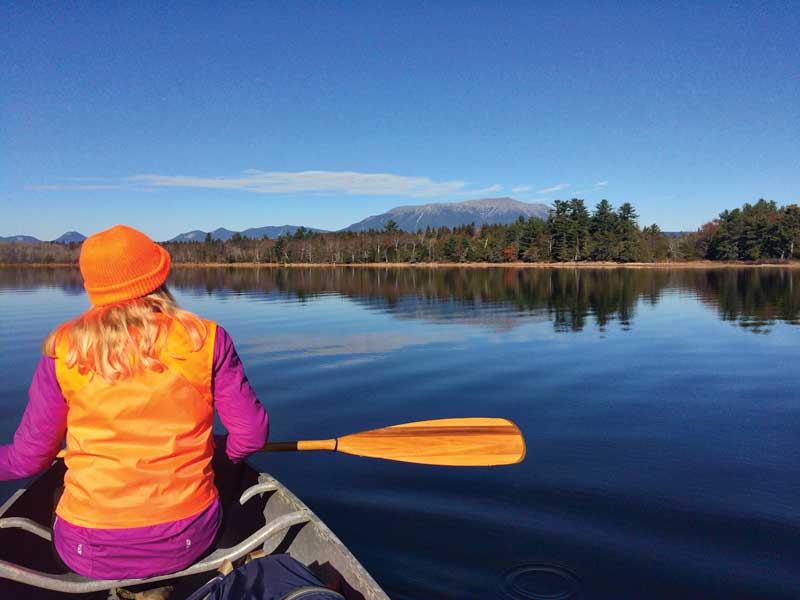 Mount Katahdin over the Debsconeag Deadwater on a fall morning.
No moving parts in a canoe—that's a mantra of my friend, the canoeing guru. And after a lifetime of the hassles of keeping sailboats, with and without engines, fully functioning, it resonates with me. Powerboaters have similar problems. A boatyard manager once commented that no boat ever left in the spring with everything working perfectly—a problem with at least one moving part inevitably arises. Canoes feature an appealing simplicity.
They also provide access to a wealth of varied waters, especially in Maine, which is blessed with lakes, ponds, streams, and rivers, some of which can only be utilized by canoe or kayak. This sailor is not totally new to canoeing. I paddled the Allagash while in college and once in a great while have used canoes for daytime jaunts elsewhere, but my near total focus for being afloat has been on coastal waters and the open ocean.
Then a major life event brought new friendships and a not-to-be-turned down invitation to add serious canoeing, including running rapids, to my waterborne activities—heretofore primarily sailing, rowing, and stand-up paddleboarding with occasional kayaking. My new persona is a nearly 60-year-old, 13-foot aluminum canoe, green paint largely long peeled off, riding atop my Subaru Outback.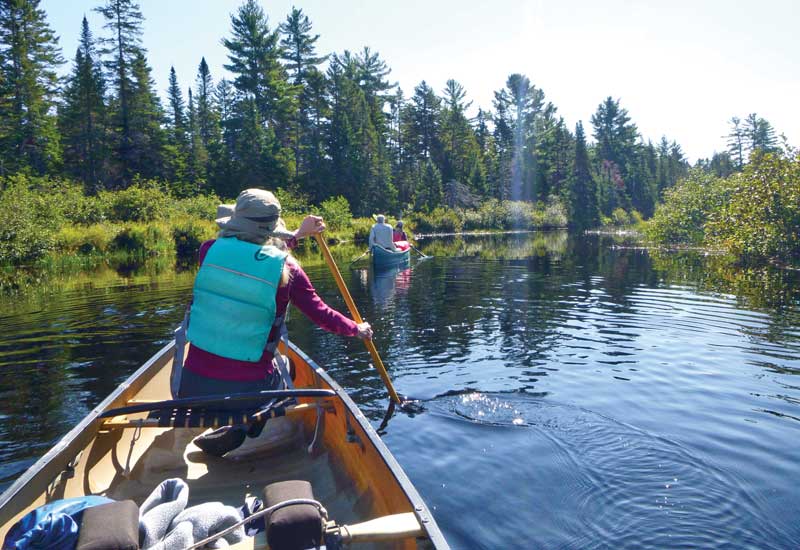 Glorious September paddling on the Machias River included calm stretches, as well as a section with whitewater rapids.
As a sailor, I'm not alone in being captivated by paddling canoes. L. Francis Herreshoff, famed for designing great sailing yachts including the gorgeous big ketch Ticonderoga, was known for the pleasure paddling gave him. Roger C. Taylor in his two volumes L. Francis Herreshoff: Yacht Designer and L. Francis Herreshoff: The Flowering of Genius, touches on this passion. In the first volume a caption states, "Being afloat with a paddle would always help Francis get out of the doldrums," and in the second volume Herreshoff is quoted as writing about paddling, "The whole body sings a happy tune and the world is a happy place to be in."
The summer of 2021 brought me to many happy places, guided by that "no moving parts" guru, Karin Tilberg, president of the Forest Society of Maine and deeply knowledgeable about North Woods forests and waters. On a glorious September day of blue sky, calm wind, and stunning foliage, we borrowed a 17-foot Kevlar canoe, wanting the extra length for safety in the whitewater rapids in the Machias River between First Machias Lake and Route 9. Friends, both recently retired from the University of Maine faculty, joined us in their canoe. The riverine scenery of eastern Maine was spectacular, the still water a relaxing joy, and some substantial rapids an energizing challenge. I put full faith in Tilberg in the bow to get me through the rapids intact. With her deft paddle strokes and excellent instruction she kept us from swamping.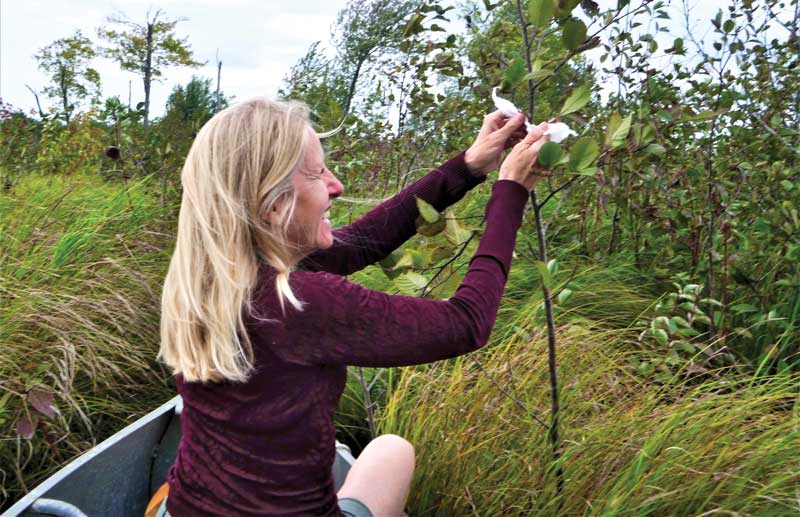 Canoe navigation in the labyrinth of Sunkhaze National Wildlife Refuge, markers removed on return.
A couple of weeks later we had three magnificent autumn days afloat in the Downeast Lakes region, exploring and fishing in the 13-footer and spending a day on West Grand Lake with professional guide Todd Cushing, in his 20-foot fiberglass square-sterned canoe with 9-hp Honda. Canoeing means fishing, at least to Tilberg, and for the first time in my life I have a Maine fishing license and am learning to fly-fish. Like everywhere, the Downeast Lakes are impacted by the warming climate. We were warned that water temperatures were way above normal for the time of year, meaning poor fishing for land-locked salmon; indeed, the salmon were not biting, although we did catch a number of smallmouth bass. Part of the experience of a day with a guide is lunch, and Cushing built a fire and provided us with camp-style coffee, fried potatoes, and burgers. I, the coastal sailor, blissfully enjoyed some of the best of what inland Maine can offer.
The village of Grand Lake Stream is famous for its unique "Grand Laker" canoes—square-sterned for an outboard, high-bowed for seaworthiness in choppy lake waters, and built primarily of cedar, cloth-covered and varnished inside, painted outside. We were privileged to see two exceptional examples of these craft, one beauty built by Steve Keith, the now-retired first executive director of Downeast Lakes Land Trust. Not only is he a highly talented canoe builder who was sporting a WoodenBoat ballcap, but Keith's leadership has helped conserve thousands of acres of the region's forests and waterfront, using both nonprofit ownership and conservation easements. In addition to the local land trust, the New England Forestry Foundation and the Forest Society of Maine have played major roles in the conservation successes, and other partner organizations and people have been deeply involved, too.
The other Grand Laker, also an example of fine workmanship, was shown to us by its builder Jeff Bacon. He hails from a multigenerational line of family canoe builders, icons in Grand Lake Stream.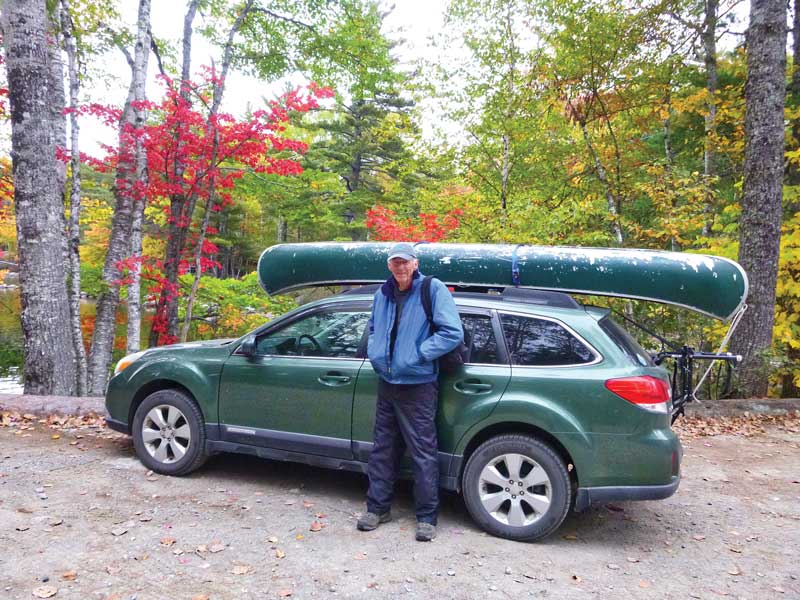 Canoe on Subaru: the sailing author's new persona.
Much of the summer of active canoeing was paddling on quiet streams meandering between wooded banks and through marshes. We launched into ponds and lakes, too, and on Pushaw Lake near Orono found excellent hot summer day swimming at small islands. In the rain on the Fourth of July we paddled up Northeast Creek in Acadia National Park, considered the most ecologically important part of Mount Desert Island and a mecca for waterfowl. At the U.S. Fish and Wildlife Service's Sunkhaze Meadows National Wildlife Refuge in Milford I learned a new form of navigation as we worked through a tangle of narrow, braided waterways. To help us find our way back through the marshy maze to the launch point, Tilberg tied strips of a plastic grocery bag to reeds and branches, removing them on our return. These were peaceful times out in nature on the quiet waters—restorative of spirit and energy.
A canoe connects one closely to nature—and to a long cultural tradition dating back to prehistory. "Sea to trees" is a phrase increasingly heard in the Maine conservation world, and canoeing reminds one of how forests connect to the sea. Rivers and streams link the North Woods to the Gulf of Maine ecologically, and water has always linked people to forests. Being in a canoe reminds me of the lives and cultures of the Wabanaki tribes and deepens my respect for how they used the land and water and moved through their territories. In Canoe: A Natural History in North America, authors Mark Neuzil and Norman Sims closed with, "Our feelings about the natural world…grow out of our cultural heritage and knowledge. The canoe has been a vehicle for experience and for the development of cultural attitudes since invention in the time before history."
The canoe may have originated in prehistory, but for me it is a very 21st century watercraft at this time when human use of fossil fuels must be drastically reduced to save life on earth. The greenhouse gas emissions associated with canoeing are primarily from the car transporting canoe and canoeists. The on-the-water time is emission free—and, for this sailor, tons of fun. 
---
Ben Emory splits his time between Salisbury Cove and Brooklin, Maine. He is the author of Sailor for the Wild—On Maine, Conservation and Boats, published by Seapoint Books.
Share this article:
2023 Maine Boat & Home Show

Join Us for the Maine Boat & Home Show!
Art, Artisans, Food, Fun & Boats, Boats, Boats
August 11 - 13, 2023 | On the waterfront, Rockland, Maine
Click here to pre-order your tickets.
Show is produced by Maine Boats, Homes & Harbors magazine.