Chasing Liquid Mountains
By Tim Murphy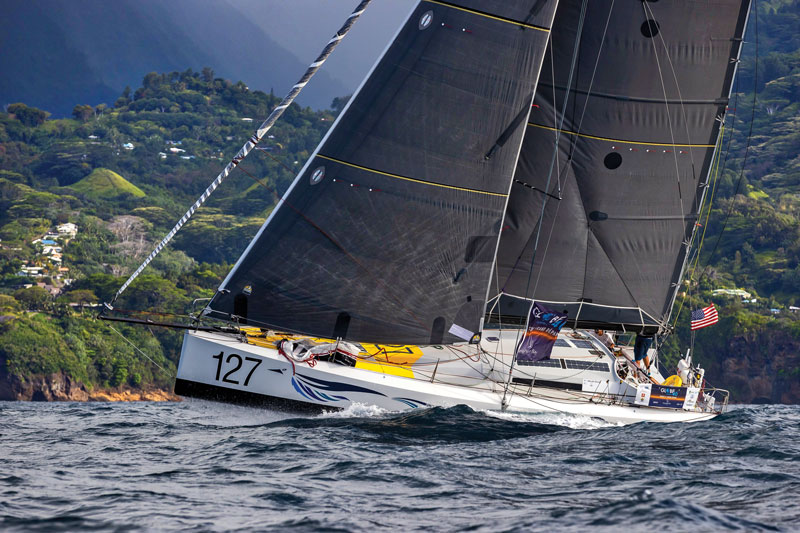 Amhas, shown here sailing in Tahiti at the end of Globe 40 Leg 4 last December, is a third-generation iteration of the Class40 rule that was first introduced in 2004. Today, with some 200 boats built to the box rule, Class40s draw intense competition in Europe, particularly in France. Photograph by Jean-Marie Liot. Courtesy of Globe 40: La Grande Route
"Land ho off the port bow," wrote Brian Harris on December 18. "We had about four hours of daylight to admire the view in all its majestic glory and to ponder just how two dubbahs from Maine ended up sailing a small racing boat around Cape Horn."
It was a mission almost 30 years in the making, going back to the days when Harris was a fresh graduate of The Landing School in Arundel, where he'd studied both boatbuilding and yacht design. In the early 1990s he was managing Rumery's Boat Yard on the Saco River in Biddeford and building an impressive portfolio of classic-yacht restorations when he first met MacKenzie "Micah" Davis.
"Rumery's best customer was this wonderful guy named Andy Nixon, who turned out to be an incredible mentor and dear friend of mine," said Harris. Following extensive refits at Rumery's, including the Eight-Metre Angelita and the 1962 58-foot Sparkman & Stephens yawl Windalier, Harris would pull together crews to race Nixon's boats in such classic yacht regattas as Eggemoggin Reach and the Corinthian Ocean Race.
"When it came time to race Windalier, which was a bigger boat with bigger winches and bigger gear, we needed a big strong guy." So Harris was introduced to Davis, a Brunswick High School football player and a friend of Nixon's children.
The two hit it off. "We became lifelong friends," said Harris. "We have the same twisted sense of humor, and over the years we've just gotten along really well. We'd be on watch together at night, and we always talked about doing some big sailing adventure together."
Davis went on to play varsity football for Brown University, then build a career in finance. Harris left Rumery's Boat Yard in 1998 and over the next several years traveled the world developing a reputation as the top American preparateur of race boats for such high-profile solo round-the-world racing sailors as Josh Hall, Emma Richards, and Alex Thompson. He prepared the boats for Rich Wilson's record-setting runs and Vendée Globe races aboard a series of boats called Great American. In boatbuilding terms, these powered-up carbon-fiber thoroughbreds were the antithesis of the wooden classics Harris had been refitting at Rumery's.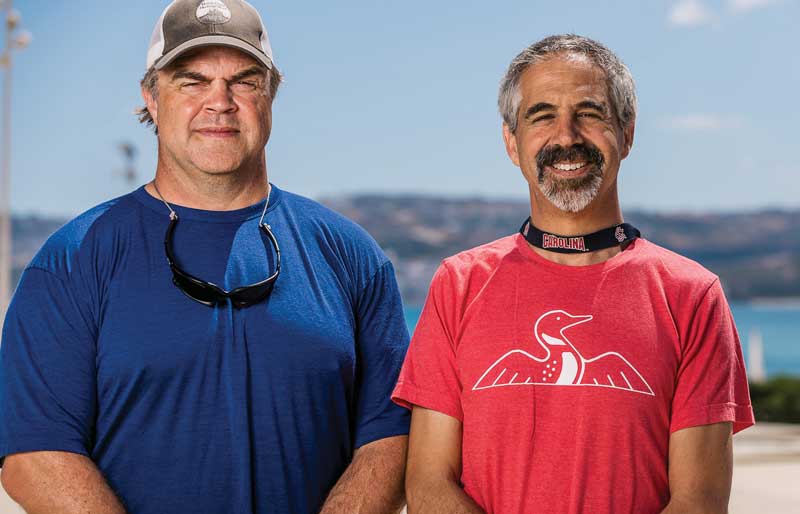 Lifelong friends: Mainers Davis, left, and Brian Harris, right, met some 30 years ago sailing classic yachts together on Eggemoggin Reach. Photo by Jean-Marie Liot/Globe40 Courtesy Brian Harris
That was the state of play—two men, developing in their separate careers, perennially on the lookout for a sailing adventure they could share—when a new fleet of high-performance shorthanded ocean-racing sailboats was introduced in 2004. The fleet, called Class40 (www.class40.com/en), was based on what's known among sailors as a "box rule." Less restrictive than a rigid one-design class, a box rule stipulates basic parameters for a group of similarly competitive racing sailboats (the "box"), then offers yacht designers a degree of freedom to fill in the box with their own ideas. Class40 was created in reaction to a trend that French sailors had come to dominate in the early 1990s: bigger, more expensive, more complex solo racing machines epitomized by the Open 60s defined by the International Monohull Class Association. The trouble with the IMOCA boats was that you needed to be the LeBron James or the Tom Brady among sailors to gain the necessary budget, usually through corporate sponsorship, to race them competitively.
"The Class40," said Harris, "was conceived as a boat that would be available to more people who were interested in shorthanded offshore sailing but perhaps didn't have access to large sponsorship commitments or massive budgets. I don't remember whether Micah found out about it or if I read about it in a magazine, but after about 2006 the Class40 became the vehicle for Micah and me to pursue our sailing adventures."
By this point Harris had taken over as general manager at what was then a new Portland boatyard called Maine Yacht Center. He traveled to France to look at some Class40 boats firsthand. There he learned about a composites manufacturer in Tunisia that was building a series of Marc Lombard-designed Class40s called Akilarias. "The last Open 60 I had worked on before I started at Maine Yacht Center was Alex Thomson's first Hugo Boss," Harris said. "It was a Marc Lombard design and the fastest IMOCA boat at the time. So Micah and I thought about buying an Akilaria, and we kind of went into business with the builder."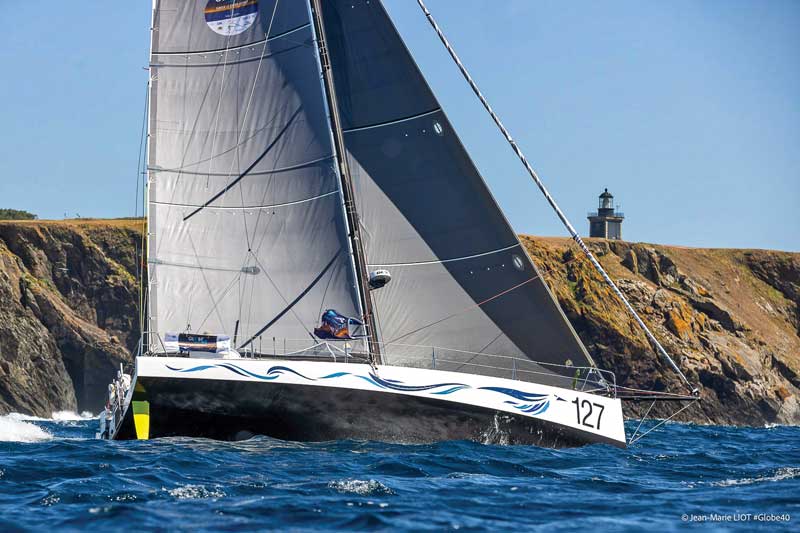 The wide beam and flat sections of the Class40 encourage surfing down waves at sea for speeds that can climb into the 20s. Photo by Jean-Marie Liot/Globe40 Courtesy Brian Harris
Instead of buying one fully fitted-out boat for themselves, they bought three unfinished kits, commissioned them at MYC, kept one for themselves, and sold the other two. As one thing led to another, Maine Yacht Center became Akilaria's US importer. Harris exhibited the Akilarias at boat shows, and eventually a small but thriving class developed in the United States. With their appeal to amateur offshore sailors, Class40s became most popular among French sailors in such shorthanded offshore races as the Route du Rhumb, Transat Jacques Vabre, and the Quebec–St Malo Race. Meanwhile, in the United States from 2011 to 2018 the Atlantic Cup often drew as many as 14 Class40s; the later runnings terminated at MYC in Portland, which by then had become a hub for the class. As the boats became more refined for speed, Harris and Davis traded in their generation-one Class 40 for a gen-three version. Both were named Amhas, a Gaelic word for seabird or wild child.
Through these years the two men looked for ways to fit good sailing adventures into their pressing work schedules. "The problem with Micah and me," said Harris, "is all these years we've had this boat, we've always been too busy to really use it. Amhas participated in several Atlantic Cups, but with Micah, not with me, because it always ran during launch season at the boatyard. When we do use the boat, whether it's the Bermuda Race, the Halifax Race, or the Atlantic Cup, it's always like trying to jam 25 gallons of stuff into a five-gallon bucket."
That said, they did have some good small-scale payoffs along the way. Twice, in 2015 and 2017, they took class honors in the Pineapple Cup from Ft. Lauderdale to Jamaica, a race run in winter when Maine boatyards slow down.
When they learned about a new race called the Globe 40—round the world in nine months; eight stops; sailed entirely in Class40s—they knew they'd found the sailing adventure they'd been looking for all these years. "We immediately said, 'Oh, we're doing that!' In our fantasy world we were able to do that for sure. That lasted for about a week, till we came to our senses. In reality, it was just a no-go. There was no way we could do it because we'd basically have to take off nine months."
From the beginning the Globe 40 Race was structured as a double-handed event, with each boat sailed by two co-skippers on each leg. The rules allowed crew changes at any of the legs but required that one of the co-skippers from the previous leg remain aboard. Harris and Davis looked at it from every angle, thinking they could find the time to sail alternate legs. But that left one big problem: the whole point, going back
all those years, was to have a sailing adventure together. A friend found the key to the puzzle: get the race directors to change the rules so that Amhas could sail in two teams of two sailors. Brian and Micah made arrangements with an offshore sailor from Seattle named Craig Horsfield, who would sail the alternate legs with one or two other co-skippers; together, they were off to the races.
And so it was that Brian Harris and Micah Davis found themselves setting off from Tangier, Morocco, bound around the world by way of the Southern Ocean and the five great capes. With them on the course were Gryphon Solo 2, sailed by Joe Harris (no relation) and Roger Junet of Portland; and Whiskey Jack, sailed by Canadian Melodie Shaffer and a suite of co-skippers on the subsequent legs. All three of these Class40s had been commissioned or substantially refitted at Maine Yacht Center.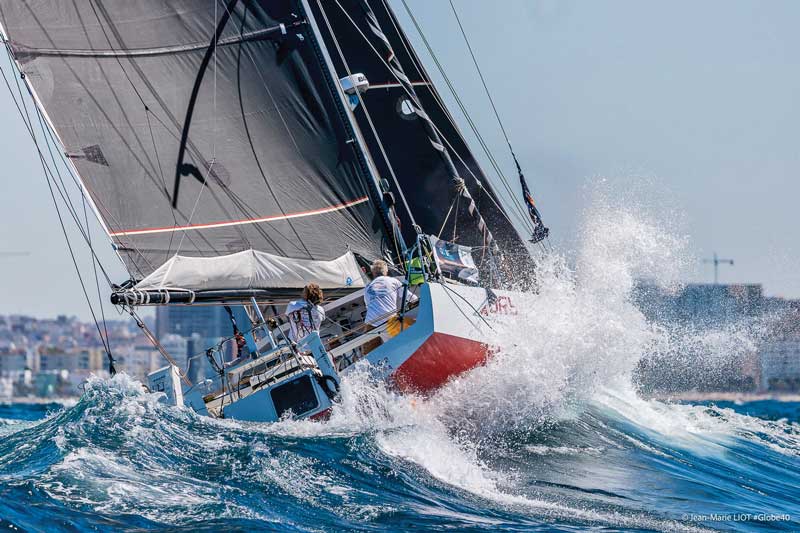 Wild and woolly: Particularly on the wind, sailing a Class40 can be a memorably soaking affair. Photo by Jean-Marie Liot/Globe40 Courtesy Brian Harris
It was only upon setting off from Tangier that the full impact hit Harris.
"So we get to Morocco a week before the start," he said. "We're there with our families. My wife Alison and some friends came to support me. Micah's whole family was there, and Joe Harris's family was there, and Melodie was there. We had a big entourage. And it's a really foreign place, with prayers blasted four times daily from the minarets and culturally super cool—but not really a great place to get yacht services done. So it was only on the day of the start that the whole thing dawned on me."
With the race management and their families and the public gathered for the send-off, he added, "I just looked at Micah and said, 'Do you have any idea what's about to happen here?' It was really emotional."
But at press time, six months later, Brian Harris and Micah Davis—along with their Maine Yacht Center stablemates Joe Harris and Roger Junet and Melodie Shaffer—have experienced the sailing adventure of a lifetime.
In a dispatch from December 18: "We just had a VHF call with the lighthouse keeper on Isla de Hornos. We were the third boat in 24 hours with two crew aboard, so I think he started to notice a pattern. This was a hard leg. The past few days of jibing downwind in big conditions to finally get around Diego Ramirez Island were really exhausting. I have never been so cold for so long in my life, and I hope I never am again!"
"It's been a good test of what you're made of, and it's definitely required more mental and physical toughness than I was really prepared for. But what an incredible adventure." 
✮
---
Tim Murphy is the author of Adventurous Use of the Sea (Seapoint Books, 2022) and an ABYC education project manager.
To follow the Maine boats in the Globe 40 Race—Amhas, Gryphon Solo 2, and Whiskey Jack—visit https://www.globe40.com/en/. The boats were scheduled to finish in mid-March.
Share this article:
2023 Maine Boat & Home Show

Join Us for the Maine Boat & Home Show!
Art, Artisans, Food, Fun & Boats, Boats, Boats
August 11 - 13, 2023 | On the waterfront, Rockland, Maine
Click here to pre-order your tickets.
Show is produced by Maine Boats, Homes & Harbors magazine.