Back to the Future in Round Pond
By Ken Textor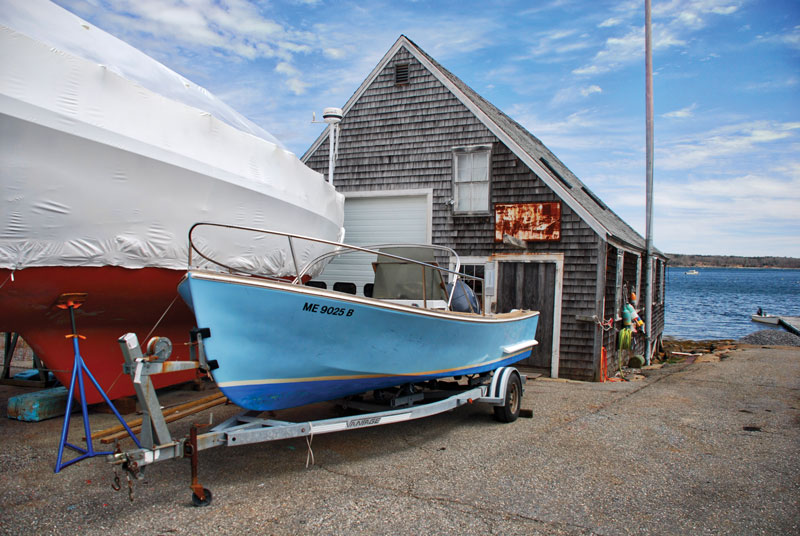 The original boatshop at Padebco has been in use on Round Pond Harbor since the early 1900s. It is shown here with Padebco's first fiberglass 21' center console. Photo courtesy Sara MacCorkle The concept of a mom-and-pop boatyard might seem old-fashioned. But don't get the idea that Leon and Sara MacCorkle, the new owners of Padebco Boatyard in Round Pond, are out of date. The energetic MacCorkles are anything but that.
After taking ownership in 2013 of what was once primarily a boat construction company, the MacCorkles now offer a full array of boatyard services in addition to boatbuilding, including storage, refits, and repair. "We went from hauling and storing only about 30 boats to more than 100 now, and we'd like to do more," said Leon, who is the hands-on portion of the boatyard. Sara runs the office, web site, brokerage,
and marketing efforts of the facility, which is located in a snug harbor in Muscongus Bay, about midway between Portland and Rockland.
"Sara tells me we're doing this because of my midlife crisis," Leon said as he enthusiastically searched his office files for information on a new boat control system that eliminates the need for bow and stern thrusters. "But really, it's been my passion my whole life. It's just been a long time in coming."
The village of Round Pond is relatively untouched by the rampant coastal changes of the last 20 years or so. It still has a general store with penny candy; community concerts are held weekly during the summer; and fishing for lobsters remains the central occupation of many residents.
Sara said they fell in love with the area when they were looking to get into the boatyard business.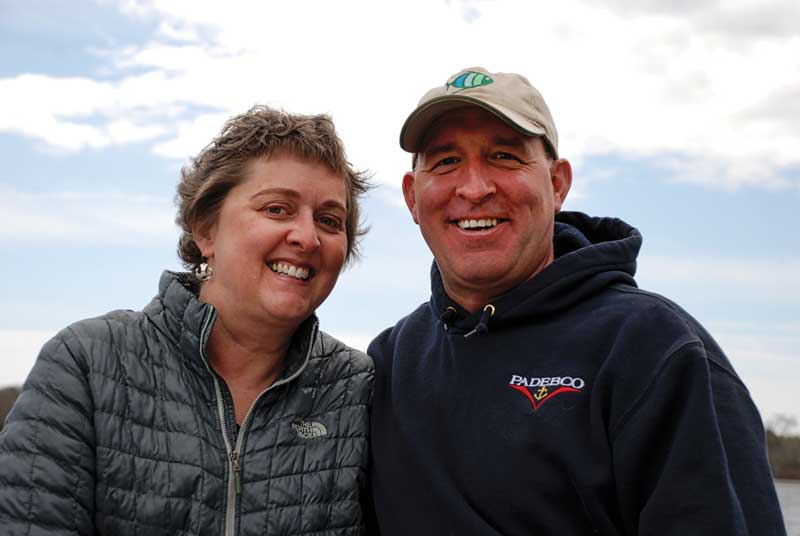 In the years since Sara and Leon MacCorkle bought Padebco, they have added more boat storage and expanded the services offered by the yard to include refits, service and repair work, as well as new construction. Photo courtesy Sara MacCorkle
From the start, the MacCorkles were intent on fitting in with the Round Pond go-slow attitude toward dramatic changes. Moreover, they and their five employees knew they had an obligation to continue to service and build Padebco powerboats, which have been around since the early 1970s and are known for their classic lines and longevity.
Leon's passion for boats goes back to the 1970s and his childhood in New Hampshire, when the young lad rode his bike near a local boatbuilding operation and immediately stopped in his tracks. "I took one sniff and it was like paradise," he said of the smell of curing polyester resin that was being used in the fiberglass boats being built nearby at J.C. Boat in Nashua, New Hampshire. Within a couple of years, he had a job sweeping up that shop, then slowly worked his way up the boatbuilding ladder, eventually learning all aspects of putting fiberglass powerboats together and, finally, in the water.
Life's unpredictability eventually led the young man off the boatbuilding path, and he ended up as a firefighter and emergency medical technician in seacoast New Hampshire, while Sara's career included working at several Fortune 500 companies, doing work such as marketing, product management, and business development. They started a family in Greenland, New Hampshire, soon finding themselves with two young daughters. But they were also gradually realizing that the pace of that life was becoming less attractive. Moreover, Leon never forgot his boatbuilding dream.
From there, it was an inevitable jump to Padebco, where owner Bruce Cunningham was entering his retirement years. Cunningham, who designed all of the Padebco models, started the company in the 1960s to build wooden lobsterboats. There had been boatbuilding on the site going back to the early 1900s. He transitioned to fiberglass in the 1980s and introduced the first fiberglass 21' Padebco center-console in 1983/84. He expanded the line of custom fiberglass boats in the 1990s from 17' skiffs to 32' cruisers.
The MacCorkles saw a chance to go beyond only building boats, and expanding into storage, service, and refits when they bought the company in 2013.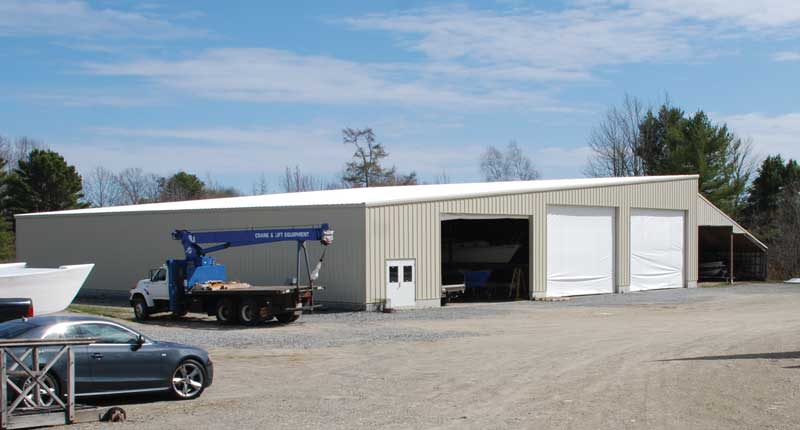 Padebco added a new storage building on land the yard owned up the road from the waterfront site. Photo courtesy Sara MacCorkle
"We saw this as underutilized," Leon said of separate acreage just up the road from the waterfront operations of Padebco. "So we put a lot of our efforts into it." The couple have more than doubled indoor storage capacity, including the construction of a new building, expanding from 5,000 square feet to 15,000, with more planned. New lighting, heating, and insulation in the offsite workshop areas allowed the yard to double the number of boats that could be upgraded, refit, or just generally rehabbed during the off-season. "We're able to do anything from new power to a complete rebuild of older boats," Leon said. The yard can haul sail and powerboats up to 50 feet. Building new Padebco boats remains part of the mix.
The yard also maintains 15 moorings for seasonal and transient boaters.
Additionally, Leon can hardly hide his excitement at representing the "latest and greatest" upgrades and refinements for powerboats, such as Seastar Solutions' computerized steering systems. "This will change everything for anyone with a powerboat," he said, brandishing a catalog for the Optimus 360 Joystick Control System. "It can make operating a boat as easy as driving a car," he said, chatting amiably about moving a boat sideways without bow or stern thrusters, or holding a boat's position in tideways and strong winds without anchoring, or turning a boat 180 degrees with engines alone, and so on.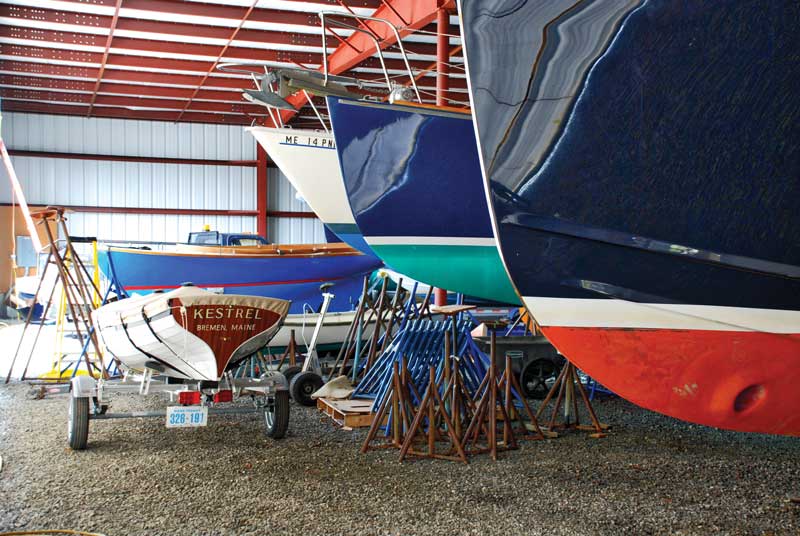 The MacCorkles have tripled the yard's storage capacity to 15,000 square feet with more in the works. Photo courtesy Sara MacCorkle
Sara is the calmer yin to Leon's up-tempo yang. She is more interested in noting Padebco's ABYC certifications, the yard's Yanmar dealership designation, and their HamiltonJet affiliation, and most of all the yard's incredibly skilled crew. And, of course, the president and CEO of Padebco was delighted when her two daughters, ages 10 and 12, adjusted easily to the new, low-key lifestyle. "What could be better than a bus stop next to a penny candy store?" she asked.  
---
Ken Textor has been living on, working on, writing about, and cruising in boats along the Maine coast since 1977. He lives in Arrowsic.
For More Information:
Padebco Boatyard
28 Anchor Inn Road
Round Pond, ME
207-529-5106
Share this article:
2023 Maine Boat & Home Show

Join Us for the Maine Boat & Home Show!
Art, Artisans, Food, Fun & Boats, Boats, Boats
August 11 - 13, 2023 | On the waterfront, Rockland, Maine
Click here to pre-order your tickets.
Show is produced by Maine Boats, Homes & Harbors magazine.