D.N. Hylan: Bagatelle
A pretty little weekend cruiser

Photos by Ellery Brown
Bagatelle
, with its small head, sink, V-berth and cupboards down below, was designed for simple cruising and day trips. A tunnel along the bottom of the hull minimizes draft and protects the propeller from tangles with lobster gear.
By Art Paine If ever you wanted proof that it's the first sketch that matters most, consider the designs of Doug Hylan. The Brooklin-based builder is among a smattering of individuals who can claim to be both yacht designer and builder. I'd argue that design is the rarer talent, or at least it's the factor that ends up meaning more. A superbly built boat that isn't designed well is more of a disappointment than a well-designed boat that falls into the hands of a mediocre builder. Many of Hylan's creations are sold as kit boats or plans to be completed by others. On those occasions when he gets to tackle both tasks, though, the end result is exquisite, right down to the devilish little details.
Bagatelle
came about when a couple approached Hylan, looking for a small boat for day trips and weekend cruising. He showed them a sketch he had made 11 years earlier and they were smitten. At 26 feet, this minimalist weekender is propelled by a 60-hp Evinrude outboard in a well. The hull incorporates a tunnel along the bottom, which has the combined effect of minimizing draft and pulling the propeller into a relatively protected niche. While this is not a new idea, it is seldom seen in Maine waters. I don't know why, because it makes the boat less prone to tangles with lobster gear. Also, the extra chines in the tunnel provide the same kind of directional stability as a skeg, but without the drag and draft.
Bagatelle
is strip-planked with a V-bottom. Subtle swellings, concavities, and twists make the hull extra pretty—this is a V-hull with panache. For instance the topsides have flare forward and convexity in the haunches as well as tumblehome at the transom. Raised foredecks provide practical headroom in the cabin by elevating the fo'c's'le.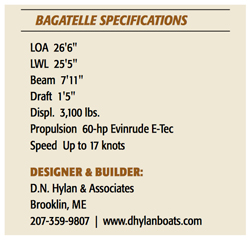 This also gives
Bagatelle
a distinctive profile. Down below there is room for a small head, a sink, cupboards, and a V-berth. Hylan shows his boatbuilder side with the construction of a thicker, composite foredeck that requires no head-bumping beams inside the cabin. That's the kind of thing a boatbuilder might tip-off a designer about, if he wasn't wearing the selfsame hat. Thin window mullions in the stand-up shelter emphasize its vertical feel. The mullions are so delicate they almost look flimsy, yet here again the boatbuilder in Hylan came up with a good plan. He epoxied the corners together and buried them structurally. Launched last July,
Bagatelle
made its debut at the 2014 Maine, Boats, Homes & Harbors Show in Rockland. The new owners plan to keep the boat in Herrick Bay in Brooklin. From there they will be able to cruise to many quiet coves and harbors. This little boat will get them to their destination quietly and comfortably and won't break the bank with the fuel bill. Most importantly it will get them there in style. Contributing Author Art Paine is a boat designer, fine artist, freelance writer, aesthete, and photographer who lives in Bernard, Maine.