Agamenticus Launch, John's Bay Boat
By John K. Hanson, Jr.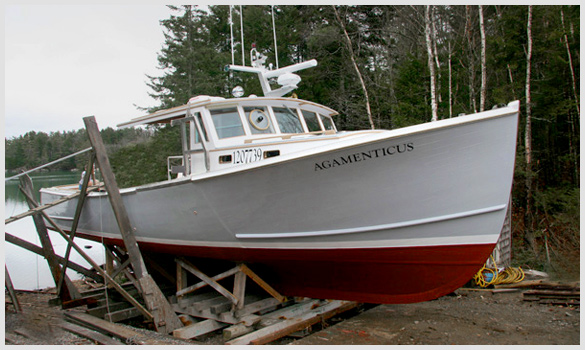 A builder is judged both by the quality of his boat, and the quality of his launching party. On a gray early April day, John's Bay Boat Shop launched its 59th boat, and Peter Kass and company had a success on their hands. The bash was great too. We arrived at the launching, parked in the mud, and walked down the hill to a wonderful community gathering. The boat,
Agamenticus
, stood proud on the railway. No Travelift here, this was to be an old-school launch. The young boys and girls in attendance, as excited as the young have always been at boat launchings, made sure the rails had a suitable number of pennies lined up on them for squishing. The grill was set up outside the shop, the rest of the spread was inside just past hull number 60, which was in frame and waiting for everyone to get back to work on it. Unlike the launching we attended at Hodgdon's in East Boothbay a month ago, there were no speeches from senators or congressmen or Naval commanders. Here we had just fishermen, friends, boatbuilders, and neighbors. It made for just about as nice a launching as you could get. Folks from as far away as Alabama and Massachusetts had come up to Maine for the festivities (and to eat), including a goodly number of owners of previously launched John's Bay Boat Shop boats.
Agamenticus
is the second boat that the John's Bay Boat Company had built for Eddie Grant. Since it's just a bit bigger than the first boat,
Agamenticus
will be better able to fish the unsheltered waters off of Boon Island. On the maiden trip after launching, with half a party of folks on board and with
Agamenticus
nudging 20 knots for the first time, Grant had the look of a happy man. "Feels solid, " he said. And it did. Peter Kass has been building boats on this waterfront site since the early 1980s. There aren't too many builders of wooden lobsterboats left these days, but all Kass's company builds are wooden boats and those boats are wonderfully built. With many fiberglass fishboats, I'm hard pressed to tell you whose hull is whose, but I can spot a Peter Kass-designed and -built boat. The John's Bay model seems to be bigger forward than some others. But what do I know? I just like the boat. Most of the guys on the shore watching
Agamenticus
slide down the railway liked the boat as well. A goodly number of them were repeat customers. In fact, the proud stepfathers at the launch were successful fisherman all, and they wouldn't sail on anything else but a wooden lobsterboat. A wooden Peter-Kass-built lobsterboat, that is. That's customer loyalty.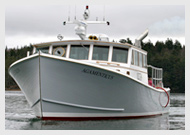 Click here to watch the video, see an image gallery and get all the launching details.
Share this article:
2023 Maine Boat & Home Show

Join Us for the Maine Boat & Home Show!
Art, Artisans, Food, Fun & Boats, Boats, Boats
August 11 - 13, 2023 | On the waterfront, Rockland, Maine
Click here to pre-order your tickets.
Show is produced by Maine Boats, Homes & Harbors magazine.