Letters to the Editor — Issue 166
Pandemic project!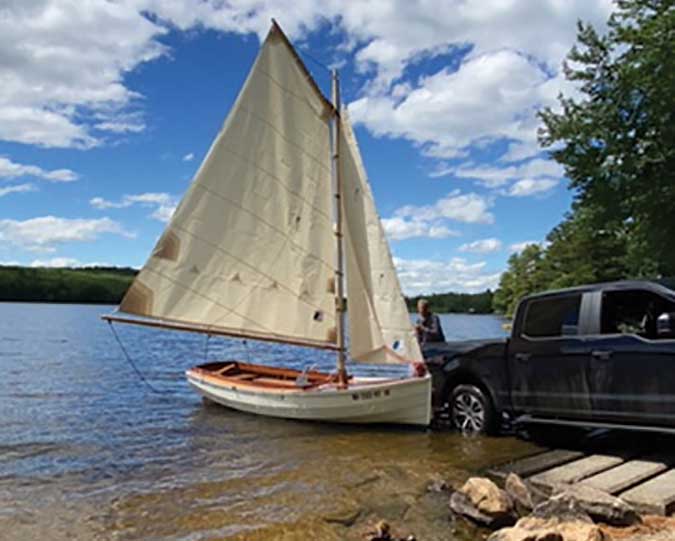 In the May/June issue you asked about projects we were working on during the COVID-19 lockdown so I thought I would send you a line on what I have been working on. I have to confess my boat was not built in Maine as I live in New Hampshire, but I do enjoy your magazine.
I started building my boat in January of 2019 and even though my work schedule has not changed since Covid began, our going away for weekends stopped so I was able to make good progress and finally launch my boat on June 13, 2020. I know the 13th day is not supposed to be good luck, but I'm not superstitious so I launched it anyway at a small pond near us called Gorham Pond.
My boat is a Selway-Fisher design called the Woodlark. The original plan is for a 13'4" catboat. As an alternative there is an option to add a jib, so I chose to build it as a gaff-rigged sloop. The shape of the hull is still a traditional catboat with a barndoor rudder, but the mast is moved back off the bow to make room for the jib. The hull could have been built either strip planked or lapstrake. I chose to build it lapstrake as I like the look of the individual boards.
This is not my first boat project. I rebuilt a 1950s runabout and then built a Jon boat as a project with my grandson Corey. This catboat was definitely a much more challenging project. Each step provided a new situation, which meant learning new skills. Looking back at it now it was all worth the work and effort. Launch day was a perfect day for sailing with 10 mph winds and this boat was a real joy to sail.
Edgar Fandrich via email
---
Bravo on map story
A sincere bravo to Maine Boats, Homes & Harbors for your coverage of the Maine Lithographic Landscapes Exhibition. Your article is superbly crafted and expertly rendered. Shortly before our COVID-19 closures, I rushed to see the exhibit at Bowdoin's Museum of Art. As someone with a keen interest in Maine history, geography and maps, I was deeply in my element.
As you point out in the article,the entire exhibit can be appreciated online at HERE.
I would certainly want to acquire a new printing of the Brunswick & Topsham lithograph of which you wrote. It is fascinating. MBH&H would do well to make them available. Thank you!
Richard Papetti
Brunswick, ME
---
Lighthouse life
I really look forward to reading Maine Boats, Homes & Harbors. It's been the closest thing reading gets to taking a cool ocean swim during these hot and challenging days. I just read one article that I must thank you specially for— Ronald Joseph's story about Betty Brown's year with her husband Dude as keepers of the Pond Island Light (July/August issue).
For some of the loveliest summer vacation days of my childhood and on every occasion I could find my way back to Phippsburg and Hunnewell Beach in later years, I looked out at that island and lighthouse, wondering. Thanks to your story I now have a really clear picture of what life was like on this mysterious island for these two plucky and lucky Mainers who ran the lighthouse. Terrific photos too. Betty at 89 looks ready for a row out to the lighthouse.
Monica Allen
Silver Spring, MD
---
Thanks for the memories
May/June's MBH&H has hit too many chords for me to sit idle and not comment. "Two Traditional Canoe Builders" reminded me of my father, John Whitney, as he was NE Sales Manager for Old Town Canoe. I was probably 10 when he brought me to "The Factory" in Old Town; the smell of cedar and shellac still lingers.
Through the years he would bring home first wood/canvas, then fiberglass, and finally molded vinyl canoes and kayaks to our camp on Lake Megunticook. Could I have had better toys to play with? And our boathouse there is still crowded with wooden paddles—some long, short, or heavy, and all beautiful. He taught me to fly fish at an early age, and left our family many bamboo rods. I am not sure of their origin, but they are lovely.
And, leeches, snapping turtles and dock spiders...OH, MY! Life on the lake. A youngster's squeal at the sight of a dock spider is scary and precious. 
Thanks for the memories, MBH&H. Play on!
Randy Whitney
West Newbury, MA
---
What if the engine fails?
I read with delight Bill Mayher's fine article about his switch from sail to power. Having over many years observed Bill enjoying his ketch Vital Spark, I was amazed last year to see his retro-style powerboat Scooter appear in our harbor. Clear, though, was that he was much enjoying this newly acquired craft. I read his article looking for one piece of perspective that he failed to offer.
Sailboats have sails to get you home when the auxiliary engine quits. Like Bill, a life-long sailor, I have never been sure I could be at ease in a boat without sails despite considerable experience dealing with diesel problems on my sailboats. At the moment, at age 75, I continue to sail my relatively high-performance fin keel, spade rudder sloop, but I have wondered whether eventually a less lively boat may prove wise. Can Bill convince me to stop worrying about not having sails? I look forward to asking him!
Ben Emory
Salisbury Cove, ME