Lyman-Morse 46
Simple and fast to sail
By John K. Hanson, Jr.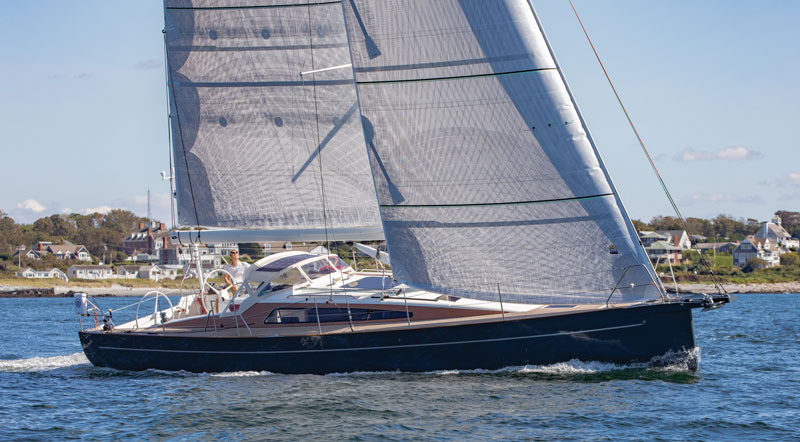 The LM46 was designed to be easy to sail and cost-effective to build. Photo by Alison Langley
Over the years, Cabot Lyman, founder of Lyman-Morse Boatbuilding, has proclaimed that the path to happiness on a sailboat is not through more complexity, but rather through simplicity—to be able to sail faster with less work—and do it in style.
Lyman has long wanted to build a boat that adhered to this philosophy and that utilized the lessons he and his wife, Heidi, had learned over 100,000 sea miles. Several years ago, he hired a designer, Kevin Dibley from New Zealand, and preliminary work began. And there the project stalled temporarily as Lyman looked around for someone who wanted to buy his dream boat.
When COVID struck, the Lymans were quarantined aboard their boat in Antigua. One day during the lockdown, Cabot received a call from his son, Drew, (who along with his wife, Mackenzie, is now in charge of the company) saying that he planned to build the LM46. "Who's the buyer?" asked Cabot. "Me," replied Drew.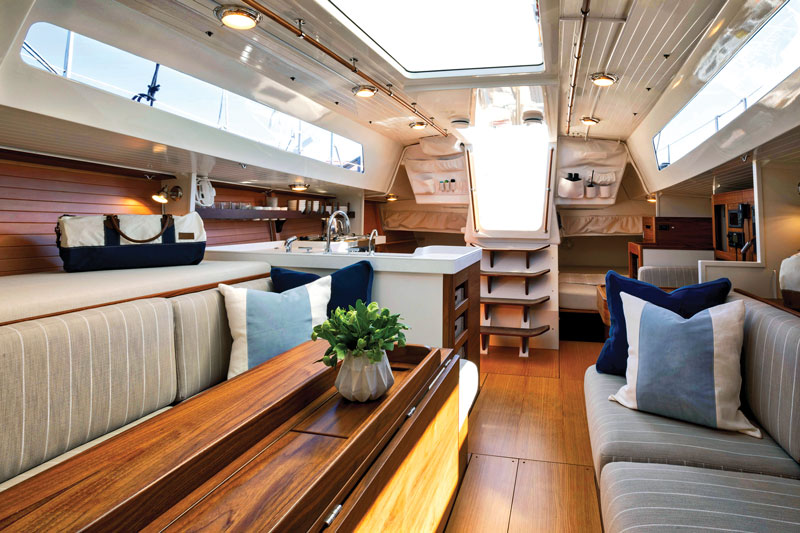 Huge skylights, inspired by the ones in Teslas, bring significant light into the cabin. Photo by Alison Langley
A year or so later, the result is the LM46, which was launched last summer. The company has already received at least one order for another boat, and fielded inquiries from several more potential customers.
The Lymans have been building and repairing yachts on their site in Thomaston for over 43 years. They added an operation on Camden Harbor at the former Wayfarer Marine site in recent years. Ships and boats have been built at both locations for well over 200 years; for most of that time, the vessels were built of wood. That tradition continued with this new project, although the technology that makes the LM46 possible is very modern.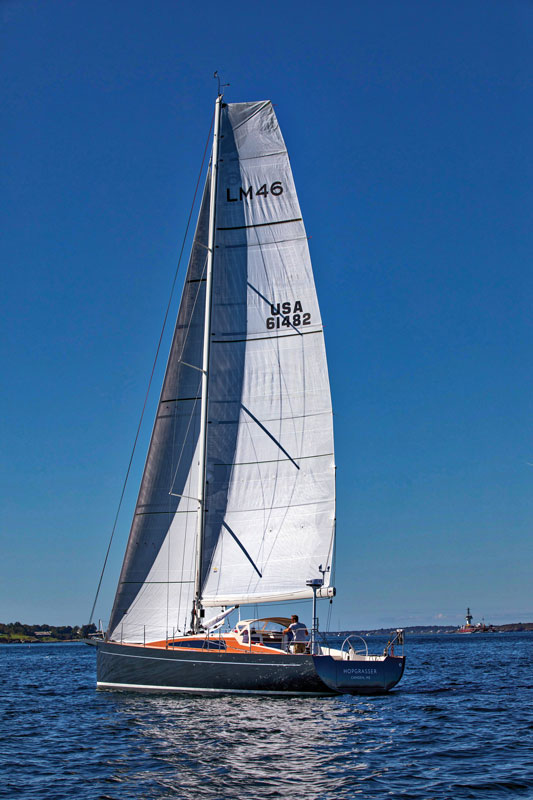 The LM46 is quite nimble, accelerating quickly and turning fast. The beamy hull allows for generous living quarters down below. Photo by Alison Langley The hull of the LM46 is cold-molded wood. Modern wood construction has a lot to offer, as CNC technology has made it possible to build molds quickly and fabricate parts easily. The multi-layers of wood make a strong, stiff, and light hull, and much of the interior can be built right up against the wood hull. The first layer of the LM46's hull is Douglas fir that does double duty as both part of the hull and as a visible ceiling in the interior.
The hull looks like a big sailing dinghy with a fin keel, and with its Kiwi racing heritage has proven to be fast. The first boat, with little tuning, hit 13 knots on its way to the Newport Boat Show. The beamy hull shape also allows for a seemingly immense living area down below. The feel of spaciousness is enhanced by the light from a big overhead skylight and the bright white-painted interior. A fast boat is a light boat, and the LM46 has done away with most drawers and locker fronts to save both weight and money. Ingenious use of felted wool organizers keeps everything shipshape and visible in a distinct way.
The rigging and sail handling layout are fairly standard for a modern rig, and easy to use. The goal was for one sailor to be able to handle the boat, or for a crew to make it go fast. The LM46 has all of the currently fashionable sails: main, working jib, staysail, asymmetrical spinnaker, and a Code Zero. With the normal upwind combination of main and jib, a tack can be completed without the need of a winch if skipper and crew work together.
The LM46 turns quickly, accelerates smoothly and fast, and responds well to sail trim. It can be tweaked to satisfy a racer, but ultimately the working jib and main power the boat well. The cockpit is comfortable; and two steering wheels give the helmsperson a choice of vantage points. The side decks are wide and clear.
Camden, Maine, is home to many classic, traditionally beautiful yachts, many of them tied alongside Lyman-Morse's docks. The LM46, with its plumb bow, almost plumb stern, and its modern wide beam stands out on its own as a gorgeous contemporary yacht.
During the earliest stages of the design phase, Cabot Lyman said he wanted a sailboat that traveled under power at 10 knots and could sail at 10 knots. He wanted a boat that could leave the dock or mooring and be under sail in five minutes, and that could be put away in five minutes, as well.
Mission accomplished. Designer Kevin Dibley and the crew at Lyman-Morse achieved those goals. The LM46 is a lovely, fast, simple yet elegant boat. 
---
John K Hanson Jr. is the founder and publisher of this magazine.
---
LM46
LOD: 45' 8"
LWL: 43' 3"
BEAM: 13' 5"
DRAFT: 6' (shoal) or 7' 7" (standard) or 10' (performance)
DISPL.: 24,750 lbs. (6' draft) or  24,250 lbs. (7' 7" draft)
FUEL CAPACITY: 81 gallons
SAIL AREA: 1,183 sq. ft.
Designer:
Kevin Dibley
Dibley Marine Design
New Zealand
Builder:
Lyman-Morse Boatbuilding Co.
Thomaston, ME
207-354-6904
Share this article:
Digital Edition Available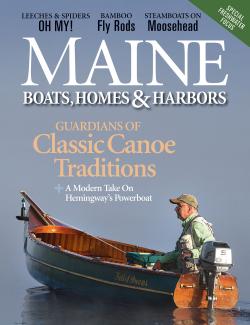 Can't get to the store to buy your magazine? We deliver the stories of Maine's coast right to your inbox. Sign up here for a digital edition.