Moose Landing Marina
A bustling hub in Maine's Lakes Region
By Laurie Schreiber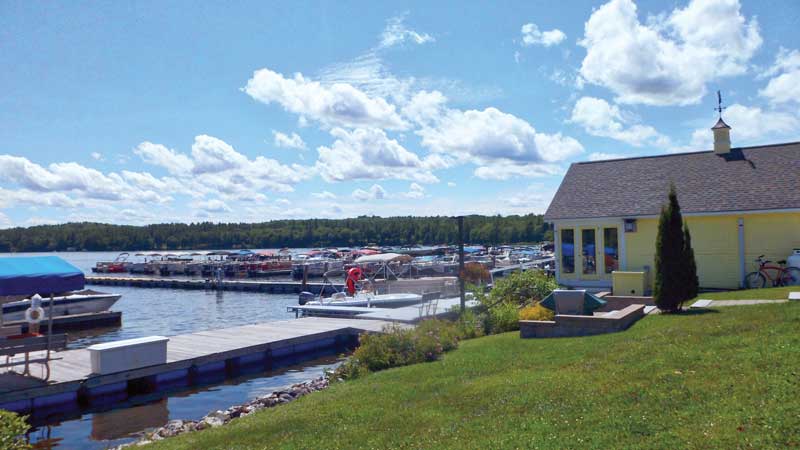 Moose Landing Marina is a hub of activity on Brandy Pond, in the middle of Maine's popular Lakes Region. Photo courtesy Moose Landing Marina
Moose Landing Marina sits on the shore of Brandy Pond, a beautiful little body of water that happens to be central to Maine's popular Lakes Region. Boaters can rent or purchase lake boats at the marina and cruise the day away on 44 miles of crystal-clear waterways, including the larger Long Lake to the north and Sebago Lake to the south.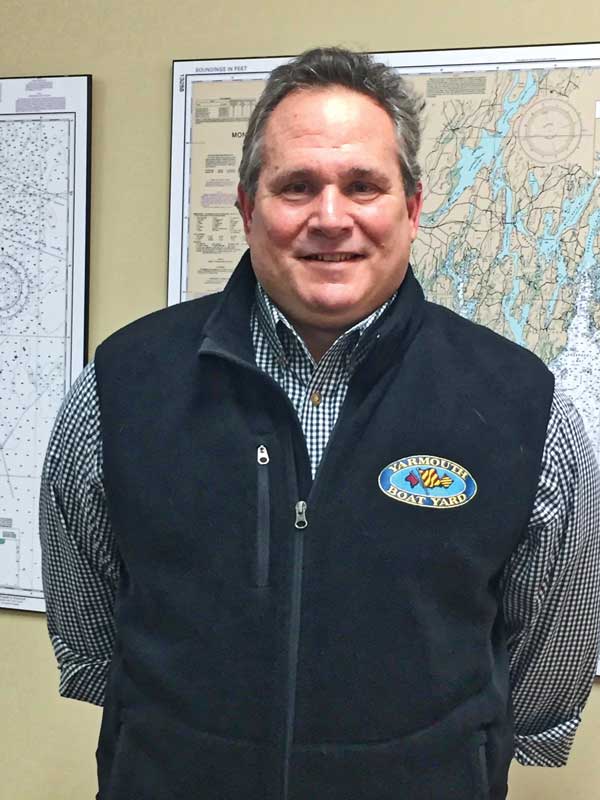 Steve Arnold has significantly expanded Moose Landing Marina since he purchased it in 2013. Photo courtesy Moose Landing Marina For Steve Arnold, who purchased the property in 2013, it was a perfect fit from both a business and personal perspective. After all, getting people out on the water is a passion of his.
"In the summer, you'll find me boating every Sunday, most likely at Moose Landing, with the entire crew," he said. "We'll find a sandbar and hang out and have lunch. It's a great environment, and a lot of our customers are out there. We just have a good time."
Originally called Marden Marine and operated for years as a family business, Moose Landing was so named after it was purchased by Dan Craffey in 2003, in homage to a moose that had wandered up the driveway.  The area is popular among tourists and features a number of lakeside marinas. But at the time, said Arnold, Marden Marine "was a sleepy little boatyard." Craffey developed the facility, installing a storage rack building, expanding the lines of rental boats, and soon attracting a growing clientele.
A decade later, Craffey was ready to sell the yard in order to concentrate on other business enterprises. 
Enter Steve Arnold.
Originally from Fort Lauderdale, he grew up working in marinas, starting out as a yard hand and working his way up to management roles. Then he headed off to Florida State University, where he earned a master's degree in business administration and a private pilot's license. From there, he embarked on a career in finance, eventually rising to become vice president of trading at Goldman Sachs in New York City.
After 10 years in that high-pressure world, it was time to make a change. He and his wife decided that Maine, with its quieter way of life, would be the best place to raise their kids. They made the move in 2003. A year later, Arnold harked back to his younger marina years when he purchased Yarmouth Boat Yard, on the Royal River off Casco Bay. At that time, the yard had just one employee and sold a single line of boats. 
With plenty of prior experience in the world of business, and with the help of then General Manager Shawn Dumas, Arnold built the Yarmouth yard slowly and organically. Today, the yard employs 17 full-time employees, has expanded to four lines of boats, and has become a sizeable player—in terms of boat sales, service, storage, cruiser amenities, and expanded access to the water with new docks and slips—in building the local boating community. 
"When I first bought Yarmouth Boat Yard, they sold 10 boats per year," said Arnold. "Today, we sell 120. So that's brought a lot of people to the water."
Arnold was familiar with Moose Landing Marina, having met Craffey at various boat shows. 
"One day, Dan and I started talking and he asked if I had any interest in buying the marina," Arnold recalled. "I said yes." Arnold knew Moose Landing was a thriving, well-run operation, and realized it had even greater potential with further investment. He purchased the operation in 2013. 
"It was a big marina," he said. "We started rebuilding docks and hiring more people." He benefited greatly from the expertise of Sales Manager Will Monson, who has been with the yard since Craffey bought it. Arnold also credits his General Manager, Jason Allen, who was one of his first hires.
The yard was helped by an investment the town of Naples made in 2011 when it rebuilt the causeway across the narrow waterway connecting Brandy Pond to Long Lake.
"Naples is a cool little town on the water, and when they rebuilt the causeway it made Naples more of a destination," said Arnold.
Today, Moose Landing is one of the largest Yamaha dealers in the Northeast and the largest pontoon- and deck-boat dealer in the region, selling Aqua Patio pontoons, Hurricane deck boats, Ranger tugs, Regal boats, Sanpan pontoons, South Bay pontoons, and Sweetwater pontoons. 
The yard has 20 employees, a fleet of 68 rental boats, and another boat-rental location at Point Sebago Resort. 
In 2017, Arnold completed a significant expansion at Moose Landing, with the construction of four new buildings that added 50,000 square feet for boat storage and service work. The enhanced service building allows the yard to do boat and engine repair work throughout the year, providing year-round employment rather than just seasonal.
The expansion project also involved improving existing structures and the site with features such as weather-resistant netting for the marina's boatel (a partially enclosed storage structure), which eliminates the need for individual shrink-wrapping, thus reducing waste. More netting will be added this year, doubling waste reduction next winter. In addition, site work was done to reduce water runoff. The improvements are expected to decrease detrimental runoff by 20 percent, thus protecting Brandy Pond.
Also in 2017, Arnold further expanded operations in both Naples and Yarmouth, when he added a Freedom Boat Club franchise. The nationwide franchise is designed to provide an affordable alternative to boat ownership by providing paying members with access to recreational boats.
"That's a whole other avenue that offers on-the-water experience," Arnold said. "We're excited about that."
Arnold gets people out on the water through charitable activities as well. For example, at Moose Landing Marina he has partnered with Maine's Veterans Adaptive Sports and Training, providing boats and guides so veterans can enjoy fishing on Brandy Pond and Sebago Lake.
All of that makes for some pretty perfect summer days on the water.
"It's a bustling hub of activity," Arnold said. "We have customers coming in on a Friday and spending the weekend on their boats. We have a clubhouse with amenities like a fire pit and hot tub. And our customer base is a pretty strong community. They're fervent boaters. Whether they're renting a boat for the day or staying overnight, Moose Landing is the destination for a lot of people. Sometimes it's just about being on the lake and watching the hawks fly. I love what I do. It's a lot of fun."  
---
MBH&H Contributing Editor Laurie Schreiber is also a Mainebiz staff writer and has covered topics in Maine for more than 25 years.
Moose Landing Marina
32 Moose Landing Trail, Naples, ME
207-693-6264; www.mooselandingmarina.com 
Yarmouth Boat Yard
72 Lafayette St., Yarmouth, ME
207-846-9050; www.yarmouthboatyard.com 
Share this article:
2023 Maine Boat & Home Show

Join Us for the Maine Boat & Home Show!
Art, Artisans, Food, Fun & Boats, Boats, Boats
August 11 - 13, 2023 | On the waterfront, Rockland, Maine
Click here to pre-order your tickets.
Show is produced by Maine Boats, Homes & Harbors magazine.