Up to Camp
Sometimes coastal dwellers need a vacation from vacation
By Bill Mayher
In late September last year, my wife, Caroline, and I decided to sojourn north into the deep woods of Maine. In the past we had climbed Mt. Katahdin on numerous occasions and overnighted at a few sporting camps. This trip would be longer.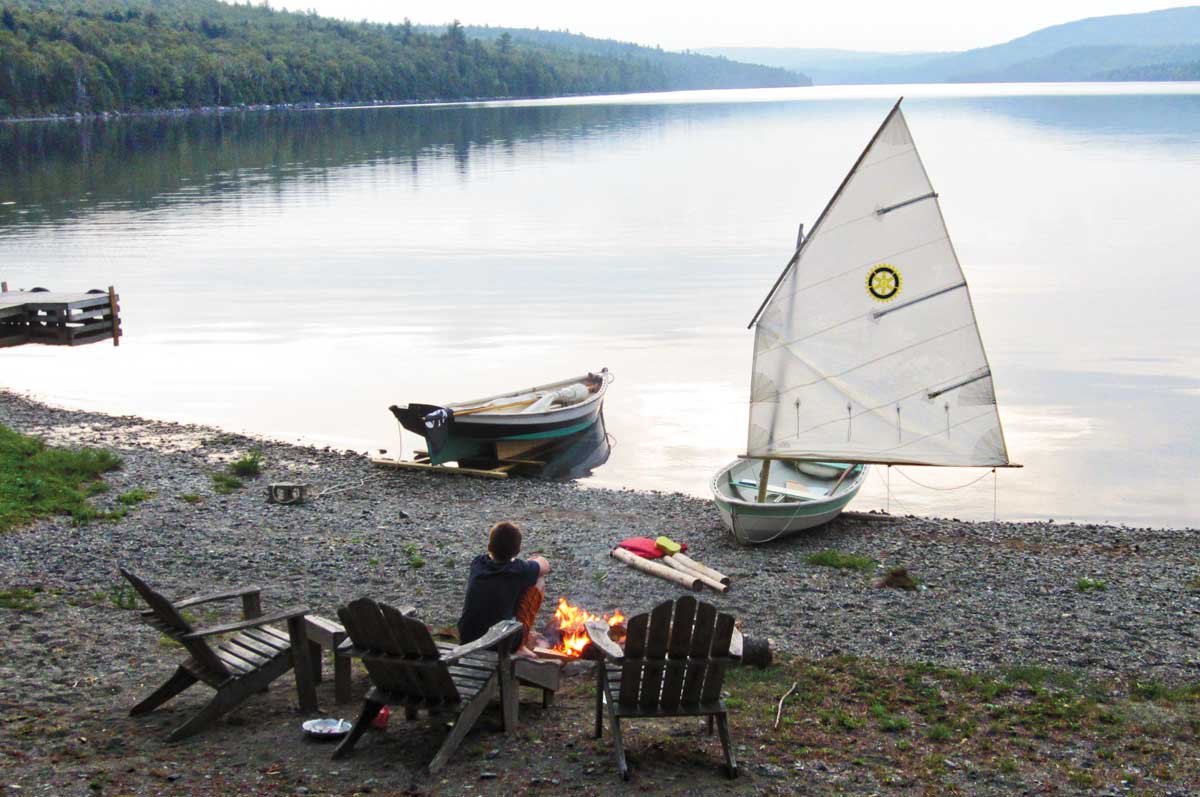 Free from the rigors of organized activities and the razzamatazz of video games, a guest at Nahmakanta warms up by the fire, thinking of little else but another day of sailing. Photo by Stella May Stone After the razzle-dazzle of a coastal summer—boats in and then (just as suddenly) boats out, visitors from near and far, family delights, the steady beat of social obligations regularly crashing up against the imperatives of daily work—we needed a vacation from our vacation. So we headed up to camp.
In Maine "up to camp" is a sacred concept. When you go, you pack the good stuff (fishing tackle and beer) in, and leave the bad stuff (pretty much everything else) behind. It means going to a pond or a camp way out of sight—a place where the rules are few, the pleasures many.
In this hierarchy, nothing beats a stay in one of Maine's historic sporting camps. Sporting camps emerged in the 19th century. Their rise as vacation destinations paralleled the increase in leisure time that in turn paralleled the rise of the middle class. The construction of rail lines north of Bangor also helped.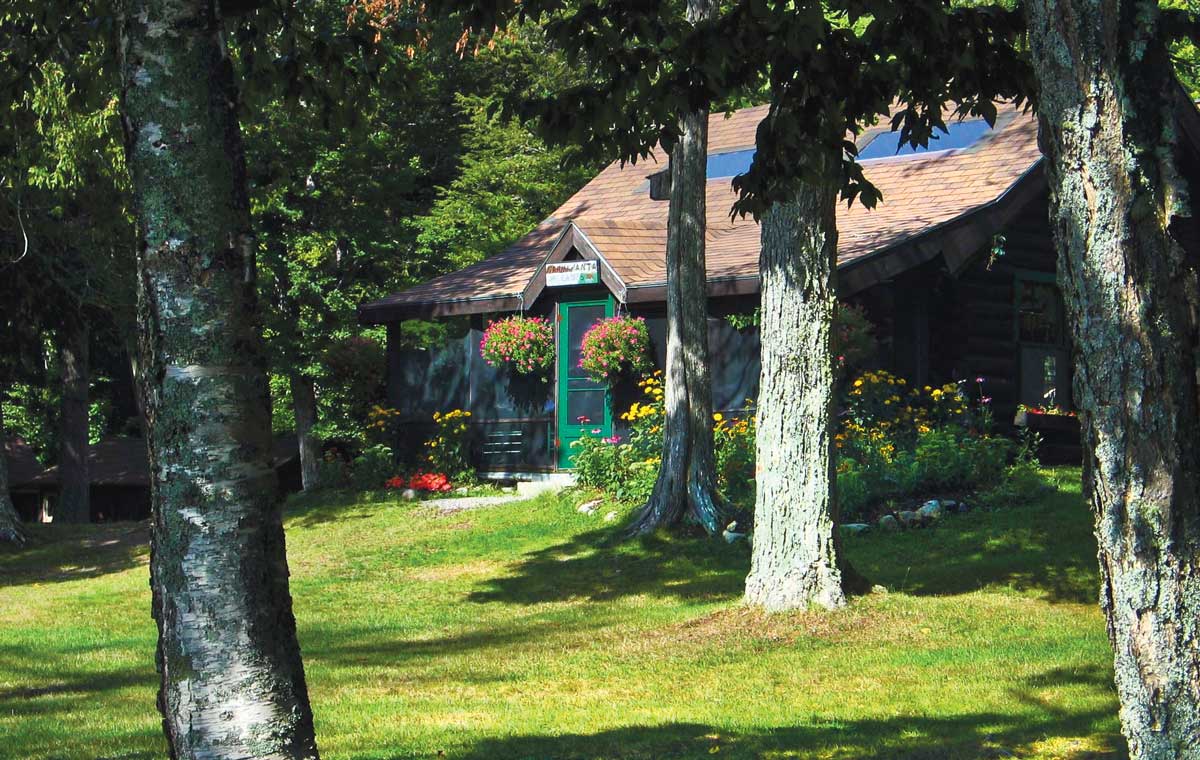 The main lodge at Nahmakanta is where advice on hiking and fishing is dispensed, and where family-style meals are served. Photo courtesy Don and Angel Hibbs
At these camps, "Sports," as the gents with the guns and the fishing rods were universally called, harvested vast quantities of trout, salmon, and deer under the tutelage of professional guides who were, often as not, Native American savants in the ways of trail and stream.
In 1872, one of them, a hero of the north woods named Lewes Ketchum, built a handful of cabins at the north end of Nahmakanta Lake.
For residents of the coast like ourselves, the north woods of Maine can seem remote and slightly mysterious—all those trees, those lakes, moose trotting about, and the big mountain (Katahdin) smack in the middle of it all.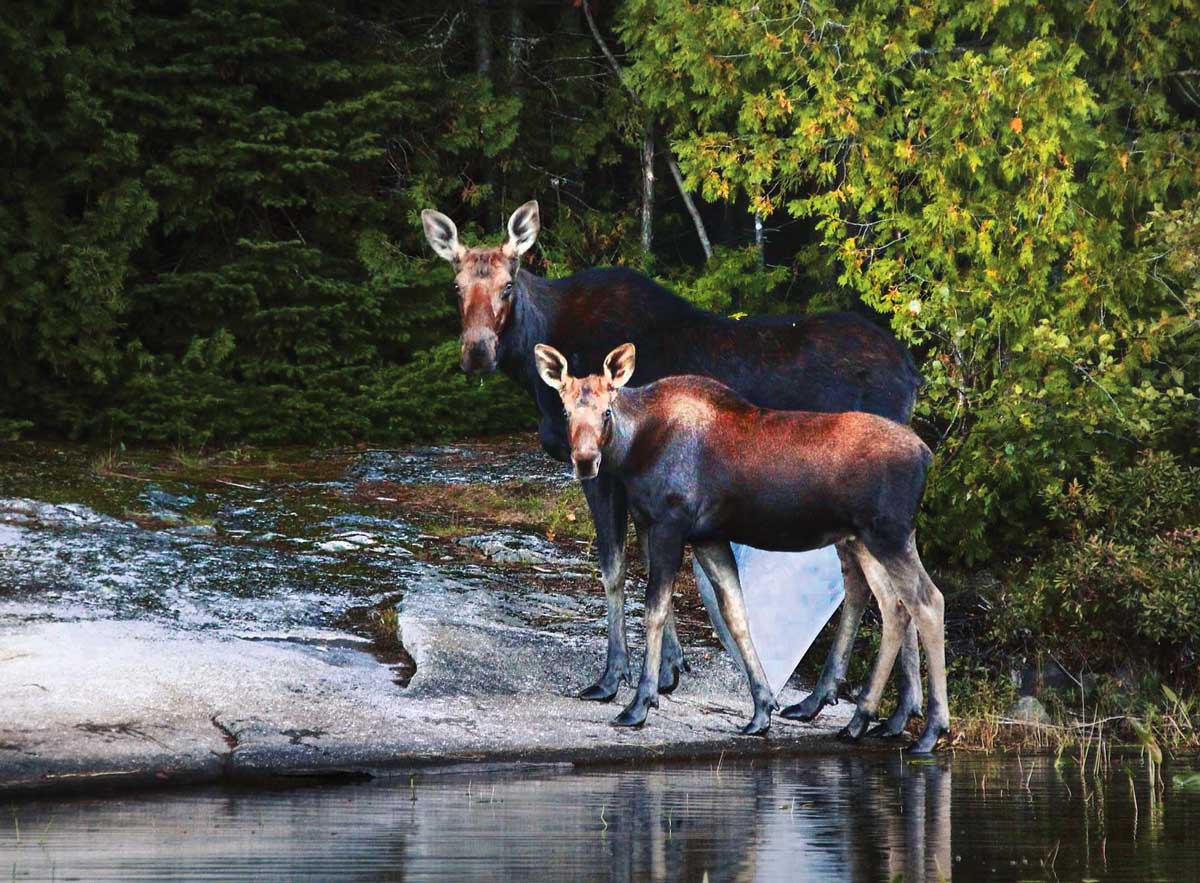 A moose calf and her mother look out from the water's edge. Quietly paddling along the shore puts guests at the very heart of nature. Photo courtesy Don and Angel Hibbs
These north woods, these storied woods, can be hard to access. Most of the land has been privately owned by paper companies and big timber outfits; they built gravel roads with logging trucks in mind, not scenic turn-outs. Bump along one for 25 or so miles and you feel like you have seen enough dusty leaves and not much else. On the map there's a lake over to your left, but you will probably never see it. From long experience along the salt water, we know the Maine Coast generally withholds its best vistas from motorists. Deep in the north woods, it's even worse.
It has become all too easy for coastal types to stay down on the shore and let the north woods be. But oh my goodness, what we were missing! 
Mist rising over a northern lake at dawn. Loons calling. Minnows dimpling the surface and then the arc of the Big One through the frosty air. A spotted sandpiper teetering at the water's edge. The curl of wood smoke from nearby cabins. Walking quietly down the shore to spot a bull moose easing out of the alders. And all this happening before breakfast... one of those legendary sporting camp breakfasts.
It was for these pleasures and more that we had sought out Nahmakanta Wilderness Lake Camps. Nahmakanta is remote, beautiful, and interesting. If you want to hike or fish or see wildlife, the possibilities run deep. All the more so because, when it comes to woods lore, proprietors Don and Angel Hibbs are highly experienced and talented fishermen and, during the winter season, noted dog sled racers.
Angel grew up in the region working at her family's Big Moose Inn on Millinocket Lake. Don first got up there when he dropped out of college and walked in for a job at Nahmakanta before there were roads to the lake. He then worked at the camps for a decade before hitting the road with Angel on an eight-year Alaskan adventure where, among other things, they became highly skilled dog sled mushers.
Upon hearing Nahmakanta was for sale, they rushed back, put a deal together and have been running the camps ever since, raising three children in the wilds and enjoying the outdoors in a way that perfectly fuses vocation with avocation. Their love for the place and for their way of life shines through every hour of their days, making them particularly generous in the way they share information about trails, ponds, and fishing hotspots. 
Don has stashed some 40 canoes at more than 20 ponds within hiking distance of the camps. He'll provide you with paddles, life jackets, and a key to unlock the canoe, and then off you go—into strikingly remote country without having to hike your brains out or (worse yet) portage a canoe on your back.
According to Don, each pond presents a different biological profile in terms of water depth, temperature, mineral content, and feed for fish. These variations present an engaging set of challenges and opportunities for fishermen and canoeists who enjoy paddling into the nooks and byways of watery worlds that vary in size from 20 to 40 acres.
Equally enchanting are the local streams, many of them containing waterfalls and all of them providing magical respite points. As Sarah Orne Jewett wrote in The Country of the Pointed Firs, "If there is one way above another of so getting close to nature that one simply is a piece of nature, following a primeval instinct with perfect self-forgetfulness and forgetting everything except the dreamy consciousness of pleasant freedom, it is to take the course of a shady trout brook. The dark pools and the sunny shallows beckon one on; the wedge of sky between the trees on either bank, the speaking, companioning noise of the water, the amazing importance of what one is doing, and the constant sense of life and beauty make a strange transformation of the quick hours."
In addition to the enchantments of stream and pond, the camps intersect with some of the most beautiful hiking trails in the northeast. The summit of White Cap Mountain is achievable on a day hike from Nahmakantah as is the famed 100 Mile Wilderness stretch of the Appalachian Trail that many through-hikers reckon as their favorite section. 
We came to Nahmakanta to walk, to paddle, to enjoy the vistas out in front of our cabin and along the trail. We also came to Nahmakanta, after a summer of visitors, to have someone else do the cooking. At the camps, three meals a day are available—or one or two or none—but we never passed up the dinners. Home cooking at its best, a convivial dining hall scene to enjoy with other guests, or (if one chooses) the independence of a separate table. Thanks to Don and Angel's easy hospitality everything is easy "up to camp." Even the moose seem to feel that way.      
---
Bill Mayher lives in Brooklin, Maine, and is one of the founders of the maritime web site offcenterharbor.com.
Watch a video about the Nahmakanta camps, shot by Steve Stone for offcenterharbor.com. 
For More Information:
Nahmakanta Lake Wilderness Camps
Millinocket, ME
207-731-8888;  www.nahmakanta.com
Share this article:
2023 Maine Boat & Home Show

Join Us for the Maine Boat & Home Show!
Art, Artisans, Food, Fun & Boats, Boats, Boats
August 11 - 13, 2023 | On the waterfront, Rockland, Maine
Click here to pre-order your tickets.
Show is produced by Maine Boats, Homes & Harbors magazine.