Brooklin Boat Yard: Sonny
Proof that you can go home again
By Art Paine
The raked transom incorporates a hydraulically operated swim platform. Photographs by Billy Black
By Art Paine To quote Yogi Berra,
Sonny
, the 70-foot yacht built last year by Brooklin Boat Yard is déjà vu all over again. That's because this
Sonny
is exactly the same as the
Sonny
built by Brooklin for the same owner in 2000. The story of how this happened is a good example of how sometimes truth can be way better than fiction. The first
Sonny
was designed by Dieter Empacher for Bert Phelps. The design was meant to be the ultimate, the largest and best racing/cruising yacht Phelps had ever commissioned. He was fond of the larger Robins, which were heavy displacement Ted Hood designs known for their palatial accommodations and sailing speed. Eventually Phelps linked up with Empacher, an independent yacht designer who practices in Marblehead and who had worked for years under Hood. Initially, Phelps wanted the boat built out of aluminum, at the time the logical choice for a custom yacht of this size, displacement, and purpose.
Owner Bert Phelps at the helm of his custom cold-molded yacht
Sonny
.
An old school yachtsman, he wanted a deeply embossed cove stripe below the sheer, with real gold leaf. But interrupting the topside plating of an aluminum boat with an indentation is quite difficult. Phelps learned that doing so was rare, expensive, and could compromise the engineering. Then he met with Steve White of Brooklin Boat Yard who told him that a proper cove stripe is simple to rout into the topsides of a cold-molded wooden boat. Ultimately, in the year 2000, the beautiful flush-decked, cold-molded yacht was built out of wood in Brooklin and raced and cruised for 10 happy years.
Sonny
won the Marblehead to Halifax Race in 2001 and seldom finished far out of the money in any ocean race. Then in 2008, Phelps turned 86 and made the reluctant decision that maybe the time had come to retire from big yacht sailing. He contacted White, who helped broker the donation of the yacht—still in prime condition—to Maine Maritime Academy. Six months later White got a phone call from Phelps; "I've made a terrible mistake—I want my boat back!" But that was not possible. So Phelps did the logical thing. He asked Steve White and Brooklin Boat Yard to build him, for the second time, the exact same yacht.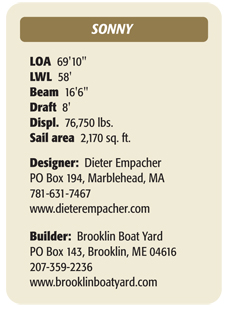 Sonny
No. 2 was completed in September 2013. When I interviewed White about the second
Sonny
, I was listening hard for upgrades and improvements added this second time around. I didn't hear much. In fact I learned that this second
Sonny
has the same upholstery and dinnerware patterns as the first. As for the boat itself, it has a vast, flush teak foredeck, which must surely be a secure place to wrestle with spinnakers, or when cruising the Caribbean, to use for sunbathing. It's intriguing to note that the actual deck of
Sonny
No. 2 was built not at Brooklin Boat Yard but by their partner facility, Front Street Shipyard in Belfast. This is probably a hint that in future the trio of Front Street, Brooklin Boat Yard, and Rockport Marine are likely to collaborate. They share an incomparable mix of facilities and a wide range of personnel talent. The cabin trunk is low, with little more than a steering pedestal and a dodger to identify the center-cockpit layout. As usual in an Empacher-Hood-style boat, there are beautiful stainless steel opening ports in the cabin side—Ted Hood is famous for once having established a factory in order to produce them. The boat features a soaring sloop rig—a favorite Empacher sail plan.
The yacht's interior features American cherry joinery and a teak and maple cabin sole.
Sonny
's hull shape features overhangs at both ends. Empacher has praised this treatment of bow shape, as much in terms of seakindliness and spray-reduction as for practical merits regarding anchor deployment. It's all true. As for the raked stern, it incorporates a clever hydraulic davit system for a dinghy, as well as a swim platform. Empacher is known for his expert and intricate accommodations plans.
Sonny
is no exception, with wonderful sight lines, great at-sea ergonomics, and a kind of yacht-stylishness. I'm prejudiced, being an identical twin; but in a world of ubiquitous, white plastic, short-ended yachts, with
Sonny
, one and two, we are doubly blessed. Contributing Editor Art Paine is a boat designer, fine artist, freelance writer, aesthete, and photographer who lives in Bernard, Maine. Credit: Video by Billy Black
Slide show
: The 70-foot, custom cold-molded yacht
Sonny
No. 2 was built and launched at Brooklin Boat Yard. Photos by Billy Black
Share this article:
2023 Maine Boat & Home Show

Join Us for the Maine Boat & Home Show!
Art, Artisans, Food, Fun & Boats, Boats, Boats
August 11 - 13, 2023 | On the waterfront, Rockland, Maine
Click here to pre-order your tickets.
Show is produced by Maine Boats, Homes & Harbors magazine.