SW Boatworks: A Gambler's Tale
Boatyard Profile: SW Boatworks
By Brian Robbins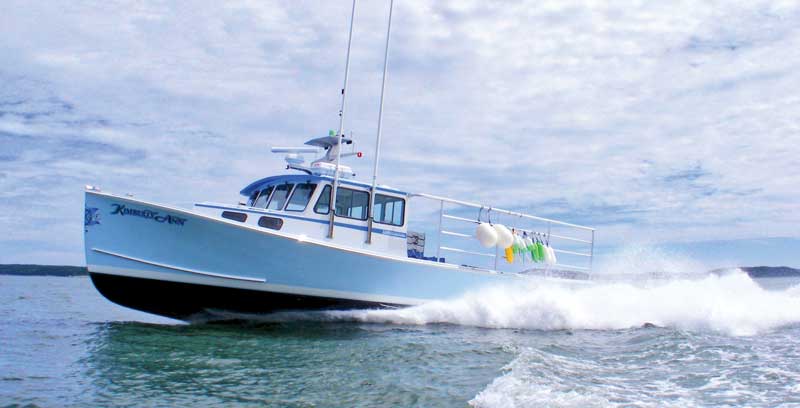 Kimberly Ann served as the plug for SW's popular Calvin Beal 42 model.
The year was 2008: the economy had tanked and it seemed that having a new boat built was the last thing any potential boat buyer, commercial or pleasure, was considering.
So what did Stewart Workman, owner of SW Boatworks, decide to do? Up to that point, a custom finisher of other shops' hulls, he bought a set of hull molds from well-known designer/ builder Calvin Beal Jr. Within a year or so, he also purchased the Ernest Libby Jr.-designed Young Brothers molds, as well.
"The obvious question is: 'Why?'" I asked Workman as we sat in his office at SW Boatworks in Lamoine, Maine. "How did you dare to invest in new hulls when the market was bottomed out?"
"Well, my wife Alice and I talked about it," he replied. "The economy had gone to hell in a handbasket and boatbuilding had gone with it. But it was going to come back; and we figured if I didn't have my own line of hulls to sell, I was going to be out of business."
"Yeah, but…" I paused, shaking my head. "Weren't you scared?"
He gave a tight-lipped smile and nodded. "Scared shitless."
But whether you think Stewart Workman is a clever businessman or a bold gambler (or both), SW Boatworks started taking boat orders once the economy began to rebound. And they've been busy ever since.
Alice and Stewart Workman met when he was skippering a fishing charter boat and she was a passenger: "I baited her hook," he said.
Early years
Born in Bar Harbor, Maine, Workman developed a fascination for lobsterboats early on and became well known to the local fishermen.
"When I was just a little kid, I'd get up early, make a lunch, and head down to the wharf to wait for the fishermen," he said. "I'd ask every one of them if I could go out to haul for the day. When one of them said yes, I'd let somebody know whose boat I'd be on and go out lobstering."
As he got older, he fished traps of his own, moving from an outboard into an old 34-footer after graduating from high school in 1982.
By his own admission Workman "damn near starved to death" lobstering; that was the inspiration for a stint in the Coast Guard that lasted from 1987 to 1991, part of it on the West Coast. Wanting to be back in Maine, he left the Coast Guard, and worked on boat restoration projects (including converting the old sardine carrier Lou Ann into a windjammer) while earning his Captain's license.
In 1997 he began a sightseeing and fishing charter business, which is where he met Alice, who was a passenger.
"It was the captain's outfit, wasn't it?" I asked Alice, who laughed.
He also bought a 40' Novi to do some scalloping and sea cucumber harvesting.
Then a conversation with a friend named Mike Gilley started Workman in a new direction.
"Mike told me he had a boat to finish that winter, but he didn't have a shop; I told him I had a shop and would love a chance to finish a boat," said Workman, who had spent some time doing finish work at the Young Brothers shop in Corea after high school. He and Gilley turned out three boats in their spare time over the next couple of years.
"By 1999, I felt like my job was interfering with my boatbuilding," Workman said. That's when his job became boatbuilding.
From customs to Calvins
The orders were fairly steady for those first few years—and when there was time in the schedule, Workman started a few spec boats, which always sold quickly.
SW finished a variety of builders' hulls in the beginning, but by the mid 2000s, the yard was mostly focused on the line of models that Calvin Beal had designed for himself. Problems developed where SW had orders for finish jobs, but couldn't get the hulls in a timely manner.
"Poor Calvin was going crazy," Workman said. "He'd hired out his layup work and it just wasn't getting done on time. I felt bad for him—plus, we needed hulls ourselves."
For a couple of years Workman and Beal had periodically discussed having SW take over Beal's layup work, but that's as far as it went. Then came the aforementioned day in 2008—in the midst of the boatbuilding slump—when Workman took a call from Beal.
The conversation went something like this, according to Workman.
Beal: "I think I've had enough. If you want to take over those molds and lay them up for me, I'm ready."
Workman: "I've been thinking about it and I don't want to do that."
Beal: "What do you mean?"
Workman: "I'd rather buy them."
Beal: "Well, we could do that, too."
That was Part 1 of the development of the SW stable.
Part 2 came a year later when the Young Brothers shop went up for sale.
Workman briefly considered moving his operation down to the Corea facility. He decided to remain in Lamoine, but ended up buying the Young Brothers' seven hull molds, which ranged from 30' up to 45'. That's how SW Boatworks ended up with models from two noted Beals Island designers.
Hot models
Two of SW's most popular hulls over the last decade have been Calvin Beal's: the 44 and 42, which had very different birth stories. The 44's roots date back to 2006 when Beal was just getting the wooden strip-planked plug under way for a new 44' x 17'6" design. The economy started to soften and he almost gave up on the project, but his wife, Jeannine, told him to keep going.
Workman had his doubts about being able to sell many of these beamy Calvins. But after Owls Head lobsterman Shane Hatch launched his 44' Jill Cayden in 2011, the orders began to ramp up.
Then there's the 42, which was actually birthed from the Calvin Beal 38 as a result of a string of inquiries from customers "who loved the 38, but wanted to be able to carry another tier of traps."
Workman consented to tackle the project when Milbridge, Maine, lobsterman Eric Beal put down a deposit on the first Calvin Beal 42 and agreed to allow his hull to be used as the plug for a new mold.
Even though the lengthening process (which involved adding 4' up in the middle of the hull while working to keep her sleek sailing lines intact) was done at the SW facility, Workman made sure Calvin Beal was part of the process, providing guidance along the way.
Workman said he was holding his breath the day Beal showed up to inspect the hull one last time before fairing it for mold-taking.
"Calvin got down on his knees, squinted one eye, and said, 'It looks pretty darn good to me; you got her.'"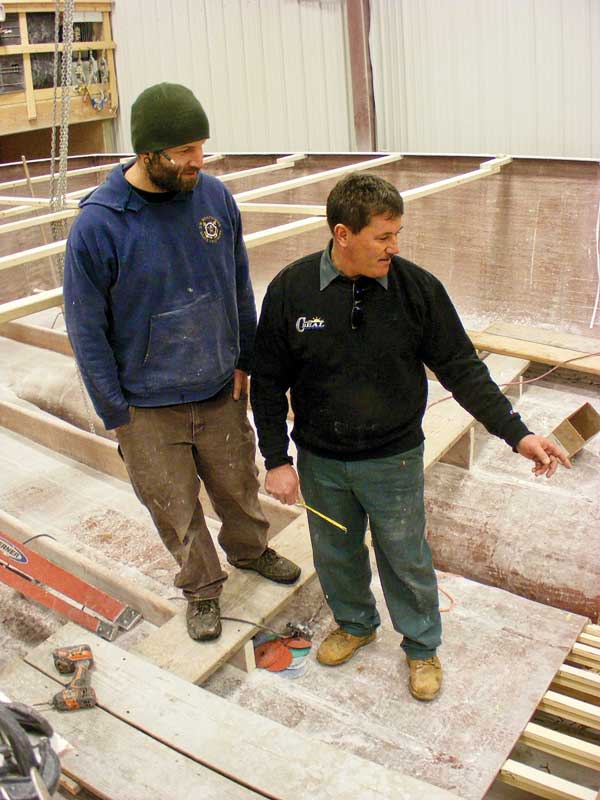 Team leader Will Duffy and Stewart Workman discuss a Calvin Beal 44 hull that is being stretched to 50' for a Boothbay fisherman.
Teamwork
Both Stewart and Alice (who came onboard full time in 2011 as business manager) are quick to praise SW's crew.
"We couldn't do this without good people," he said.
Each major project underway at the SW shop has its own focused crew as well as a team leader. Key players include Alice's son Will Duffy, who has worked at SW since 1999 ("Stewart is always bouncing ideas off of him," said Alice); Gleason Smith; Mason Burkowski; and Walton Kinney.
"All of them have learned from Stewart," Alice said, "and are great at what they do, including overseeing crews and talking with customers."
She didn't mention if the mentoring process included knowing when to take a big gamble... but Stewart would surely be the man to ask. 
---
A former offshore lobsterman, Brian Robbins is senior contributing editor for Commercial Fisheries News.
SW Boatworks
358 Douglas Highway
Lamoine, ME
207-667-7427
Share this article:
2023 Maine Boat & Home Show

Join Us for the Maine Boat & Home Show!
Art, Artisans, Food, Fun & Boats, Boats, Boats
August 11 - 13, 2023 | On the waterfront, Rockland, Maine
Click here to pre-order your tickets.
Show is produced by Maine Boats, Homes & Harbors magazine.