Boatyard Dog® 149
The 2017 World Champion Boatyard Dog is......Zola!
By The Editors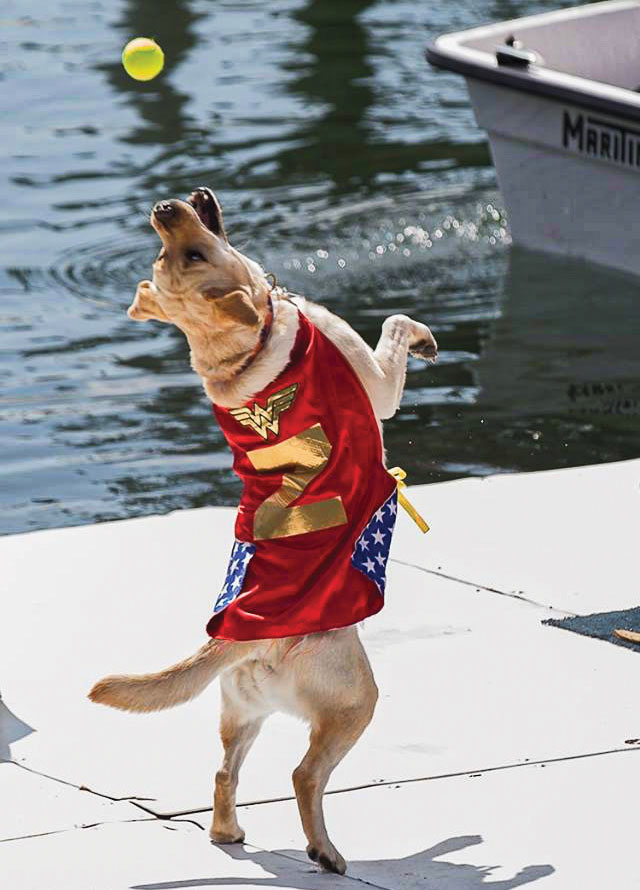 Zola. Photograph by Bell's Furry Friends Photography High-spirited and high-flying, Zola the Wonder Dog lived up to her name and captured the title of World Champion Boatyard Dog® at the 2017 Maine Boats, Homes & Harbors Show in Rockland. The 2.5-year-old Labrador retriever lives on Pleasant Point Gut in Cushing, where she regularly entertains the lobstermen by fearlessly flying off the float to retrieve tennis balls midair. When not catapulting into her favorite swimming hole at the speed of light or cheering on the Red Sox, she scales the rocks along the shoreline of the Gut, especially at low tide when the mud is irresistible.
Zola made her entrance to the Boatyard Dog Trials with the theme song from "Wonder Woman" playing, wearing her red superdog cape and in the company of her person, Nancy Holmes, also in a caped costume. Zola jumped over lobster traps, crates, a kayak, and duffel bags with skill and bounded in and out of a tippy boat, thanks to intensive training sessions on the commercial lobster wharf of Luke's Seafood in Cushing. She caught tennis balls in her mouth and  dove into the ocean with cape flying, though it was her trusty sidekick who retrieved the Frisbee in HER mouth while our superdog looked on approvingly, impressed with her own powers of persuasion.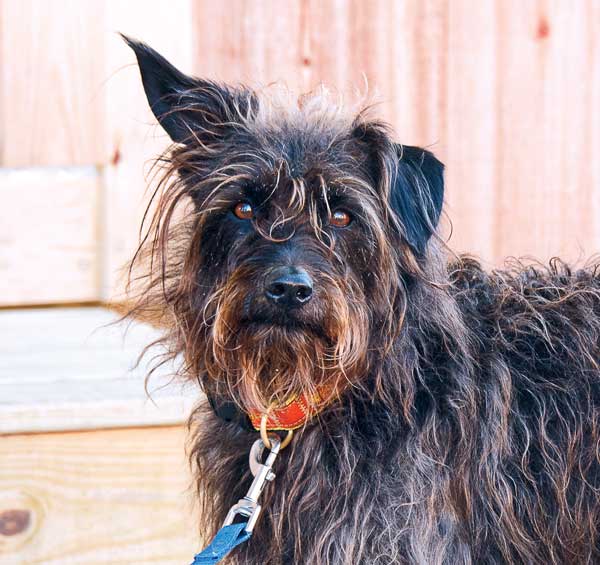 Cargo. Photograph by Bell's Furry Friends Photography The competition was fierce but friendly, with strong showings made by a rescued pooch named Jester (with handler Cruella De Vil), a cat-loving black Lab from Warren named Kenzie who swam her heart out, and Cargo P. Cargo, Rockland's own "Mayor." Cargo is a fundraising force to be reckoned with, having raised more than $1,000 both this year and last for a local animal shelter. 
All the competitors in the annual event received a doggy-bag full of goodies provided by The Loyal Biscuit, plus bags of Rock City Coffee's Boatyard Dog blend. Bamforth Marine Brunswick provided the judges' boat and Yachting Solutions of Rockport the photo/safety boat. Bell's Furry Friends Photography captured the event and will provide a private photo shoot for Zola.    
Share this article:
Digital Edition Available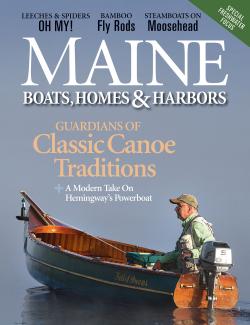 Can't get to the store to buy your magazine? We deliver the stories of Maine's coast right to your inbox. Sign up here for a digital edition.