Gunkholing with Gizmo: Burnt Island, North Haven
Gunkholing with Gizmo: Burnt Island, North Haven
By Ben Ellison

Gizmo
at anchor off the Burnt Island dinghy dock. Click on the image to see a larger view.
What's sweeter than a lovely uninhabited Maine island with fine trails, a safe anchorage, and even a dinghy dock? How about one so trusting of visitors that there are no rules posted and a tidy—if eccentrically accessorized—old cottage that allows visitors to enjoy a respite, rocking chair and original art included? Such is 74-acre Burnt Island (1), a North Haven public park that's tucked away near the big island's southeast corner. When we visited, evidence that the local youth use the cottage (2) for slumber parties included a stack of fashion magazines, some in Spanish. Don't presume that a Maine island community isn't cosmopolitan, and do treat this unusual island park as if all the obvious rules apply, including leaving no trace of your visit unless it's an artful cottage accessory.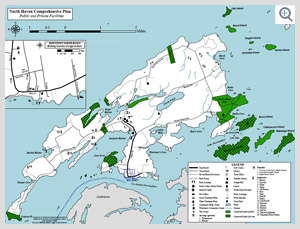 Burnt Island has several close-to-sand beaches, most of them protected enough from East Penobscot Bay that they must be summer heaven for cruising toddlers and their parents, who got easily ashore via the dock. The same protection also means that Burnt has hardwood trees, native rhododendrons, and lots of wildflowers mixed with the classic spruce and moss shore foliage. Boaters who anchor in the Little Fox Islands Thorofare can also visit Calderwood Island (3), where Maine Coast Heritage Trust volunteers keep the junipers and spruce trimmed back enough so that hikers can enjoy high, wide views out toward Isle au Haut. There's also North Haven's Mullen Head Park (4) to explore, which I plan to do next summer. Research suggests that there are numerous trails, and that what's locally known as Big Beach (5) has copious quantities of the fine sand that is so rare in the midcoast. Let's exchange information on Mullen Head in the comments section below. You'll also find links to the North Haven Conservation Partners, who facilitated the preservation of Burnt Island, and to an excellent map of all North Haven public lands, which is published by the town. Here's an unusual cruising idea: Keep an eye on the happenings at Waterman's Community Center (
www.watermans.org
) so you can cruise out for dinner at one of downtown North Haven's several restaurants, followed by an evening of live theater or music. Last summer, an early and delicious supper at the relatively new Nebo Lodge (
www.nebolodge.com
) followed by a set of imaginative one-act plays written, directed, and performed by young members of this theater-happy community was an entirely enjoyable test of the concept for us. It was even, yes, cosmopolitan.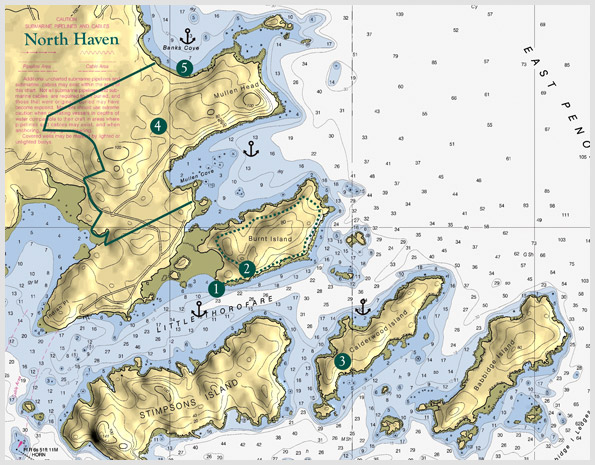 Charlet Key:
1) Burnt Island dock, a North Haven public park 2) Cottage 3) Calderwood Island, a Maine Coast Heritage Trust preserve 4) Mullen Head Park 5) "Big Beach"
Chart: Ben Ellison, based on 1:15,000 scale NOAA Chart 13308, with 3D by Memory Map.



Share this article:
2023 Maine Boat & Home Show

Join Us for the Maine Boat & Home Show!
Art, Artisans, Food, Fun & Boats, Boats, Boats
August 11 - 13, 2023 | On the waterfront, Rockland, Maine
Click here to pre-order your tickets.
Show is produced by Maine Boats, Homes & Harbors magazine.