An Artist Goes Sailing
Discovery on the water and the canvas
By Colin Page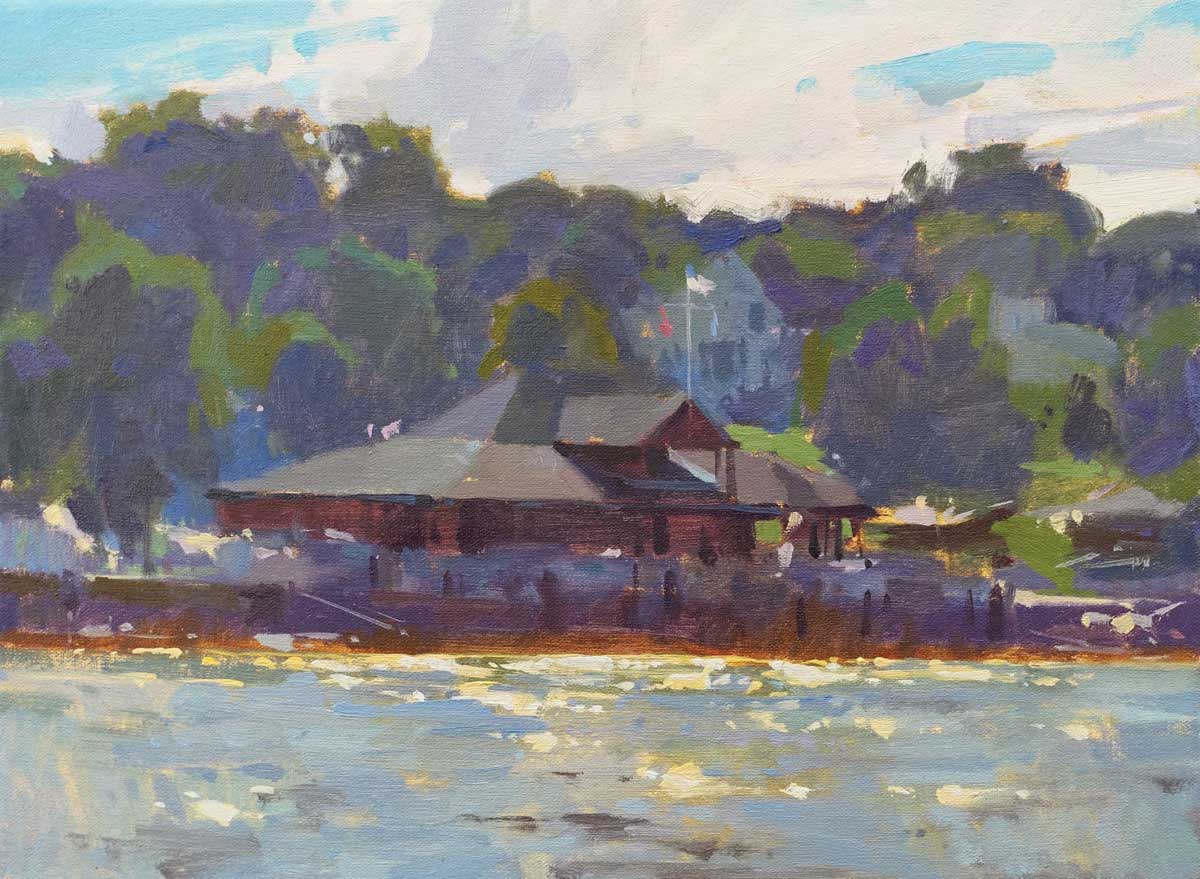 Colin Page is known for atmospheric, light-filled paintings of Maine coastal scenes. The purchase of a second-hand sailboat prompted him to teach himself to sail. In the process, he gained new insight into his work. This is Yacht Club, a 12" x 16" oil painting. Courtesy Dowling Walsh Gallery
In the spring of 2015 I bought a seven-foot Walker Bay sailing dinghy and used it to learn how to sail and as a floating art studio. I spent many afternoons sailing on Megunticook Lake, and had some great days painting ocean views while tied up to moorings in local harbors. It was a wonderful initiation into sailing and exploring by boat.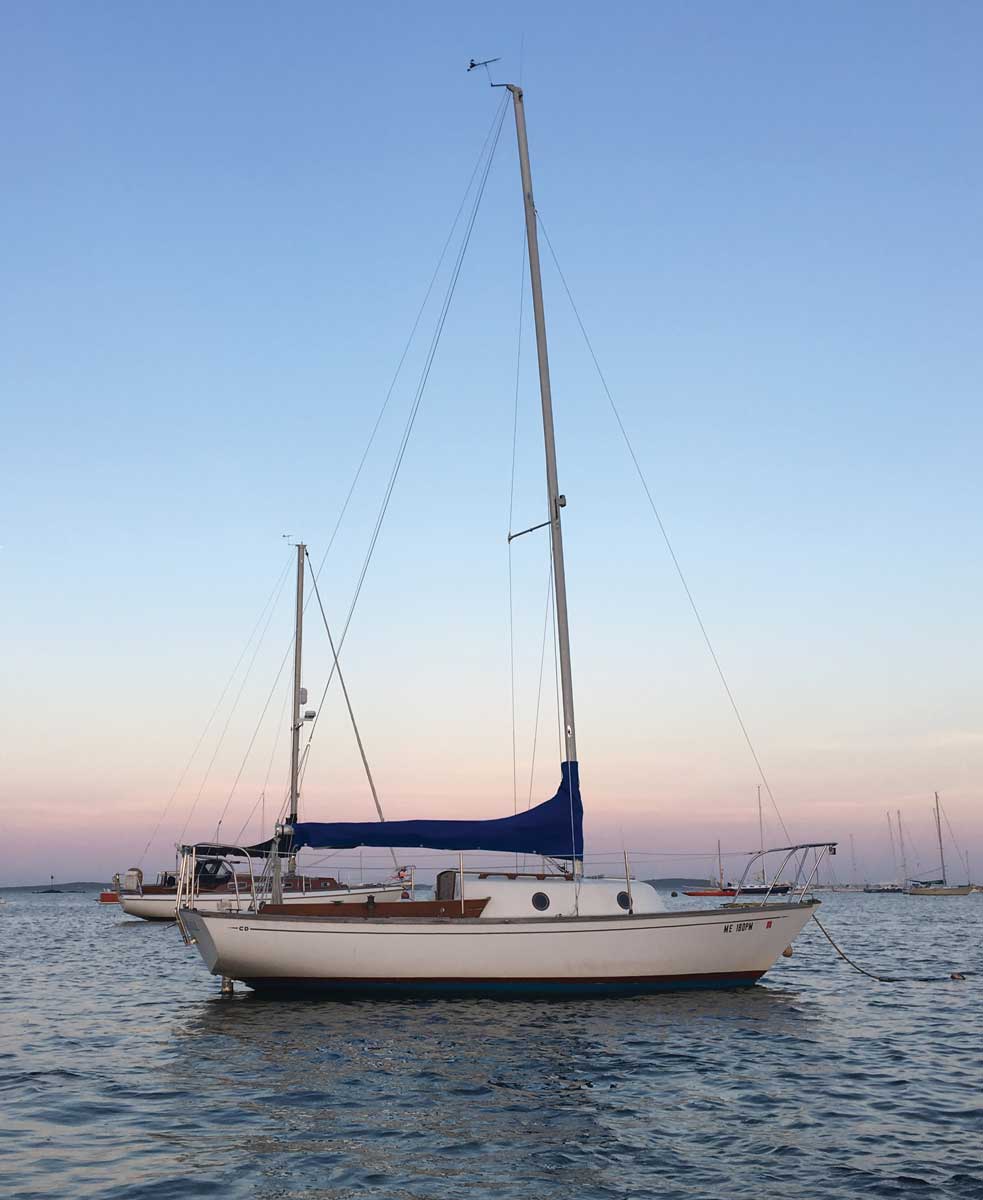 Page's moored 22' Cape Dory, Snow Squall. Photo by Colin Page In my first attempt at sailing, I pushed off from the dock and tried to figure out what to do by feel. It wasn't pretty, but I was able to get across the lake and back. That summer, full of questions about how to maneuver a sailboat efficiently, I pestered friends for advice constantly. Learning this new skill was exciting, and even in a humble dinghy I was hooked.
A year later I upgraded to a Cape Dory 22—a real sailboat—and got a mooring in Camden. I then set out to learn the ropes. With a little help from those knowledgeable friends, I gradually gained confidence and by the end of the summer season I began to feel at home on my boat.
I am a parent of two little girls, and as I watch them grow up, I see the excitement they feel as they figure out how the world works. Responsible adults like me get few opportunities to start from scratch like our children and rediscover the thrill of learning something so totally new. This experience has been so special because learning how to sail has given me that feeling of discovery. As I learn the basics, I begin to realize how much more there is to understand.
I am trying now to carry the joy and discovery I find in sailing over to my paintings. There's a tendency to get stuck in a rut when I'm in the studio. Learning to sail reminds me of how much fun it was learning to paint as a teenager. 
I'm reminded to keep looking for places I can grow as an artist. I'm reminded to look for joy in my art making. As I sit in the studio in the winter, I remember the feeling of the wind filling my sails and pushing me forward. As I paint a harbor scene, I recall looking for shifts of color telling me about gusts of wind on the water. As I paint sunlight bouncing on ripples, I recall the way my boat rode over the chop and slid through the ocean.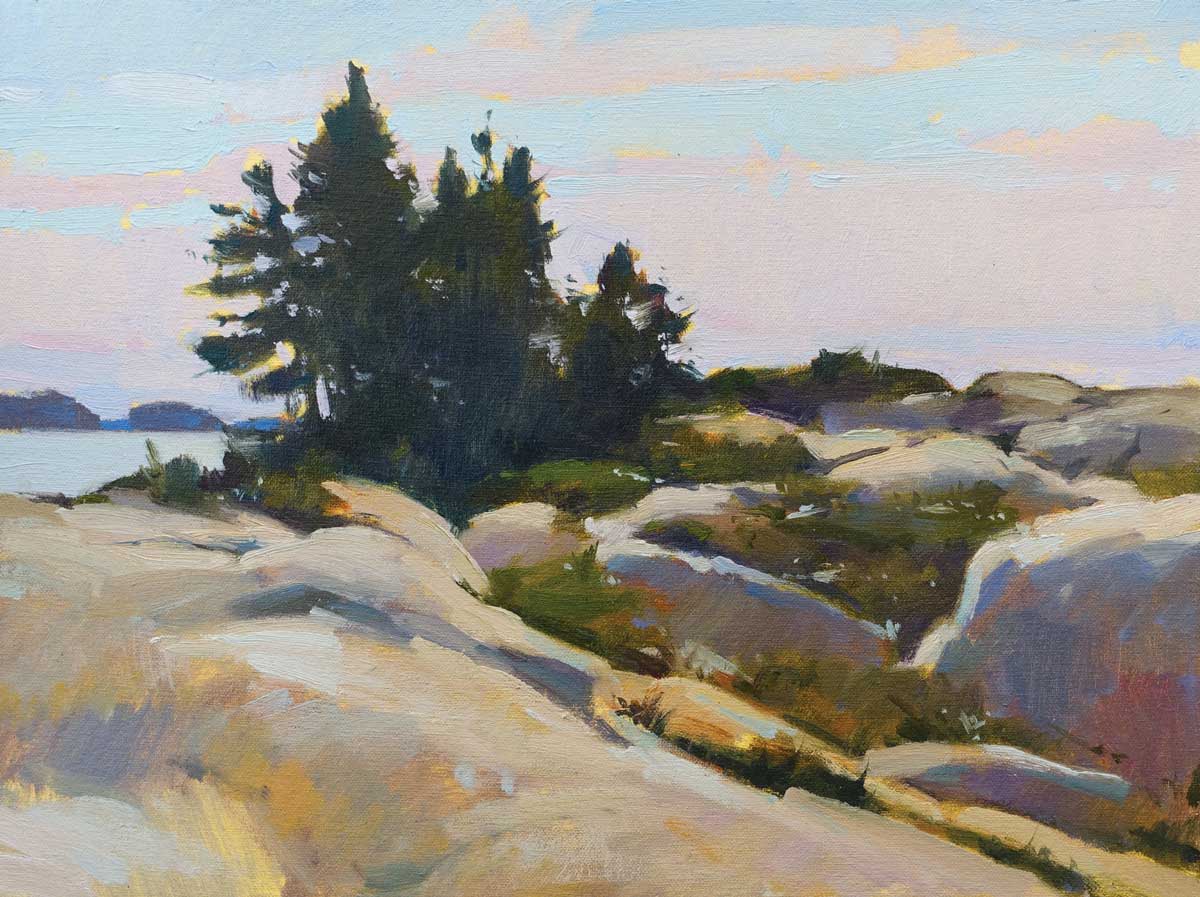 Island Walk, 12" x 16", was painted during a family boating trip to Hurricane Island. Courtesy Dowling Walsh Gallery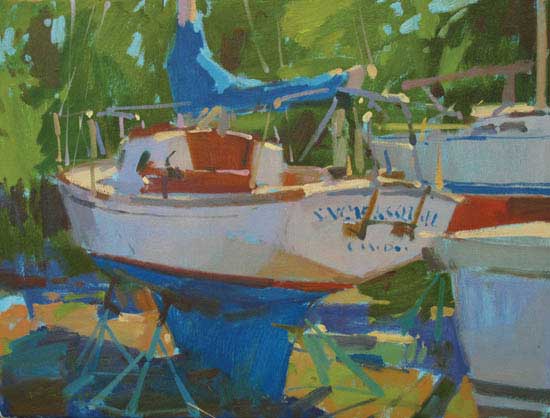 The 12" x 16" oil painting Snow Squall shows Page's boat in the yard where he bought her. Courtesy Colin Page Being a landscape painter, I spend many hours in quiet concentration as I stand outside studying the way nature works. Nature tells a visual story, and I'm trying to understand that language. Sailing involves a similar state of mind where all the senses are engaged. I sit on my boat looking around constantly, listening to the sounds of the sea, smelling the ocean, feeling the pull of the tiller, or hauling in the main sheet. Painting and sailing both take me to a place of awareness. I become quiet in order to better recognize what's happening around me.
Sailing has informed my painting by connecting me to the subjects I paint. But most importantly, sailing is a way for me to feel like a kid again and find excitement in the discovery of something new.
---
Colin Page lives in midcoast Maine, where he focuses on landscape painting and depicting his life as a father to two young girls.
---
Colin Page is represented by Dowling Walsh Gallery in Rockland, the Courthouse Gallery Fine Art in Ellsworth, and Greenhut Galleries in Portland.
Share this article:
2023 Maine Boat & Home Show

Join Us for the Maine Boat & Home Show!
Art, Artisans, Food, Fun & Boats, Boats, Boats
August 11 - 13, 2023 | On the waterfront, Rockland, Maine
Click here to pre-order your tickets.
Show is produced by Maine Boats, Homes & Harbors magazine.