The Barn Fleet
By John K. Hanson, Jr.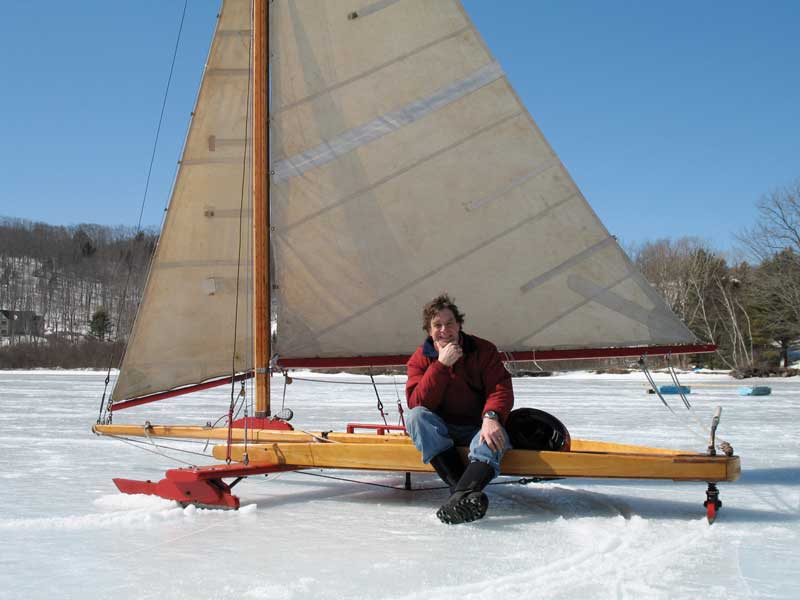 The fastest growing sector of my fleet these days includes all members of what some boatbuilders fondly call the "Barn Class." These are boats, as you may have guessed, that are non-operational; they either await restoration, are half-built, or are slowly reverting back to their original elements.
My Barn Class boats include a Shellback Dinghy, fully planked, epoxy coated with seats and skeg, that has been sitting in my barn rafters for more than 20 years. Then there is a small trimaran that was given to me by a friend a couple years ago. All ready to go, it nevertheless has yet to make it into the water. My son Sam's partially finished Moth has joined the fleet while awaiting his return from boarding school. And this December, I added another, an unfinished iceboat. 
One feature of the Barn Class is that the boats often move between barns and owners—one person's mental burden becomes another's newest pride and joy, as the dream is reborn and transformed. Every barn project owner begins full of hope; some see their dream through to completion, others move on to new endeavors. My unfinished iceboat was a high school project begun by a young man who is now in college. His dreams grew beyond the frozen pond and his unfinished boat, and mine took over. His hull now sits in my basement awaiting side planks and decks. When I look at it, I see beyond the raw wood to a speeding, sail-driven missile on ice. This vision will help me get the job done.
The transition from "Barn Class" to ice boat will take time, energy, and resilience. Mistakes will be made, and lessons will be learned. But when I am done, the barn doors will open and the way ahead will be paved with smooth sailing ice.   
Share this article:
2023 Maine Boat & Home Show

Join Us for the Maine Boat & Home Show!
Art, Artisans, Food, Fun & Boats, Boats, Boats
August 11 - 13, 2023 | On the waterfront, Rockland, Maine
Click here to pre-order your tickets.
Show is produced by Maine Boats, Homes & Harbors magazine.