Hinckley 35
An outboard-powered picnic boat
By Art Paine

The new Hinckley 35 combines the traditional look of a Hinckley Picnic Boat with modern outboards. Photo courtesy The Hinckley Co.
The first twin outboard Hinckley 35 was launched in June 2021. By mid-October, 18 boats had been sold, with the latest clients understanding that they wouldn't receive their new boat until sometime in 2023! If that isn't the essence of a success story, I don't know what is.
Longtime Hinckley Vice President for Sales Phil Bennett explained this success with one word: "tradition."
It isn't as though outboard motors were absent from the company's long history. In the 1950s outboards were, in Bennett's words, "smelly, noisy, and unreliable." But since they were popular and affordable, Henry Hinckley built boats powered by them. The company built more than 120 runabouts and utility craft before shifting its focus to sailboats, turning out cruising and racing yachts that were versatile, sound, beautiful, and instantly recognizable. Beauty and quality defined the essence of the Hinckley tradition.
In the recent Picnic Boat era, Hinckley has thrived on the many benefits of water-jet propulsion coupled with lobsteryacht style, and the company quickly proved it could manufacture poweryachts as exquisitely as sail. Over a thousand powerboats were produced in a new, state-of-the-art factory. Many had diesel power and Hamilton jet drives, and it was off to the races for another 25 years.
Then about 10 years ago, outboard technology took a leap, with the development of four-stroke outboards that were potent, quiet, and reliable. The company debuted a pair of models featuring triple outboards. These were 40 foot "sport boats" designed by the Hunt office. The 40x had a center console with a cabin that bore no relation to the Hinckley tradition, while the 40C was closer to the picnic boat's style, while also being quite utilitarian and low-maintenance. Both boats were capable of going 50 knots flat-out and would shrug off pounding seas. People who craved speed loved them, but those who revered the Hinckley look still quietly yearned for something more traditional.
"We can try to be our own drummer," said Bennett, "but also to be a mirror to what people want."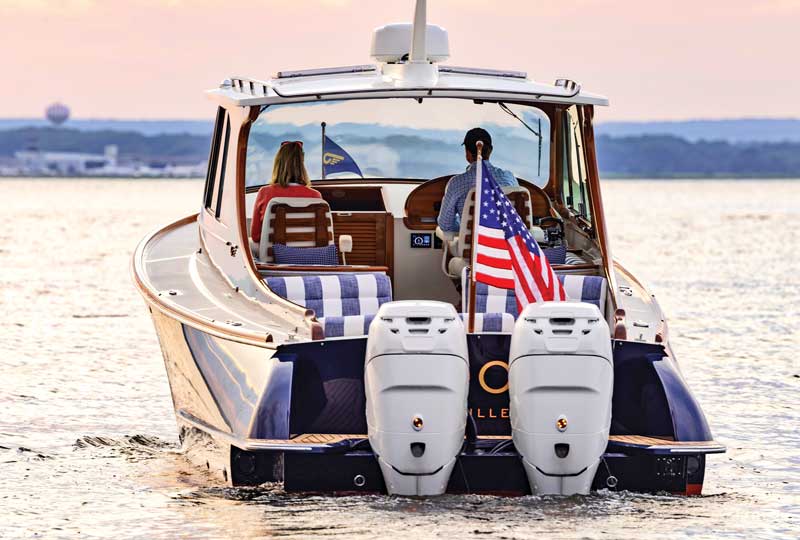 The design of the Hinckley 35 has its roots in the Talaria 34, which has inboard engines and water jets. An extended flotation box was added to accommodate twin outboards. Photo courtesy The Hinckley Co.
The new Hinckley 35 has its roots in the Talaria 34, a twin diesel designed by Michael Peters Yacht Design. The Talaria 34 had inboard engines and water jets. But as it became clear that among the legions of people who admired the looks of a Picnic Boat, some yearned for modern outboards, Peters deliberately designed the hull so that an extended flotation box could be added to accommodate twin outboards. That version became the new Hinckley 35.
The new boat blends Peters's hull and running gear design with aesthetic input from Hinckley's in-house designers and sales department. Bennett describes brainstorming meetings about the design as "organized fights," but the results were worth the effort. Peters's office tweaked the chine facets and lifting strakes and stuck with a slightly diminished V dihedral, with lighter overall weight for length, as compared with the 40 foot Hinckley Sports. The 35 tops out at 48 miles per hour with "only" the two 300-hp motors (customers can choose between Mercury and Yamaha).
One could claim that the Hinckley 35 is essentially an outboard-engine picnic boat capable of higher speed. But the new design has other benefits. The lack of an inboard engine or water jet results in more stowage space for gear and toys. Should you desire a generator or a gyro-stabilizer there is an embarrassment of extra volume available. A customer who wanted extended range could specify extra fuel tanks, which, combined with a gas four-stroke's fuel economy, could allow longer voyages.
Placing the engines outside allows for a lower cockpit floor, giving a greater feeling of containment. This also diminishes the descent into the cabin, something we appreciate more as we "mature." With these exceptions, the basic attributes of the original Picnic Boat design are little changed. There is still a V-berth, enclosed head, and adequate galley.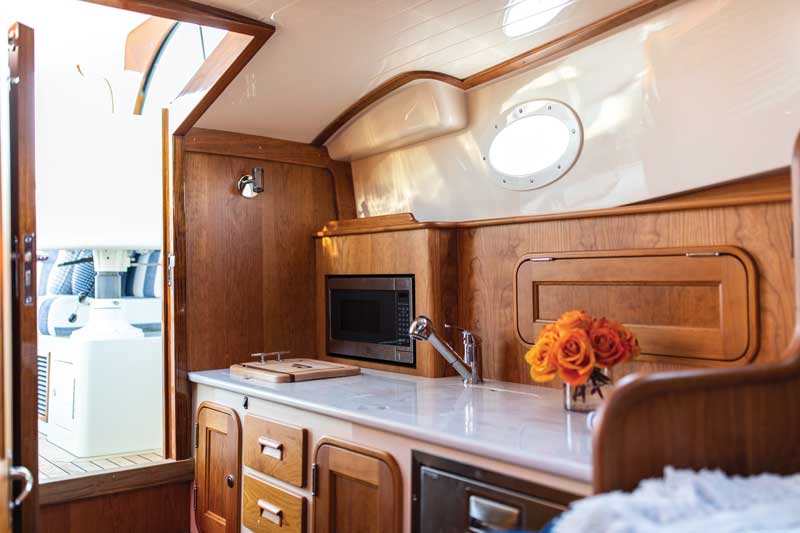 The new design includes a V-berth, enclosed head, and a galley. Photo courtesy The Hinckley Co.
In a marked divergence from the Picnics and Talarias, the 35 has a panoramic unsegmented windshield. The traditionalist might balk at this, but modern mariners love it. Anybody who fishes offshore would appreciate an unobstructed view when searching for traps, or worrying their way home in a pea souper. Also, the hulls of Hinckley powerboats are resin-infused with modified epoxy, making them so strong that they are guaranteed for life. This might just mean everything for captain and crew.
Bennett noted that the pandemic has been good for business and might account for the unprecedented record of selling twenty 35s by the end November. "What we do with our time and who we do it with has taken on added importance," he said. "Our clients are mostly folks with a reverence for the coast but maybe not a whole lot of time on their hands. Most of them tell me they're out to relax, but at a high rate of speed!"
Pretty is always in style. Fast is fun. Staying safe is the current watchword. This new Hinckley 35 is a boat for our times.  
---
Contributing Author Art Paine is a boat designer, fine artist, freelance writer, aesthete, and photographer who lives in Bernard, Maine.
---
Hinckley 35
LOA:  38' 8"
Length, Hull:  36' 11"
Length, waterline:  33' 9"
Beam:  11'
Draft:  2' 10"
Displ.:  13,174 lbs.
Fuel:  300 U.S. gallons
Standard power:  Twin Yamaha or Mercury Verado 300-hp outboards
Designer/Builder:
Hinckley Company
Share this article:
2023 Maine Boat & Home Show

Join Us for the Maine Boat & Home Show!
Art, Artisans, Food, Fun & Boats, Boats, Boats
August 11 - 13, 2023 | On the waterfront, Rockland, Maine
Click here to pre-order your tickets.
Show is produced by Maine Boats, Homes & Harbors magazine.