Big Storm Coming: Head for the Marsh
By Ken Textor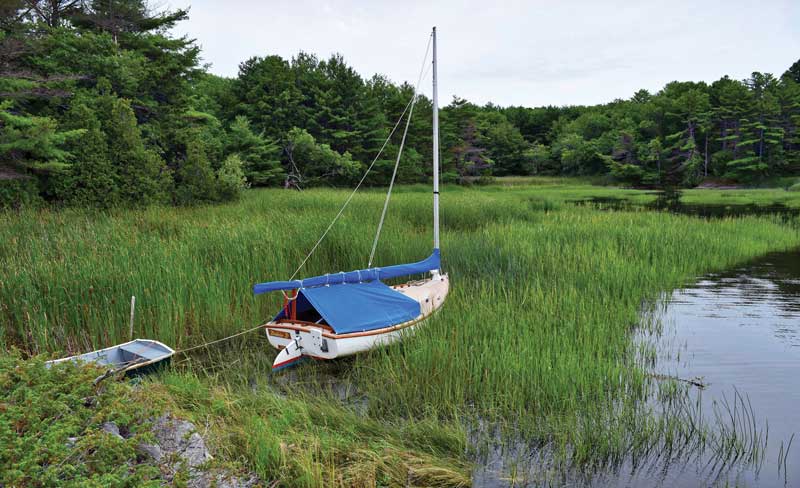 The chatter on the radio started early and continued all day. A hurricane with an unpronounceable name was gathering strength, and Maine was in its crosshairs. Even for an August morning, the air did seem particularly heavy with moisture, and eerily calm. My VHF friends convinced me it was indeed time to use an age-old storm tactic, learned a long time ago amid the backwaters of far eastern Maine.
Hurricanes don't hit the Maine coast very often. For reasons meteorologists have a hard time explaining, they often track to our west and go up the Hudson or Connecticut River valleys. Or, somehow they are attracted to our Canadian friends and slam into Halifax, Cape Breton, or St. John's. In any case, Hurricane Bob in 1991 was the last tropical whirligig to smash things up in the Pine Tree State. But just a couple of years ago, the computerized voice of the NOAA weather guy sounded as if Bob was being reincarnated as Hurricane Isaias. That was my cue.
Read any cruising guide to the Maine coast and the authors are bound to offer up any number of "hurricane hole" anchorages for consideration. Having anchored in a number of these during ordinary bad weather, I can attest to their high level of safety. Cape Small Harbor in Casco Bay, Eastern Branch in Johns Bay, and Perry Creek in Fox Islands Thorofare are three examples of ideal hideaways. Unfortunately, when truly big storms are predicted, the "no vacancy" sign comes out early at these havens. They fill up fast and swinging room for an anchored boat diminishes to nil.
Not a problem, though. As I learned in 1985 when Hurricane Gloria slammed into Maine, a coastal marsh can be your best friend. In far eastern Maine, behind our house in Addison, the Pleasant River estuary included vast marshes nearly up to our back door. "Oh, you'll be fine up here in the marsh," locals said as the day wore on and Gloria got closer. "Right there behind your house should be good."
So, at high tide we had hauled our 12-foot Beetle cat up into the spartina grass. Likewise, our 30-foot sloop was maneuvered into an eel rut not much wider than her seven-foot beam. Both were tied off to heavy, oak stakes driven deep into the marsh mud. Before it broke, our little Radio Shack anemometer soon clocked Gloria's gusts at 70 knots. Neither boat moved an inch nor felt much more than a ripple all day.
As for Isaias's visitation in 2020, a tiny salt marsh on the lower Kennebec River worked just fine as an "anchorage" for our 16-foot Marshall Sandpiper. Even better, after wrecking the coasts from North Carolina to Connecticut to the tune of $5 billion, Isaias headed up the Hudson River and petered out in Canada. We got some wind, a lot of rain and a good night's sleep as our boat rested quietly amid the bulrushes and sedge. 
---
Ken Textor has been writing for MBH&H since 1990. He lives in Arrowsic.
Share this article:
2023 Maine Boat & Home Show

Join Us for the Maine Boat & Home Show!
Art, Artisans, Food, Fun & Boats, Boats, Boats
August 11 - 13, 2023 | On the waterfront, Rockland, Maine
Click here to pre-order your tickets.
Show is produced by Maine Boats, Homes & Harbors magazine.