A Truly Tiny House
It's a dream come true in 230 square feet
By Valerie Chiasson
Photographs by Valerie Chiasson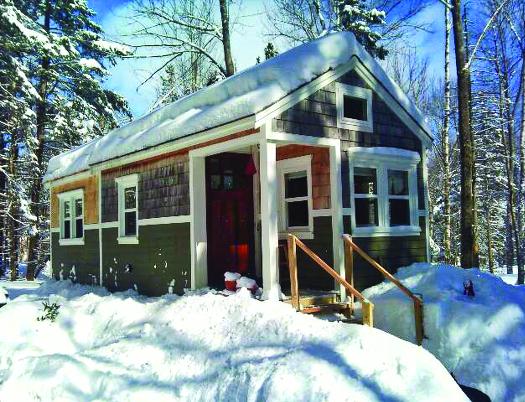 The first time I spoke with my propane-heater installation guy, he asked the standard question: "How many square feet is it heating?" I answered, "Two hundred and thirty." There was a long pause. "How many cats do you own?" he asked suspiciously.
Just one. I am not a crazy cat lady. A propane Rinnai unit the size of a dehumidifier heated my house to 70 degrees all last winter and propane also fueled the little Danby gas range. This cost me less than $500 for the season. Electricity is about $35 per month.
I've been fascinated by little houses for as long as I can remember. When I was young, I made cardboard dollhouses out of shoeboxes, creating storage under the beds, under the built-in couches. I lived on boats in my 20s, and I delighted in the ways a small and seemingly useless space could become something more. Not long after I moved to Maine in 1991, I read a magazine article about a small stick-built house meant to replace a mobile home. I loved it.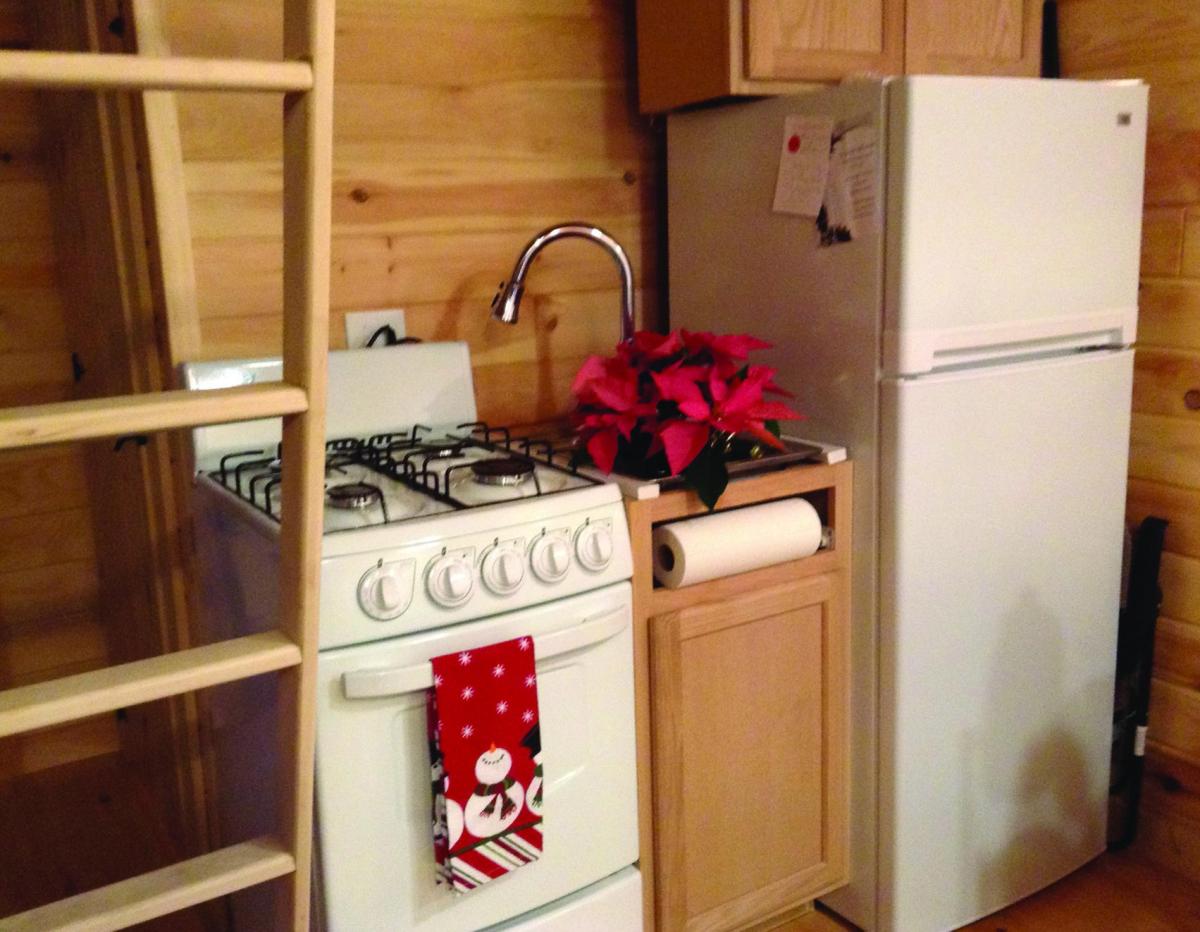 The pocket kitchen is a work in progress, with counter space at a premium. The "living room" is surrounded by windows facing the forest, allowing views of sunrise and wildlife. The loft ladder is stowed during the day. Therefore, as my two sons prepared to move out, I thought about my space. I spent all my time in the kitchen, in my corner of my couch, and at the table with my computer. I knew that it could work for me to live in a tiny house. 
In the spring of 2014, I was reading Coffee News and saw a photo ad for "Livesey's Little Houses." The pictured house was "wicked cute," as we say in Maine. I called Jay Livesey in Aroostook County and was up there within a week, looking at the spec house that was to become mine—at a far more reasonable price than I had seen online.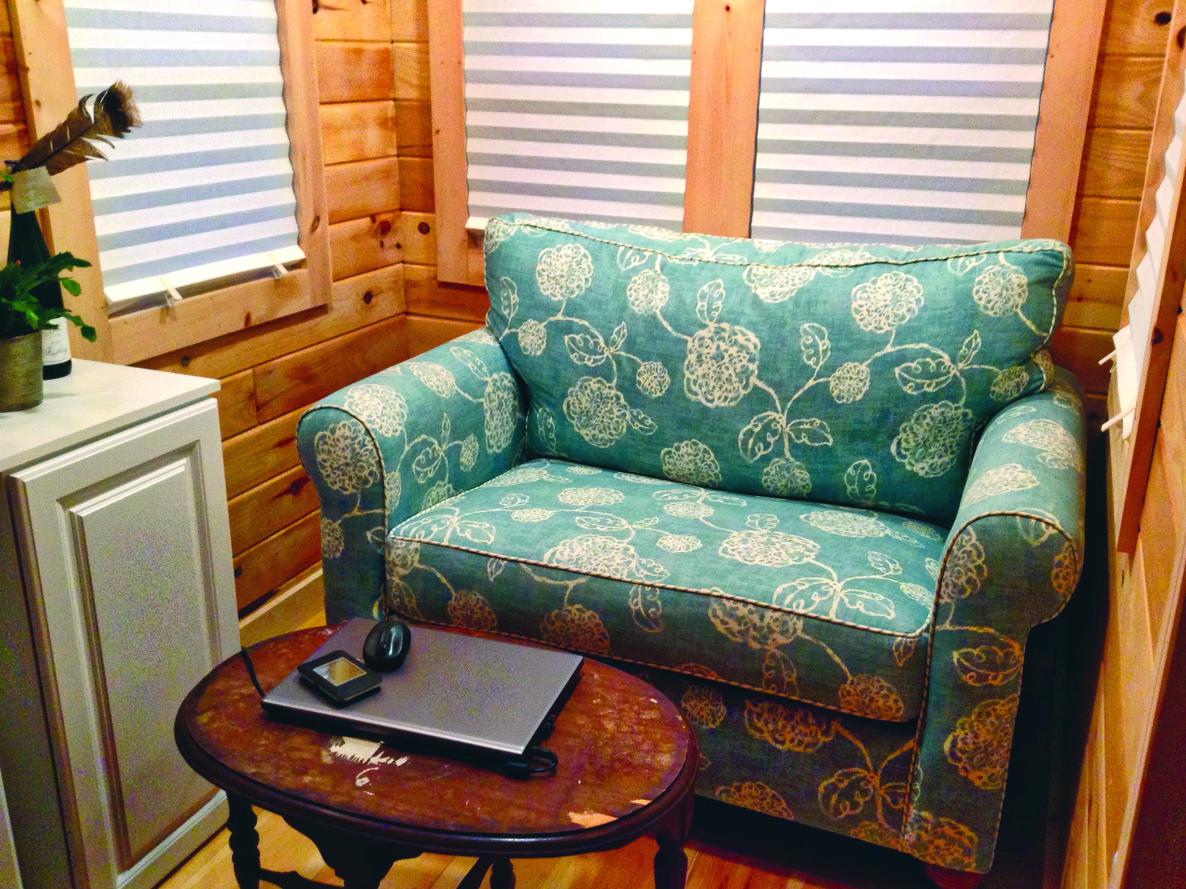 Jay's house was 160 square feet, and what made it so adorable was the "front porch," which stole a considerable amount from the indoor living space. I realized that my professional wardrobe was going to take up an inordinate amount of space. I also wanted a washer and dryer, and I wasn't planning to have a cellar. Jay and I decided to add an extra 9' by 10' area to the back of my house.
That extra room is key. Without it, I would have the loft-access ladder mounted to one side of my living space all the time. My clothing storage would either take up space in the "great room" (heh heh), or clothes would be folded in the lofts. I would need to step over the toilet to reach the shower, and there would be no room for doing laundry.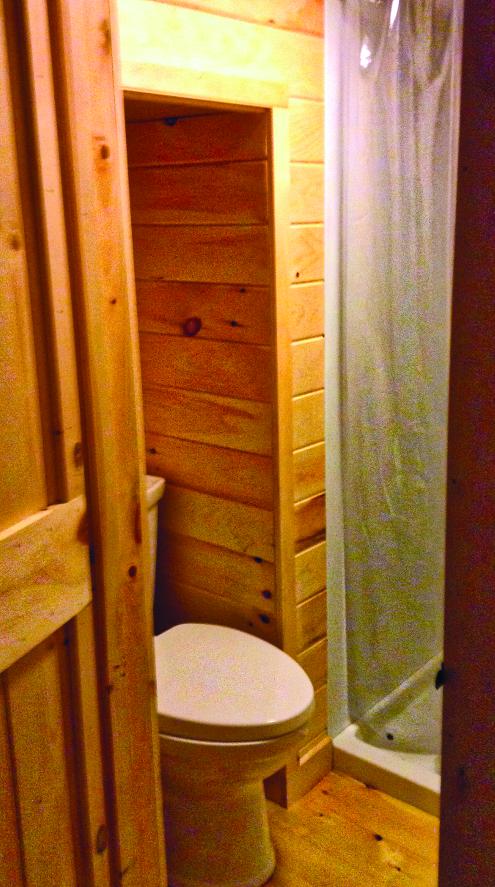 In that room, I have a full-sized washer and dryer, water heater, two canvas wardrobes, two storage bookcases, and a loft bed. I have room to stow the main-loft ladder along one side. It allowed us to offset the toilet to leave standing space in the bathroom. (My sons appreciate this.) It also creates a longer sightline from the main room, allowing a spacious feel.
My "great room" is a work in progress. The kitchen could be designed to work better, but I went, again, for aesthetics. I love the lineup of the small gas range, the little sink, and the 10-cubic-foot refrigerator. I don't have much counter space, but it works. I do have a 2' x 8' fold-up table; it stows away out of sight. A folding chair hides beside the refrigerator.
The windowed alcove holds a bargain I found at Marden's, a surplus and salvage store: a twin-sleeper loveseat. The house therefore has three beds. But my dream for that alcove goes back to boats—I want a horseshoe-shaped settee with an adjustable center table that will drop to make a bed. This is the same arrangement I had when I lived on my  old sailboat Christmas back in the 1980s.
The west-side wall begs for a large, shallow storage unit with a fold-down desk. I've never been to an Ikea store, but when I do go, it will be with a rental pickup truck. I suspect I will find many tiny-house solutions there.
I barely use the storage lofts in my house, but this is, in part, because I have a 10' x 16' "guesthouse" in the yard. Half of it still resembles a guesthouse, but the other half has gone over to storage of yard tools, Christmas ornaments, extra blankets, books, skis, snowshoes, etc.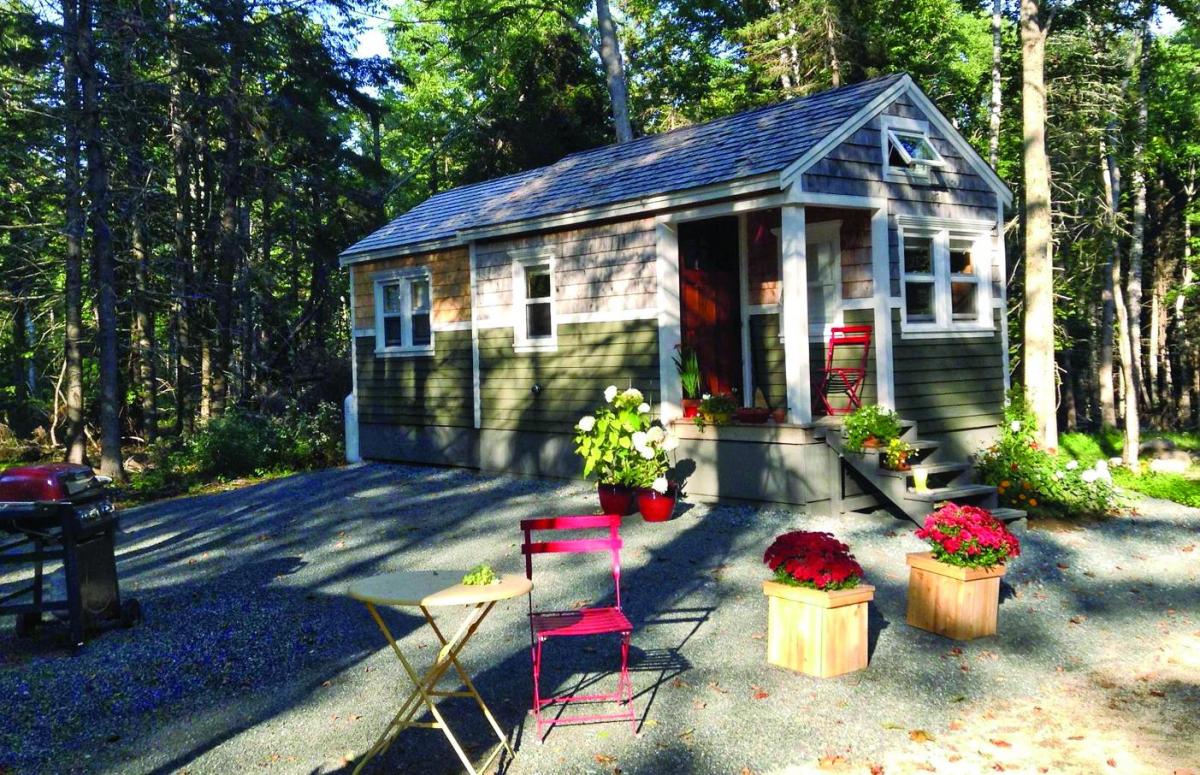 A pounded-bluestone "plaza" provides an inexpensive outdoor gathering place.
The house structure, with everything in it, cost less than $30,000. My site work, including septic, well, electrical feed, survey work for 9 acres, and a very long driveway, cost a bit more than $40,000. I already owned the land. Sometimes I think about building a tiny house community, with a shared waterfront boathouse and a shared community building (maybe with a four-car garage underneath). But for now, I'm happy to be done with construction.
I've been living in my house for a year now, and there have been few problems. I did need a dehumidifier in high summer, a problem that would be compounded if more people—or cats—lived here. 
Do I ever miss a larger house? Sure! I miss having enough floor space to lay out a project—a jigsaw puzzle, a sewing pattern—and leave it there. Parties happen outdoors. I miss having an excuse to get up and move to another room. (I can go do the laundry....) My greatest regret is that I placed the building on a slab instead of a foundation. For an extra $3,000, I could have put the washer, dryer, and water heater in the cellar.
Yet I've achieved my goal: cutting living expenses to a minimum as I approach retirement, while living in a beautiful, warm, inviting space. Even the cat is happy.      
---
Valerie Chiasson is the owner of the law firm Giunta & Chiasson in Ellsworth, Maine. 
For more information:
Livesey's Little Houses
206 Montieth Road
Bridgewater, ME 04735
207-551-9455
Share this article:
2023 Maine Boat & Home Show

Join Us for the Maine Boat & Home Show!
Art, Artisans, Food, Fun & Boats, Boats, Boats
August 11 - 13, 2023 | On the waterfront, Rockland, Maine
Click here to pre-order your tickets.
Show is produced by Maine Boats, Homes & Harbors magazine.