North Haven: Beguiling Isle
By Mimi Bigelow Steadman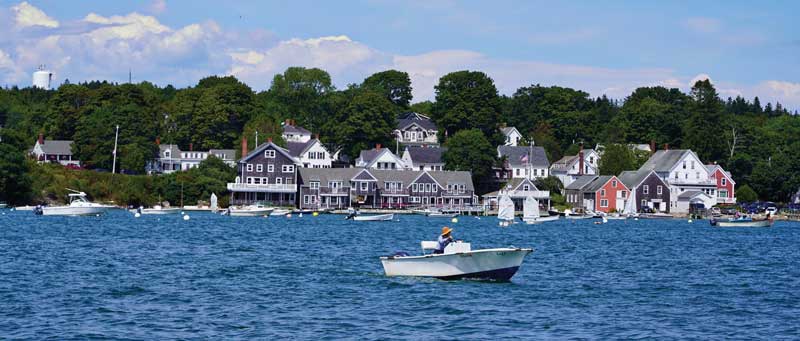 The waterfront view of downtown North Haven and the yacht club, which is known as the Casino. Photo by Polly Saltonstall
I'd hoped for a Frank Benson day on North Haven. The celebrated American Impressionist, who summered on the Penobscot Bay island from 1901 to 1941, often painted his daughters against blue sky and bluer sea, their flowing, cinch-waisted white dresses aglow with molten sunlight. One critic wrote that Benson must have had a jar of sunshine into which he dipped his brush.
But on that mid-June Saturday, there were no such luminous highlights. When the ferry from Rockland completed the 12-mile crossing and we disembarked in the island's tiny, eponymous town, we were greeted by clusters of sweet antique houses and repurposed wharf buildings hunkered down in gray drizzle. But a little rain could never dampen the pleasure of visiting this special place.
Next door to the ferry landing, we ducked into Hopkins Wharf Gallery and the adjacent North Haven Gift Shop, both operated by David Hopkins and David Wilson. In the gallery, a salty, shingled structure beside the water, we chatted with Wilson about his bold, large-scale, black-and-white paintings of fantasy woodlands. After peeking into a century-old granite-floored ice house that's now a second exhibition space, we walked up to the gift shop.
Originally a general store built in 1900, it's come down through the family from Hopkins's great-grandfather. The interior, painted bright white and filled with colorful textiles, glassware, jewelry, books, and other delights, offered relief from the gloom outside. Adding even more cheer were the tiny canine staffers—Pippa and Lila, two fluffy Chinese crested powderpuffs. When Hopkins and Wilson sang a lively song, Lila joined in with a very entertaining coloratura.
My rain hood pulled up against a sudden downpour, we crossed the road to the North Haven Library, a snug and welcoming retreat. There, we studied an album of old photos of the island and its residents—the perfect prelude to meeting up with Alice Cornwell of the North Haven Historical Society. We found her just up the road, varnishing the mast of her classic sloop in a shed at Brown's Boatyard, a waterfront fixture since 1888.
Cornwell had generously agreed to drive us to the society's facilities and show us around. While we viewed antique carriages, farm equipment, boats, and a re-created general store and home, she shared nuggets of local history. Archaeological findings of duck and fish bones, for example, indicate that early native people wintered or lived on the island year-round, refuting the popular theory that they only spent summers along the coast and moved inland in winter.
She explained that the island's early main European settlement was at Pulpit Harbor, on the northwestern edge. North Haven village, on the island's south side, wasn't developed until the mid 1800s, around the time that wealthy summer folk began arriving aboard steamboats bound from Rockland to Bar Harbor via the Fox Island Thorofare, which runs between North Haven and Vinalhaven, the island to its south. The arrival of summer people coincided with a collapse in the local mackerel fishery and a sharp decrease in population.
What happened to Pulpit Harbor village? A New York landowner worried that a cannery might move into the declining fishing village near him, Cornwell said. To prevent it, he bought up Pulpit Harbor properties and tore down 17 houses.
Cornwell's most intriguing gem was her description of Charles Lindbergh and his wife, Anne Morrow Lindbergh, leaving North Haven on their historic 1931 flight to the Orient. Morrow family relatives still summer on the island. "The trip officially started in New York City, but they stopped here. For Anne and the islanders, this is where it really began." Cornwell showed us photos of the Lindberghs' 42-foot Lockheed Sirius seaplane resting in the Fox Island Thorofare, dwarfing a flotilla of boats around it.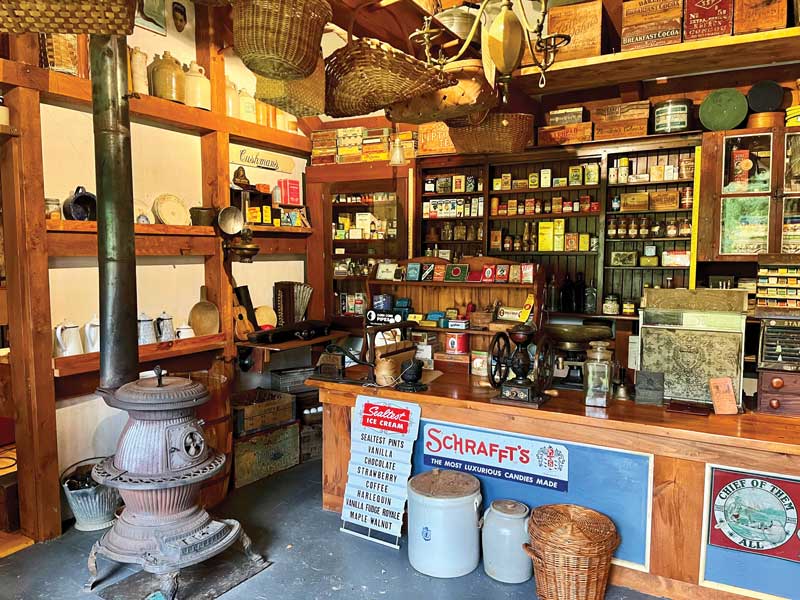 At the North Haven Historical Society, a re-created general store recalls past times on the island. Photo by Mimi Steadman
It was time to head back into town. After a slice of pizza and a pint of North Haven Brewing's best at Calderwood Hall, we boarded the last ferry of the day. As we steamed down the thorofare in the pewter mist, I stood on deck, thinking about that big seaplane lifting off right there. I hope the visibility was better that day.   
---
Contributing Editor Mimi Bigelow Steadman lives on the Damariscotta River in Edgecomb.
---
If You Go to North Haven
On the Water
Located on the thorofare beside the ferry dock, Brown's Boatyard offers gas, diesel, water, ice, electricity, a chandlery, showers, laundry, repairs, hauling, and launching (30-ton Travelift). There are half a dozen moorings for transient yachts ($20 per night; first come, first served). Space at the town landing next to the ferry landing is very limited. Yacht club members with reciprocal privileges may land at the North Haven Casino, but must limit their time on the dock, which is very busy in the summer, to 30 minutes. Thayer's Y-Knot Boatyard, on Southern Harbor, has a dozen rental moorings in Pulpit and Southern harbors ($50 per night). Call ahead (207-867-4701) to reserve. Dock space for dinghies only is available at their facility; there are no services for visiting yachts. Pulpit Harbor is a popular anchorage with a dinghy dock at the northeastern end. Anchor across from the entrance for sunset views over the Camden Hills. Look for a small shack on a float selling oysters and clams. You can also buy North Haven-grown oysters from the Campbell family's small farm stand on the Middle Road.
---
Shop
Don't miss Hopkins Wharf Gallery and Ice House and the North Haven Gift Shop, housed in a collection of picturesque old harborside buildings in the center of town. The gallery's exhibitions showcase works celebrating North Haven and Vinalhaven, as well as the entire Maine coast. The giftshop brims with all sorts of useful and pretty things, including household accents, jewelry, books, and clothing. Closed in winter.
---
Dine
Stop at The Landing, across from the ferry dock, for a simple and satisfying lunch. The Market at Hopkins Wharf, downstairs below the North Haven Gift Shop, sells well-crafted sandwiches and other prepared foods for takeout. At Calderwood Hall, you'll find North Haven Brewing's excellent beers, delicious pizza, and other offerings. An intimate inn and quietly sophisticated restaurant, Nebo Lodge serves vegetables, meats, and seafood sourced on the island. Locally raised oysters and lamb are nearly always on the menu. There are also nine guest rooms. For a farm-at-table experience, book one of Turner Farm's family-style barn dinners. The festive yet rustic atmosphere is the perfect backdrop to carefully prepared vegetables and pasture-raised beef and pork from the farm, plus other local
ingredients. Reservations far in advance are recommended. Note that most of these businesses are closed in winter. The North Haven Inn and Market, a short walk from Pulpit Harbor, has a small grocery store and a selection of hot foods to eat at tables on site, as well as rooms where guests can stay. Farm stands on the island include ones at Turner Farm, Cider Hill Farm, and Foggy Meadow Farm on Crabtree Point Road.
---
Do
Less than two miles from town, North Haven Historical Society's several small buildings house exhibits on North Haven's boatbuilding and fishing heritage as well as its ongoing farming tradition. The society's climate-controlled archives are filled with treasures for those researching genealogy and the island's past. The society mounts a full calendar of summer events, including a garden tour, guest talks, readings, and films. Next to the ferry landing, Waterman's Community Center is truly a community gathering place. Its year-round offerings range from informal coffee hours to plays presented in the theater, lectures, films, and exhibitions. If you're seeking some good reading during your visit, stop at the North Haven Library, which is currently raising funds for upgrades to the building.
---
Hiking, Biking, and Paddling
Bring your bike or rent one from North Haven Rentals (at Brown's Boatyard) and enjoy rolling along 30 miles of lovely country roads. For waterborne exploration, transport your kayak on the ferry or rent a paddle board from NH Outfitters. North Haven Rentals also has a fleet of 13- to 23-foot motorboats available for bookings of five days or more. Scenic hikes include a short ascent to the top of a giant granite outcropping called Ames Knob, which rewards with panoramic views of the Fox Islands Thorofare. North Haven Conservation Partners are the stewards for a number of preserves on the island. Among them are properties with wooded trails, beaches, fields, and paths alongside Pulpit Harbor and Southern Harbor. Town-owned Mullens Head Park has beaches and trails as well as  picnic and camping areas (a town permit is required for camping). Just offshore, the 74-acre Burnt Island Preserve can be reached via an exposed sandbar during a two-hour window around low tide. There is also a dock for small boats. The island has a trail around its perimeter and another along its diameter.
Share this article:
2023 Maine Boat & Home Show

Join Us for the Maine Boat & Home Show!
Art, Artisans, Food, Fun & Boats, Boats, Boats
August 11 - 13, 2023 | On the waterfront, Rockland, Maine
Click here to pre-order your tickets.
Show is produced by Maine Boats, Homes & Harbors magazine.