Saving a classic
Saving a classic
Friday, November 6th 2015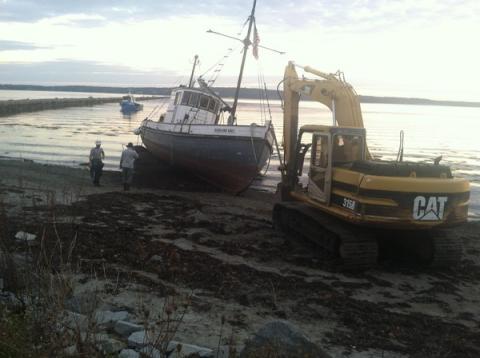 A well-known Rockland-based commercial boat went aground over the weekend in the harbor. But the owner and fellow vintage boat lovers came to the rescue and several days later the antique wooden lobster smack ROCKLAND GULF was back in the deep water.
The Gulf came off her mooring in high winds Sunday evening and went aground near the breakwater at peak of an astronomically high tide. She was well and truly beached.
The boat was originally built as SENECA in 1933 at Brooklyn NY, one of 30-some small wooden inshore tankers commissioned by the Gulf Oil Corp. Eventually renamed ROCKLAND GULF, she worked many years faithfully delivering fuel to the island communities of Penobscot Bay. When fully laden with 10,000 gallons aboard, the main deck was virtually awash, leading to the nickname "Sailing Submarine" for her appearance to other vessels. One former crewman watching the salvage efforts remarked, "Some of the trips out to Matinicus on rough days were a bit more exciting than they really needed to be."

She was converted to bait- and lobster-hauling duty some years ago, and given the current frenetic pace of the lobster fishery, has been working steadily of late. Her owner also runs the well-known herring carrier JACOB PIKE.
In a small stroke of good fortune, the GULF fetched up on a gently sloping gravel beach behind the shelter of the Rockland Breakwater, and was virtually undamaged. "She's all nicely careened, ready for some bottom paint," quipped one observer. Salvage attempts early in the week, hampered by a series of astronomically low tides, failed to budge her off the beach.
At daybreak on Thursday, a barge from Maine Coast Marine arrived and landed an excavator. They dug under the keel and placed large inflatable float bags to help coax the GULF off on the next high tide. The tug PEGGY LEE stood by with a line to the GULF's shapely fantail stern, ready to twitch the boat off shore as soon as it started to float. As the tide neared peak, they nudged her out of the mud with the excavator boom, but even after a full-throttle pull from PEGGY LEE, the stern stayed stubbornly stuck.
Just as the tide began to ebb, and it appeared the the boat would spend yet another night stranded ashore, Maine Coast Marine's BJ Grindle swam the GULF's bow line out to the tug, and after a good pull on the bow, the lobster smack slid off the beach to the cheers of the watching crowd.
The boat was towed in to Journey's End Marine, where she was to be hauled in the morning and checked over before going right back to work. --Story and photo by Dave Getchell