Brooklin Boat Yard Launches Custom 91-foot Sloop
Brooklin Boat Yard Launches Custom 91-foot Sloop
Monday, June 4th 2018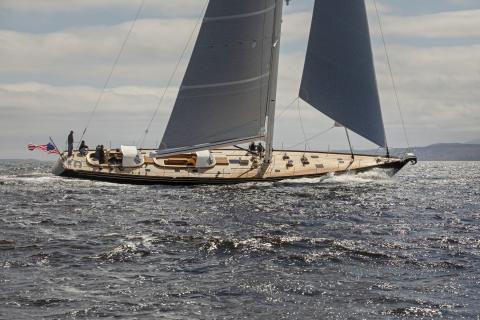 Brooklin Boat Yard has completed construction of a 91-foot custom cold-molded sloop named Sonny III. It's the third Sonny the yard has built for 94-year-old Albert Phelps, who plans to keep the boat in Jamestown, Rhode Island.
Designed by Bruce Johnson and the Brooklin Boat Yard design office, Sonny III is a larger replacement for the Phelps's current 70-foot yacht, also built by Brooklin Boat Yard in 2013. Phelps is a retired senior with limited mobility who requested a yacht with more accessibility, said Brooklin Boat Yard Owner Steve White.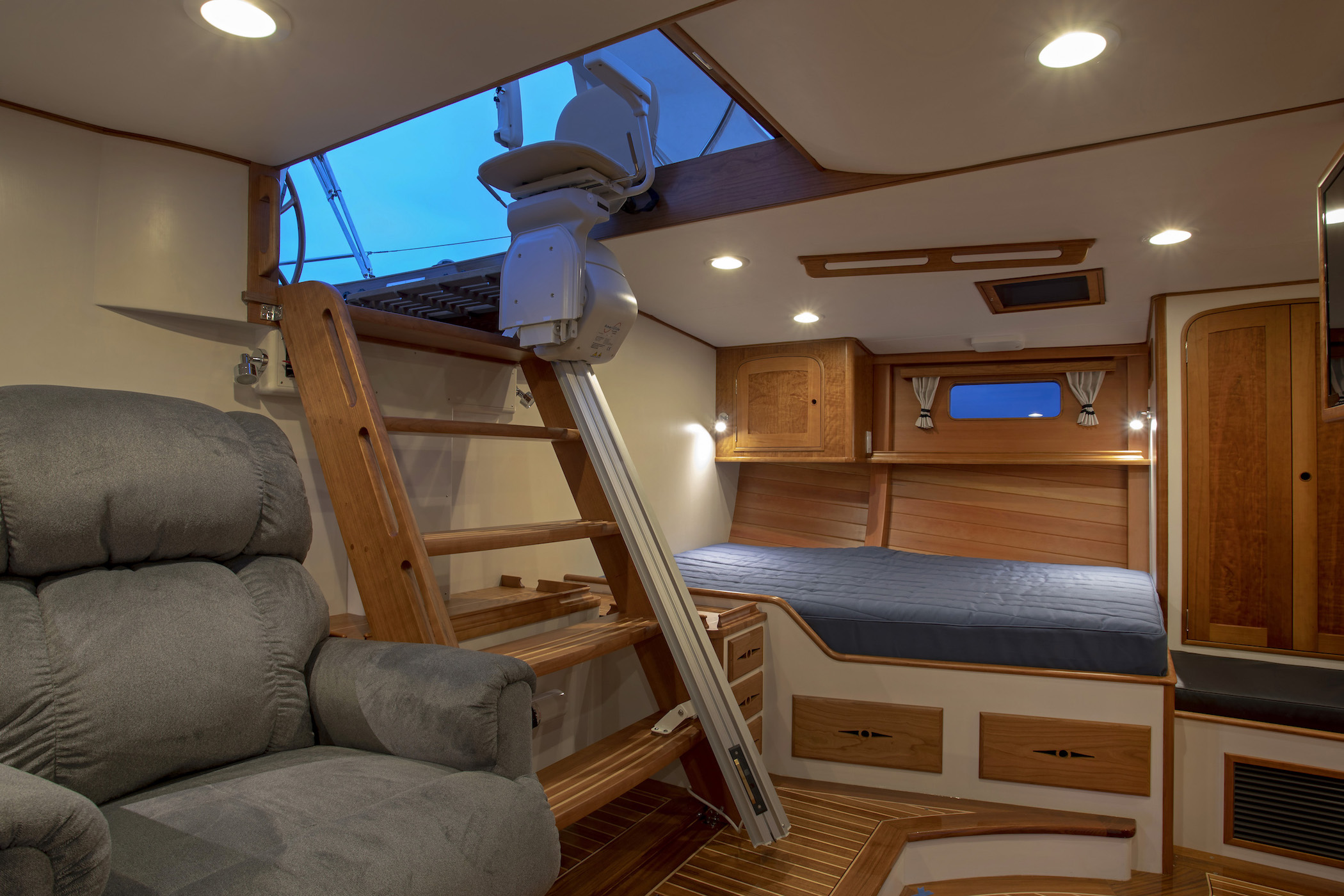 Sonny III features chair lifts at each companionway, a power reclining chair in the master cabin, a side-boarding ladder and a transom-boarding platform. The high-performance cruising yacht is designed for daysailing and blue-water passages.
"He's been a great collaborator on every boat we've built for him. This was a true challenge that required a lot of teamwork — a highly customized, 91-foot yacht built in only a year and a half," White said.
"As he said he doesn't need another boat. He needed a project, something to keep him going," said White explaining why Phelps ordered the new boat. "He's sailing it right now. We delivered it Newport last week and he spent Friday and Saturday out sailing it."
Sonny III has a flush deck, an aggressively raked bow and reverse transom. Her twin cockpit configuration keeps guests safe in the center cockpit while all sail handling is in the aft working cockpit.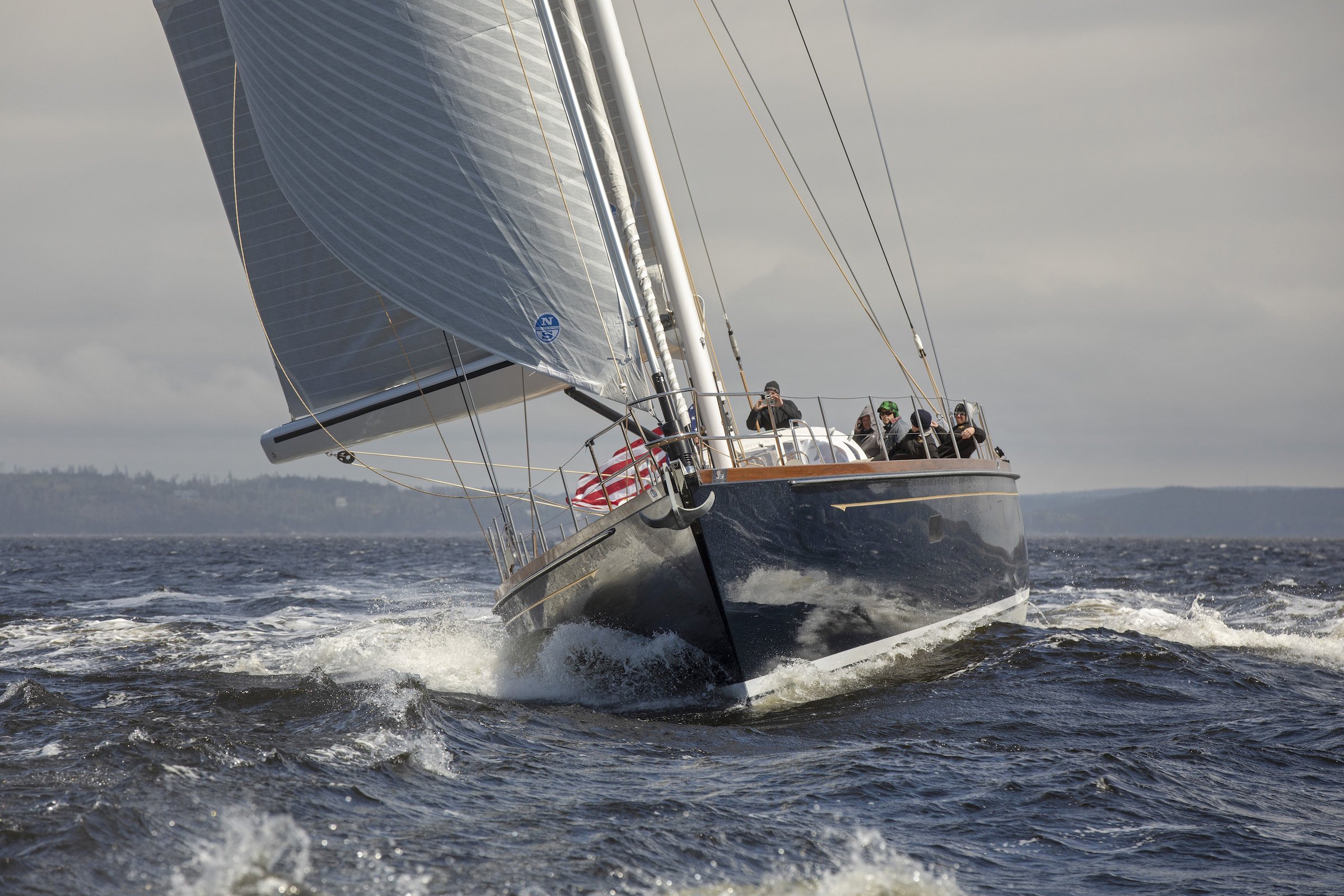 "I would expect a design process of six months for a yacht of this size and complexity before the yard could even begin to cut wood. Due to the aggressive build schedule we began construction six weeks after we started working with the owner," said designer Johnson. "This project could not have been possible without Brooklin Boat Yard's in-house designers who were invaluable, producing exceptional construction drawings."
Sonny III's double headsail rig is operated by hydraulic furlers that were built by Harken. The non-overlapping headsail configuration with chainplates pushed outboard greatly reduces loads and allows for a smaller mast section, winches and hardware. The mainsail has hydraulic in-boom furling. The carbon mast is from Offshore Spars with 3Di sails by North Sails. The interior layout includes a crew cabin forward with private head and stall shower, two guest staterooms forward of the mast, one with ensuite head and stall shower and the other with a day head, also with separate shower. The main salon has an elliptical dining area, a pair of reclining chairs and a navigation station. The master stateroom features an ensuite head with stall shower.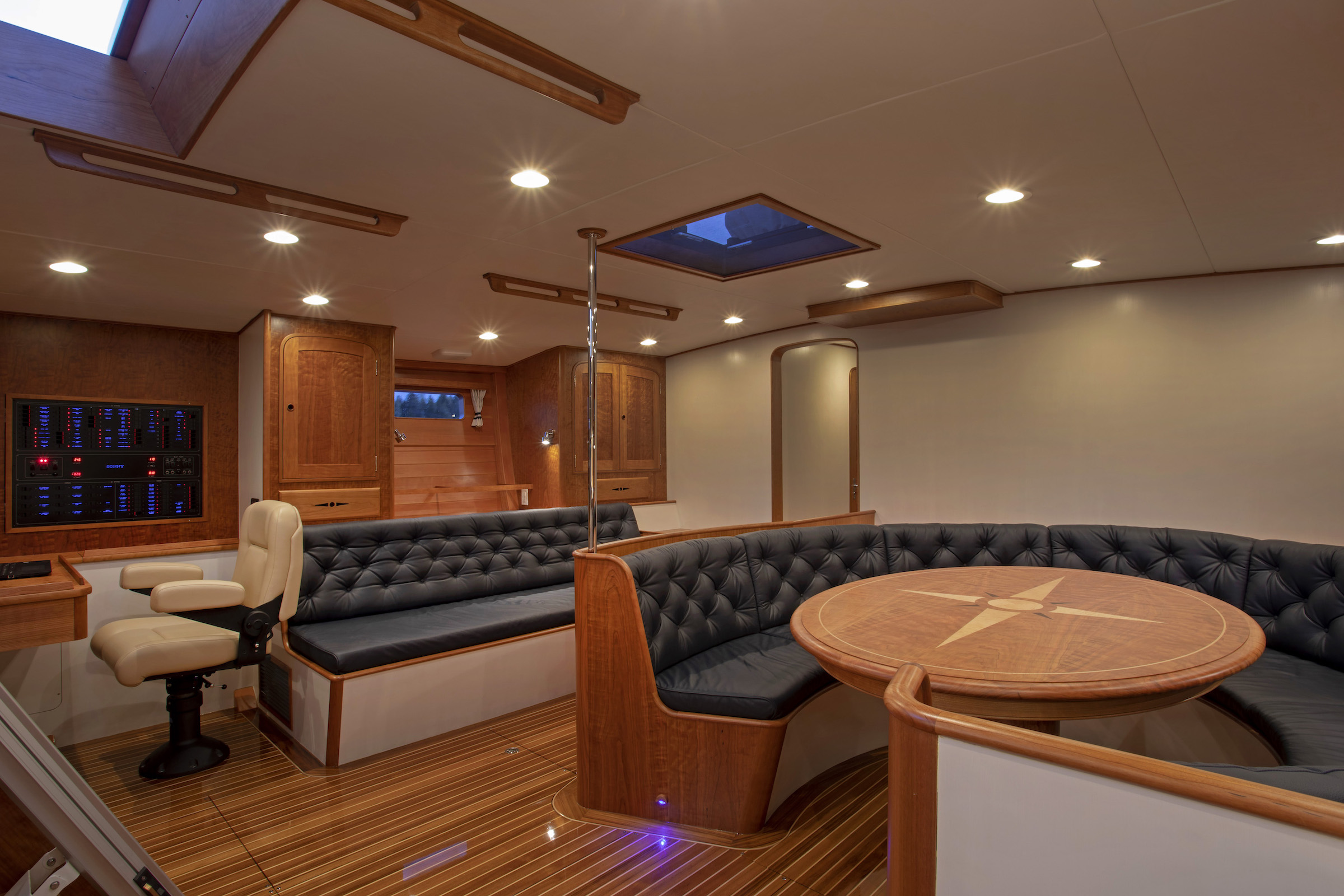 The cold-molded, laminated-wood hull used WEST SYSTEM epoxy resin and vacuum bagging. The ballast keel is a steel foil with integral tanks and a lead bulb. The rudder is a carbon spade design.
Due to the tight build schedule and other construction commitments, Brooklin Boat Yard subcontracted the hull and deck construction to Rockport Marine of Rockport, Maine.
Now that Sonny III has launched the Brooklin Yard is focusing on two new projects, a 55-foot sloop designed by the Spanish design firm Botin and a 32-foot outboard powerboat. Sonny III's specs are as follows: 91'4" LOA, 74'5" LWL, 19' beam, 10' draft, 140,000 lbs displacement, and a sail area of 3,500 square feet.
All the photos are by Billy Black, courtesy Brooklin Boat Yard