MMA training ship heads south on training cruise
MMA training ship heads south on training cruise
Monday, January 4th 2016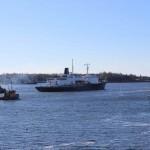 Maine Maritime Academy students, officers, and crew departed Castine on Saturday, January 2, 2016 at approximately 10:30 a.m. on the Training Ship State of Maine for a two-week training evolution to St. Croix, U.S. Virgin Islands. The ship will carry 210 students and crew and is due to arrive on January 8. The trip is under the direction of Captain Leslie B. Eadie III, a 1976 graduate of the Academy who assumed command of the vessel in 2011.
Friends, family, and fans can follow the ship's journey through the cruise blog at cruise.mainemaritime.edu and the cruise Facebook page (www.facebook.com/mainemaritimecruise). The training ship will depart St. Croix on January 11 and return to Castine on January 16, weather permitting. Training activities will continue in port through Tuesday, January 19, 2016.
In response to an increase in sea time and instruction required by STCW (Standards for Training, Certification and Watchkeeping) as of the admission of the Class of 2017, the summer cruise was lengthened to 90 days. During transition to the new 90-day / 45 + 45 model, the winter cruise was planned to include 2/C students (juniors) for a 15-day training cruise in January 2015 and January 2016 in order to make sure those students could satisfy their sea-time requirements. Students pursuing an officer's license from the U.S. Coast Guard as a third mate or third assistant engineer are now required to train at sea for at least 300 days during their first three years at the Academy. Freshmen and juniors sail aboard the MMA vessel while sophomores are assigned to merchant ships worldwide. In past years, MMA training cruises have taken students to Aruba, Bermuda, Belgium, Brazil, Canada, Estonia, France, Germany, Iceland, Italy, Malta, Poland, Puerto Rico and Russia, as well as other European and Caribbean countries.
The 500-foot, 16,000-ton Training Ship State of Maine, originally commissioned as the USNS Tanner, served as a Navy oceanographic research vessel before being converted in 1997 to accommodate the training needs of the college. The fourth vessel to bear the name State of Maine, the ship is a modern, technologically advanced training vessel.
Maine Maritime Academy is a co-educational, public college on the coast of Maine offering 18 degree programs in engineering, management, science, and transportation. The college serves approximately 950 undergraduate and graduate students in career-oriented programs of study.