Big milestone at Gamage Shipyard
Big milestone at Gamage Shipyard
Tuesday, June 16th 2020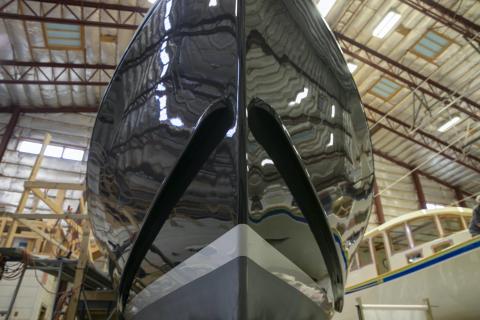 Gamage Shipyard is having a back to the future moment this summer. The South Bristol yard is launching its first new boat builds since 1981. 
Based on the Damariscotta River, Gamage has focused on boat storage, repairs and refits, and marina services for the past 40 years. The new builds, a Holland 32 and a 42-foot Flowers trawler, which were scheduled to be launched this summer, are a transition back to the 149-year-old yard's boat-building roots. It's part of a long-term plan, according to manager Mike Tatro. 
"When I took over the yard five years ago, the owner and I batted back and forth on direction of the yard. He started talking about developing a brand. This yard has a long history of building boats. That's the brand we need to get back to," Tatro said.
The Holland is intended to showcase the yard's potential.
Tatro acquired an older Holland 32 hull that his crew then stripped down to the bare bones. After Belfast builder Glenn Holland fabricated a new cabin and deck, the Gamage crew fitted the boat out as a downest-style commuter and/or pleasure boat. It will have a full head with hot and cold water, a galley with refrigeration, and berths for two people. The boat will be powered by a V8 350 HP Yamaha diesel engine. Tatro expected that it will have a top speed of around 30 knots and a cruising speed of 25-26 knots.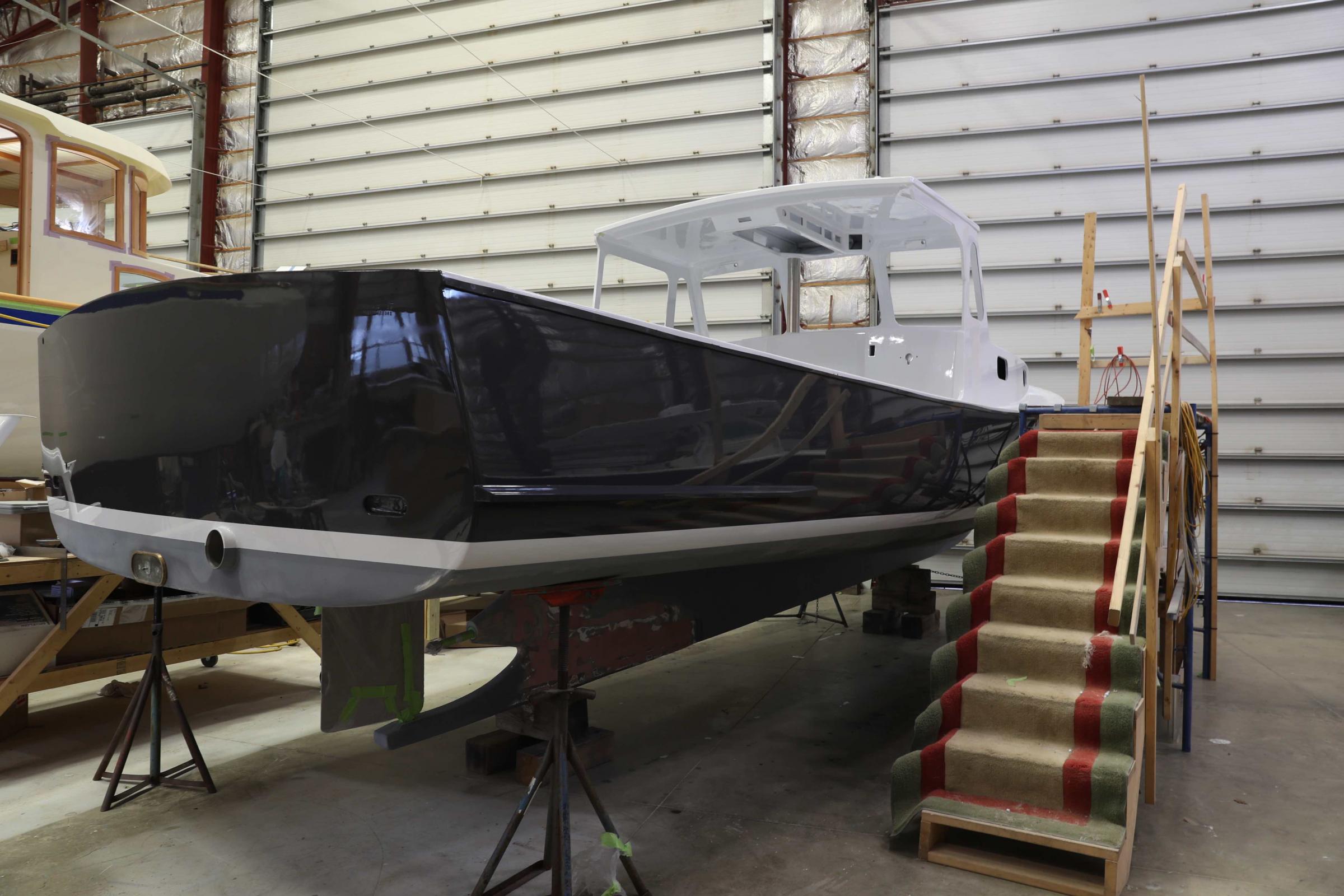 The spec boat is currently listed for sale with Gray & Gray Yacht Brokers.
Tatro describes the Flowers design as a cross between a Lord Nelson Victory Tug and a northeast trawler. It is being built for a client in South Carolina.
Albion and Menzies Gamage began building large wooden sailing vessels in the early 1850s. Over the next 50 years, the brothers built more than 88 sail- and steam-powered boats. Menzies Gamage's son Elliot bought the yard in 1911, but there was little activity on the land until 1924, when Elliot's cousin, Harvey Gamage, bought the property, leaving an apprenticeship in an East Boothbay boatyard to set up business for himself. From 1924 to 1976, Harvey oversaw the construction of more than 288 sailboats, powerboats, draggers, scallopers, and windjammers. 
The yard launched its last new build in 1981.
Rory Cowan, a long-time summer resident in the area, bought the yard in 2000 and proceeded to invest in substantial new infrastructure. He hired Tatro, who bought years of boat-building experience to the job, in 2014.