Lyman Morse launches Hull No. 1 of its Hood 35 LM series
Lyman Morse launches Hull No. 1 of its Hood 35 LM series
Tuesday, June 28th 2022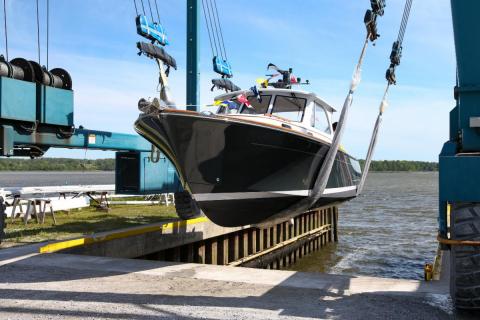 Lyman-Morse has launched Hull 1 in its new Hood 35 LM series. The new line follows the recent successful collaboration between Lyman-Morse and C.W. Hood Design on the Hood 57 LM. Similar to the 57', this cold-molded pocket-yacht named Shadow is designed as a hardtop express.
Shadow's tech-savvy owner sought to outfit the vessel with the latest marine technology. She is one of the first dayboat-sized vessels to utilize Raymarine's new Digital Switching System, YachtSense. The Raymarine vessel control system offers digital switching, which replaces traditional mechanical switches and circuit breakers with digitally controlled power distribution modules, significantly reducing the size and length of cabling required to distribute power throughout the boat. Hull No. 1 features twin 440-hp Yanmar 6LY440s coupled to a pair of Hamilton Waterjet HJX29s, making it the first pleasure vessel in the country to be equipped with these brand new jets, according to Lyman-Morse. Shadow reaches speeds of 40+ knots, and is also the first pleasure vessel to be equipped for autonomous running with the state-of-the-art Sea Machines system. Lyman-Morse is working closely with the owner and Sea Machines to have this boat confidently guiding herself and her passengers in the near future.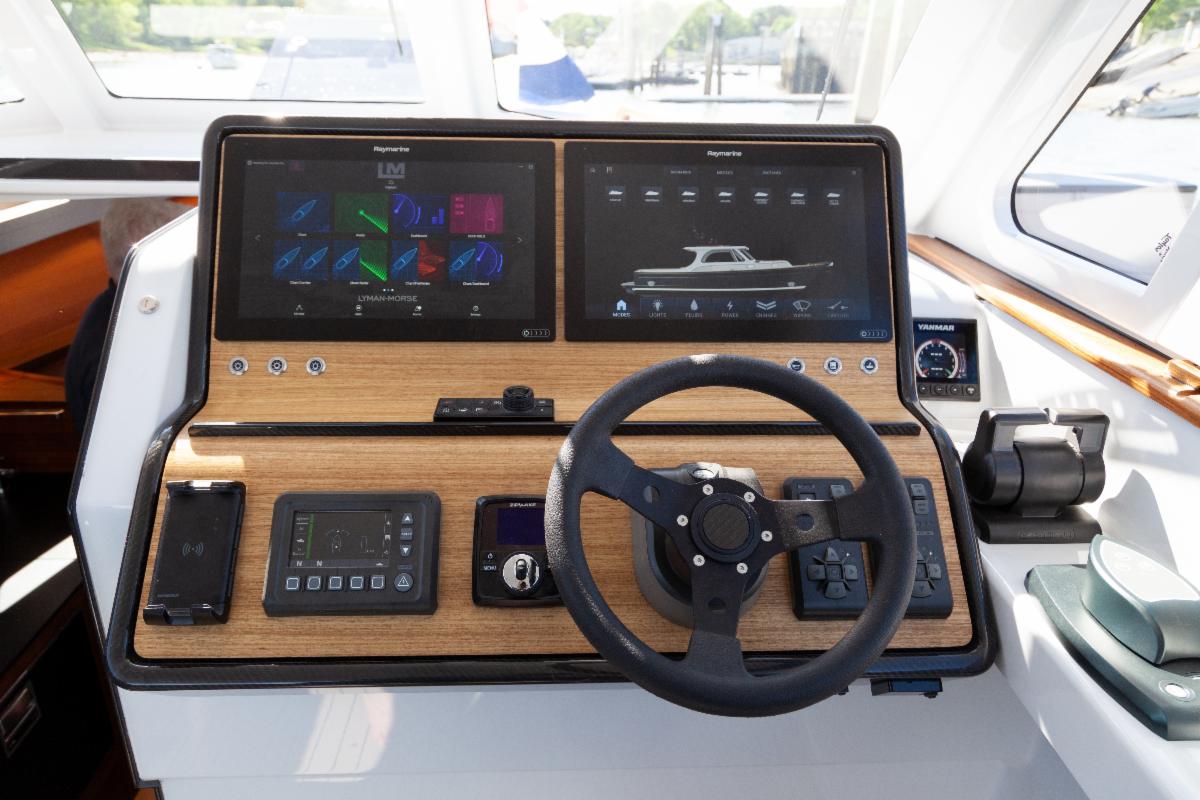 In addition to advanced technology, Shadow's owner wanted a vessel that offered the traditional aesthetics and comfort of a wooden hull combined with classic Downeast lines. The interior features exposed Douglas fir planking, walnut carpentry, black finishes, and charcoal upholstery. Customized helm seats feature carbon fiber and walnut details. A specially designed detail, the v-berth converts from a settee to a bed. 
"I have worked with Chris Hood in the past on my last boat, so when I found out they were working with Lyman-Morse, I couldn't have been happier," the owner said. "Lyman-Morse's reputation precedes itself in building custom yachts and so does their ability to incorporate state of the art technology, so this really was the perfect boat builder to take on this project."
As part of the series approach, C.W. Hood has incorporated a flybridge version into Hull 2 currently under construction and scheduled for a 2023 completion. A soft-top model is also offered for those who want more of a dayboat option.