Just Launched: Apprenticeshop Graduate Projects
By Gretchen Piston Ogden

Photograph by Nadine Gallagher. Scroll down to view more images.
December 2010: Since winter is often the busiest time in boatbuilding shops up and down the coast, it's no surprise that the Rockland Apprenticeshop had no fewer than six new boats to launch on a recent late December day. According to Director Eric Stockinger, "This was our biggest winter launch in a long time." There was a light dusting of snow on the upper reaches of the shop's launch ramp, but didn't delay things: this is Maine, and hey, the sun was out. An 11' replica of a Frank Day rowboat, three 12 ' Susan skiffs, and two Lawley tenders (a nine-footer and a twelve-footer) were shepherded into the water by their builders, all of whom came to the shop to learn traditional boatbuilding skills. In addition to the appreciative crowd of onlookers, present for the launching of their creations were Apprenticeshoppers Matt Costa, Matt Dirr, Patrick Kane, Skyler Shepard, Drew Scott, Pat Walsh, and Adam Yanchunis. In their first quarter as apprentices, each Apprenticeshop student works on a Susan skiff to understand the basics of lapstrake construction. The skiff has a flat bottom and a transom-style stern, seats up to four people comfortably, and weighs about 175 pounds. The students then move on to larger boats and different construction techniques, working both on new construction and on repair and rebuilding skills. The launching marked the turning of the year for the shop. "Apprentices will be back in the shop in early January to start four small boats and continue work on two larger sailboats that are scheduled to launch in June of 2011," Stockinger said.
Founded in Bath, Maine, in 1972, the Apprenticeshop offers "hands-on programs dedicated to inspiring personal growth through craftsmanship, community, and traditions of the sea." Courses in seamanship and traditional boatbuilding are offered throughout the year for youth and adults at the shop's waterfront location
Contact:
The Apprenticeshop 643 Main Street Rockland ME, 04841 207-594-1800 e-mail:
info@apprenticeshop.com
website:
www.apprenticeshop.com
Information and specifications supplied by the builder. Every effort has been made to ensure accuracy. However, Maine Boats, Homes & Harbors, Inc. accepts no liability in the event of any errors of fact or omission.
Share this article:
Digital Edition Available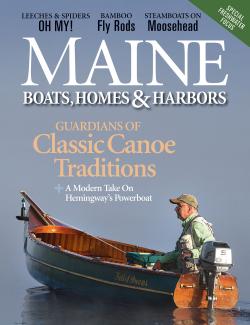 Can't get to the store to buy your magazine? We deliver the stories of Maine's coast right to your inbox. Sign up here for a digital edition.