Gunkholing with Gizmo: Isle au Haut
Gunkholing with Gizmo: Isle au Haut
By Ben Ellison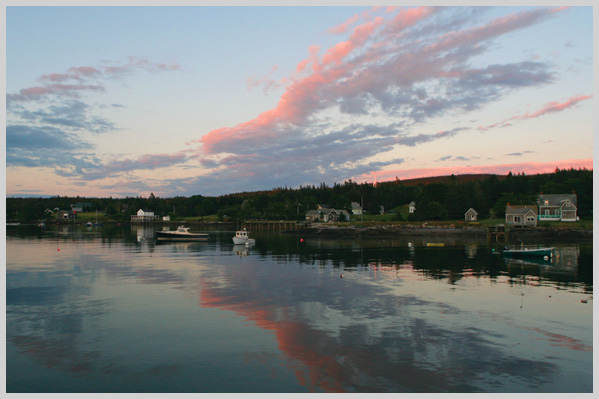 Moorings off the town dock are first-come, first-served, and provide easy access tot he town's limited but choice amenities.
Photo by Ben Ellison
Although I once had the luck to stumble upon a Native American waterfront salmon grill while deep in a British Columbia forest, what are the chances of coming across a high-quality chocolatier miles off the Maine coast? Well, it happened to me on Isle au Haut, a remote out-island, about half of which is part of Acadia National Park. The path to the chocolatier is not yet on the park map that's available at the ranger station (1) or at the Duck Harbor campgrounds (2), so just look for the "Black Dinah" sign along the main trail that connects the two. It will take you first to the lovely overlook of dark rock that inspired the company's name and then down to the extra sweet home business—Black Dinah Chocolatiers (3). They have locally roasted organic coffee (and free WiFi) to go with their exquisite dark chocolates, which are made on site. You can also get to the café via the road from the Town Dock (4). Don't wait, since there's no guarantee that this remarkable business will be here forever. It's just plain hard to run a business, or live year-round, on an island, let alone one that's so big and bumpy and remote. For example, neither the legendary Lighthouse Keeper's Inn (5) nor the extreme B&B known as the Inn at Isle au Haut (6) are currently operating, which leaves only the (excellent) Island Store for refreshments and provisions. Luckily, it's an impressively eclectic place that manages to stay open year round (reduced hours in winter). Then again, adversity breeds ingenuity and Isle au Haut seems to be getting new life, literally, with the aid of modern telecommunications and an increased consciousness about community building. Visit the island's energetic Community Development Corporation via isleauhaut.org to see what I mean. There's also excellent visitor information there. When you visit in person, don't miss the handsome stone-walled multipurpose Town Hall, located just north of the store; events are often held there (and there's free Internet access). Getting to the island by boat isn't particularly easy, unless you take the passenger ferry from Stonington. The few rental moorings off the Town Dock cannot be reserved, Moores Harbor (8) is exposed and without easy shore access, and Duck Harbor is very tight. While I aspire to one day go ashore in the little settlement of Head Harbor (9), and maybe even swim in Long Pond's fresh waters (10), I've yet to find the Head Harbor anchorage calm enough for my peace of mind. But I have made the wonderful (and serious) hike over the top of the island to the pond and can report seeing a dock and a decent sized daysailer, sights that seemed nearly as whimsical as the chocolate shop we found on the other side of the island.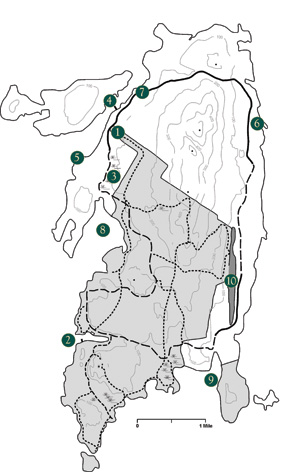 Based on the National Park Service trail map.
Charlet Key: (1) Acadia National Park,
http://www.nps.gov/acad/parkmgmt/isle-au-haut.htm
(2) Duck Harbor Campground (3) Black Dinah Chocolatiers,
http://blackdinahchocolatiers.com/default.aspx
(4) Town Dock (5) Keeper's House Inn,
http://keepershouse.com/
(6) Inn at Isle au Haut,
http://www.innatisleauhaut.com
(7) Island Store (8) Moores Harbor (9) Head Harbor (10) Long Pond Isle au Haut Community Development Corporation,
http://isleauhaut.org/

E-mail Ben (
gizmo@panbo.com
) or leave him a note via the form below to tell him about restaurants, parks, and the like that he can visit aboard the M/V
Gizmo
.
Click here
to travel with Ben Ellison and
Gizmo
on other
coastal adventures
on the Maine coast.
Share this article:
2023 Maine Boat & Home Show

Join Us for the Maine Boat & Home Show!
Art, Artisans, Food, Fun & Boats, Boats, Boats
August 11 - 13, 2023 | On the waterfront, Rockland, Maine
Click here to pre-order your tickets.
Show is produced by Maine Boats, Homes & Harbors magazine.