Wheeler 38
The spirit of Hemingway's boat comes alive in a new build
By Art Paine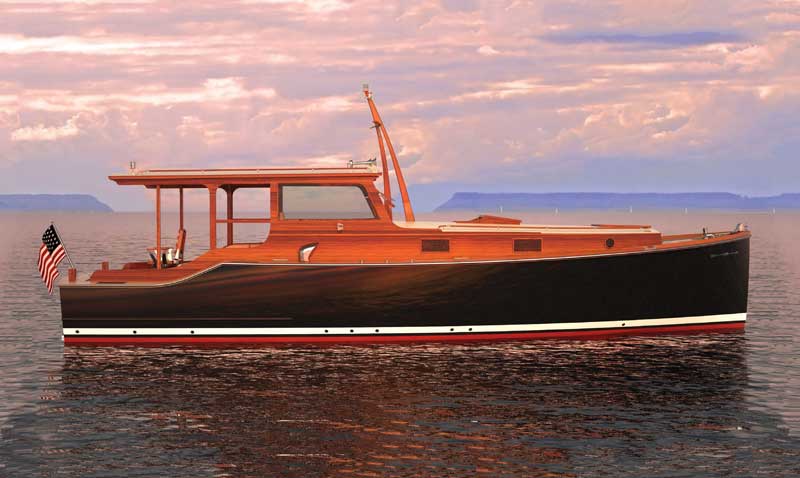 On the outside, the Wheeler 38 will look like Ernest Hemingway's classic fishing boat Pilar. The interior of the elegant cold-molded wooden vessel will feature modern technology, including air-conditioning, twin turbo electronically controlled 370-hp Yanmar diesels, and iPad and iPhone control of most onboard systems. Rendering courtesy Wheeler Yacht Company
Ernest Hemingway's wooden fishing boat Pilar is beached and on display upon the old tennis court at his former home in Cuba. But like his writing, which has never gone out of style, Hemingway's custom Wheeler Playmate, with its sleek lines and classic looks, has timeless appeal.
Wesley P. Wheeler, great-grandson of the founder of Wheeler Shipyard, Inc. which built Hemingway's boat, has re-incorporated the family business in order to build a modern take on Pilar; one that will keep its classic looks while featuring thoroughly modern technology. The first new Wheeler 38 is being built at Brooklin Boat Yard and is scheduled to be launched this June.
The Wheeler story begins in 1910, when Howard E. Wheeler established a boatyard in Brooklyn, New York, to provide maintenance and upkeep for gasoline-powered boats. Wheeler was charismatic, energetic, and a great salesman. Six years in, with the country involved in World War I, "Pop" Wheeler took a train to Washington, D.C., and returned with a government contract to build six 110-foot sub-chasers.
At the time, the yard had yet to build a boat longer than 21 feet. But the company filled the sub-chaser order on time and on budget, which led to a new contract for four minesweepers, along with a number of Army and Navy tugboats. Wheeler Shipyard, at the foot of Cropsey Avenue on Coney Island Creek, was on the map.
Boatyard action slowed after the war, but family action proceeded apace. Eventually Howard Wheeler had five sons. They all graduated from Erasmus Hall High School, and went immediately to work in the yard. A fire leveled everything in 1921. But by 1928 the family-run operation had rebuilt and was producing more than 50 pleasure boats a year. Despite the market crash, the Wheelers produced 75 boats in 1930, and by 1939, had sold 225 boats, all around 38 feet long, according to Wesley Wheeler. Wheeler Shipyard had no dealerships. They sold at the annual New York Boat Show, through sales brochures and magazine advertisements, and by word of mouth.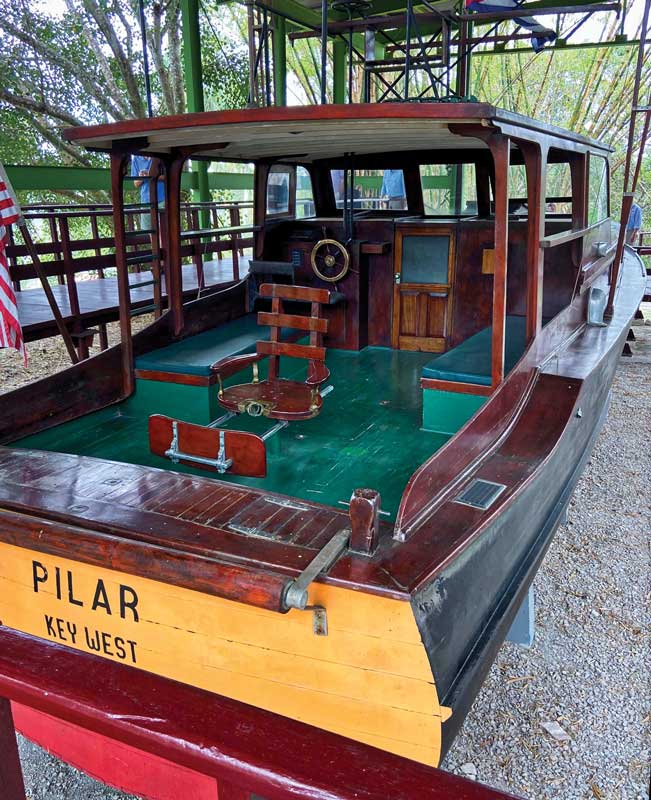 The original Pilar is on display at Hemingway's house in Cuba, which is now a museum. Photo by Robin Lloyd
Ernest Hemingway entered the picture in the spring of 1934. He had been passionate about fishing since he was three years old, was crazy about boats, and had an advance in his pocket for a book about big-game hunting in Africa. While on safari, he had a Wheeler Shipyard brochure in his suitcase. Soon after returning to the United States, after meetings with his publishers at Charles Scribner and the newly launched Esquire magazine in New York City, he escaped to Brooklyn, where he met Wesley L. Wheeler, one of the five sons and designer of the 38-foot Wheeler Playmates. Hemingway placed an order for a boat, to be named Pilar, a nickname for his second wife, Pauline.
Wheeler was the official designer, but Hemingway asked for changes and practical features that would change sportfishing boats forevermore. His chief requirement was for the sheerline to be dropped about a foot surrounding the aft portion of the cockpit. The purpose was to turn Pilar into an efficient fishing machine, but one could argue that it also made her lovely and unique. Hemingway also insisted that the 75-horsepower Chrysler Crown be augmented by a small 40-horse Lycoming trolling engine. He had a roller installed across the top of the transom to make it easier to haul aboard trophy catches. Later, after fishing on the boat for two seasons, he contrived a second maneuvering station on top of the cockpit roof—an early stab at the concept of a flying bridge.
The Wheeler company hit its stride during World War II, expanding into larger facilities at a separate shipyard in Whitestone, Long Island, New York. At this point the name was changed to Wheeler Shipbuilding Corp. and the company had a workforce of 6,000 people, its own marching band, and even a radio station. The company produced 230 military ships up to 165 feet in length. After the war, they acquired another shipyard on Clason Point in the Bronx, renamed themselves the Wheeler Yacht Company, and continued to build pleasure yachts through the early 1960s. Eventually, competition from mass-market providers like Chris-Craft, the advent of fiberglass, and a fire at the Bronx yard led to the demise of the company. The Wheeler family moved on to other pursuits.
Then about 15 years ago, Wesley P. Wheeler, great-grandson of company founder Howard E., was alerted by a sailing buddy to an article in Sea Magazine by a motorboat designer named Tom Fexas. The article harked back to Wheeler yachts as a prime example of what boats ought to look like, and did not ignore that the boats had been fairly priced.
Wesley Wheeler, who had long dreamed of reviving the Wheeler name in motoryacht construction, phoned Fexas and inquired if he'd be interested in collaborating on a brand new classic-looking Wheeler. He envisioned something with modern speed, but reminiscent of a 1960s-era, 55-foot Wheeler Playmate tri-cabin cruiser. Fexas designed a boat, and the hull was tank-tested, but the project was eventually dropped.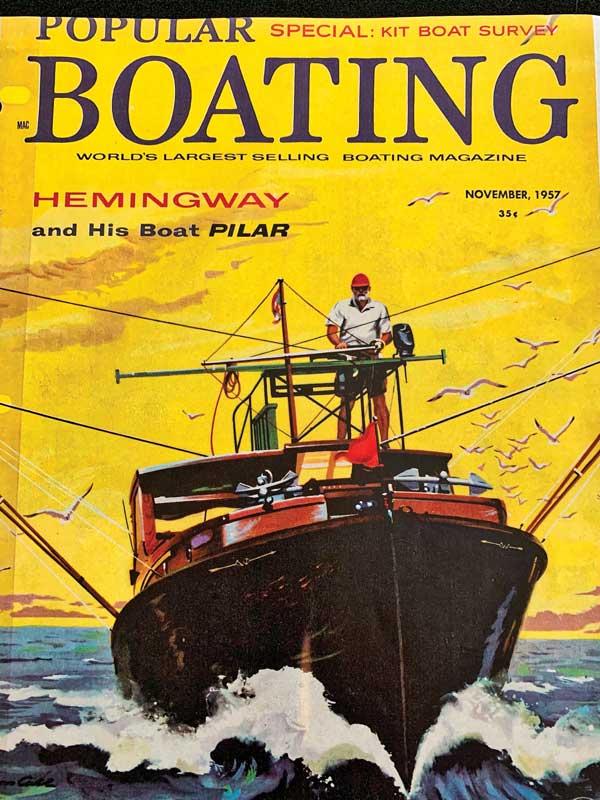 Pilar was featured on the cover of Popular Boating in 1957. Note the steering station on the top of the cockpit roof, which was an early stab at the concept of a flying bridge. The new version will not have this feature. Courtesy Wes Wheeler Then Wheeler received a phone call from Hilary Hemingway, niece of Ernest, who was working on a full-length feature movie about the real-life exploits of her uncle and Gregorio Fuentes, his Cuban boat captain. Wheeler went to Cuba with Hilary, and they visited Hemingway's house. They were allowed to board Pilar and take detailed measurements that ultimately were used to reverse-engineer the new Pilar, Wheeler said—the original lines plan has never been found.
Eventually Wheeler helped the film crew locate a smaller 1933 Wheeler Playmate to use as a stand-in for Pilar in the film. That boat was restored and modified to reflect Pilar's lines by Moore's Marine in Beaufort, South Carolina. Wheeler was on board for her maiden run.
"The boat performed splendidly, although a bit squirrely with so much more speed and power. I was left totally awed and totally convinced that myself and my Dad, while he still could, ought to hit the drawing boards with a modern version of Pilar," Wheeler said.
Before they could get very far on the project, however, Wesley Wheeler Sr. passed away, and Wesley P. was hard at work as a CEO in the pharmaceutical industry. So he hired naval architect Bruce Marek of South Carolina to draw up a new hull with some minor reshaping for more power and weight aft, and an epoxy and ply construction.
Marek did some work and then suggested that Bill Prince, a naval architect in Port Washington, Wisconsin, who specializes in retro designs, finish up the design details. When the time came to choose a builder capable of manufacturing the cold-molded hull, Steve White and Brooklin Boat Yard won the contract.
Work on the new boat at Brooklin Boat Yard began last year. The new Wheeler 38 is being custom outfitted for Wheeler and his family. But he also has re-incorporated the Wheeler Yacht Company and hopes to market variations of the model.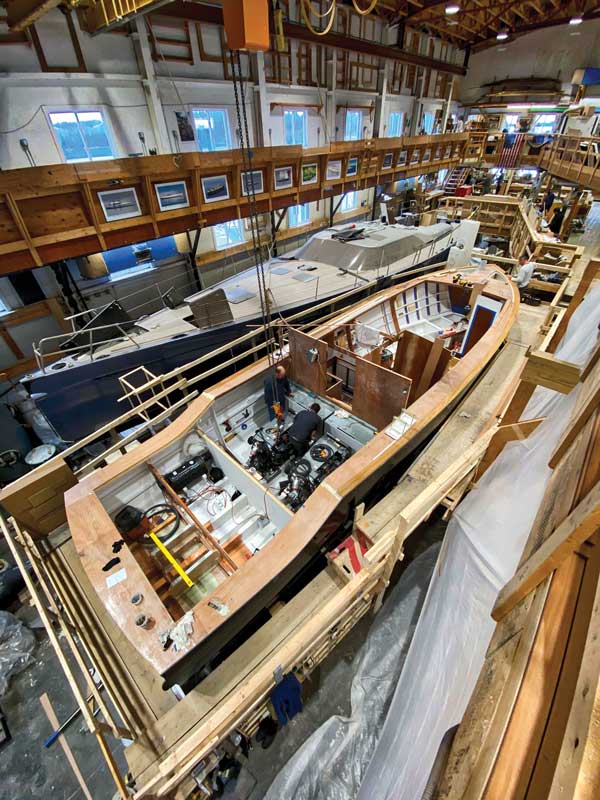 Taken midway through the construction process at Brooklin Boat Yard, this photo shows the general layout of the cabin as well as the signature drop in the sheerline in the aft of the cockpit. Photo by Eric Stockinger
The new boat is retro-engineered to look nearly identical to Hemingway's Pilar, with all the modern conveniences hidden from sight. Eric Stockinger, the project's lead man at BBY, said he has enjoyed hunting for period hardware, instrument panels, and fittings to enhance the authenticity of the near-replica. The search is on, he said, for a big searchlight, a feature Hemingway repeatedly heralded. Instead of cleats at the transom corners, there will be staunch wooden bitts. But in order to suit modern preference, everything that was bronze in the original boat has been switched to polished stainless steel.
The hull is cold-molded with mahogany plywood over Douglas fir frames and stringers, and mahogany diagonal veneers in the topsides. Elongated Doug fir engine bed logs run the length of the bottom. Greater engine power had caused the movie-prop Pilar to be a little "squirrely" at speed. Although seemingly antithetical, all of the several designers and Wesley Wheeler, himself a marine engineer, agreed that this hull would likely be more yaw-stable without having any skeg, and that's how she's being configured.
Twin turbo electronically controlled Yanmar diesels of 370 horsepower will give the boat a top speed approaching 30 knots, according to company specs. Less drag without a skeg will make her a little bit faster still.
There's a 13kW Onan generator under the cockpit for air conditioning, induction stove, microwave, refrigeration, and other conveniences, including a Seakeeper gyro-stabilizer. The Wheelers aren't a game-fishing family, so there won't be a big roller across top of the transom. Hemingway's famous Thompson submachine gun will be also be absent from the modern incarnation, I'm told.
The boat has teak decks sprung to the plank sheer. And of course, a radome, although there's much discussion about how to make this modern device as inconspicuous as practical. The hull is painted black. Hemingway considered this essential as he romanticized about rum-running on moonless nights, and actually snuck up on Nazi subs, or at least tried to, during the World War, off the north coast of Cuba.
Below decks, the Wheeler 38 will have a double berth forward and two fat leather armchairs in the salon area. The head is quite large, although lacking an isolated shower stall.
Wesley Wheeler has enjoyed the process of working with Brooklin Boat Yard. "I was fascinated by the speed of construction, by the quality they got from vacuum-bagging, and by the way the yard's own design team (Will Sturdy and his wife Kelly Sturdy—both yacht designers) provided on-site working drawings," said Wheeler; "a lot like my grandfather and his four brothers at the foot of Cropsey Avenue, eight decades ago."
The new Wheeler 38 will be on display on the Maine Boat & Home Show, Aug. 7-9, 2020 on the Rockland waterfront. Between Hemingway fans and boat nuts like me, I predict the dock will be awash with admirers. 
---
Contributing Author Art Paine is a boat designer, fine artist, freelance writer, aesthete, and photographer who lives in Bernard, Maine.
Wheeler 38
LOA:  39'4"
LWL:  38'9"
Beam:  12'
Draft:  3'5"
Displ:   20,600 lbs.
Max speed: 26 knots (est)
Range at cruising speed: 400 nm (est)
Power: 2 x Yanmar 8LV370 Diesel engines
BUILDERS
Wheeler Yacht Company
Chapel Hill, NC
 www.wheeleryachts.com
Brooklin Boat Yard
Brooklin, ME
www.brooklinboatyard..com
REVERSE ENGINEERING
Bill Prince Yacht Design
Port Washington, WI
www.billprinceyachtdesign.com
Share this article:
2023 Maine Boat & Home Show

Join Us for the Maine Boat & Home Show!
Art, Artisans, Food, Fun & Boats, Boats, Boats
August 11 - 13, 2023 | On the waterfront, Rockland, Maine
Click here to pre-order your tickets.
Show is produced by Maine Boats, Homes & Harbors magazine.