Garden, July - Lynette Walther
By Lynette L. Walther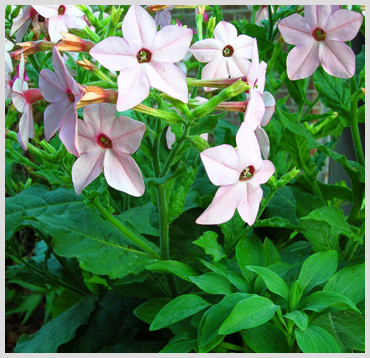 Nicotiana, an annual, is easily started from seed and will often re-seed
itself the following season. The lightly fragrant blooms turn
upward after dark because this plant is pollinated
by moths. photo by Lynette L. Walther
The main reason flowers offer delicious aromas is not to make us happy. Rather, it's to attract pollinating insects or animals. Depending on the habits of those pollinators, blossoms appear at the appropriate times to coincide with their presence. For example, many night-flowering plants have developed to be pollinated by moths, therefore, their fragrances shine after dark. Some plants, such as those in the
Amorphophallus
family offer plenty of fragrance, though of a variety not attractive to humans. Instead, these foul-smelling plants often emit odors reminiscent of rotten flesh. One of the more famous plants in this group is the "Mr. Stinky" that made national news a while back at the Fairchild Tropical Garden with its 15-foot spike and disgusting smell. The odors are useful, though: they attract particular pollinators. Many plants in this group do present unique foliage as well. If these fragrant plants are your cup of tea, visit the International Aroid Society's Web page at:
http://www.aroid.org/genera/amorphophallus/amorph.html
and follow the links by typing in "Amorphophallus".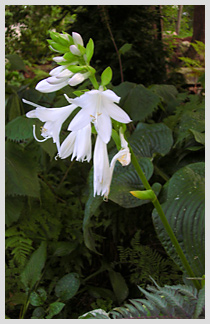 Although often grown for their foliage
and not their flowers, this Aphrodite
hosta is one of several hosta varieties
that have fragrant blooms late in the
season. Photo by Lynette L. Walther
Some plants with fragrant foliage evolved with the opposite intent. They want to repel potentially harmful insects or animals. Those plagued by browsing deer or raiding squirrels will be happy to learn that many of these aromatic plants that humans appreciate but some animals despise can provide good scented garden choices. Most gardeners are looking for the pleasant when it comes to scents. One scented favorite is nicotiana, which is easily grown from seed, and is a plant that does an amazing evening act. When the sun goes down, nicotiana's tubular-shaped flowers turn upward to release a sweet perfume. These incredible fragrances act something like an aroma searchlight to guide in the night pollinators. When it comes to fragrance, choices include having all plants in a single theme, such as a series of lemon-scented plants, or you can mix and match flowers and foliage in a variety of aromas. A fragrant garden can be a night- or day-bloomer or color themed—it's up to you. Both annual and perennial plants fall into these categories, giving the gardener plenty of choices.
Fragrant gardens to grow
Start small by filling a pot with fragrant plants, or dive right in and establish a whole garden of scented delights. Here are some suggestions: Container cologne: A movable garden in a large terra-cotta pot is a good way to get fragrance up close. Container gardening is one of the hottest trends today and gives the gardener complete control over the planting medium and spread of plants. Container gardens can be moved as needed to provide spots of color or to improve growing conditions. For a vision of lemon loveliness, fill a container with a good-quality potting soil and plant a combination of lemon balm, lemon verbena, Lemon Gem marigolds (for scads of edible lemon-yellow flowers), lemon-scented geranium and lemon grass. A bed of fragrance can be planned around the color silver. A platinum plant, lavender, should be the first choice in a silver fragrance garden. This perennial produces mounds of silver foliage with an incredible aroma and profuse blooms depending on the variety.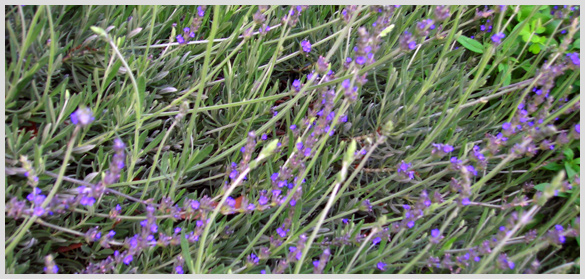 One of the first plants that comes to mind when planting for fragrance is lavender. Maine winters can be
hard on this perennial, so select the hardiest of varieties, and provide winter protection with
a mulch of fir boughs. Photo by Lynette L. Walther
Rosemary is another good choice for fragrance. This aromatic culinary herb does all of the above, with the exception of the blooms. Rosemary does extra duty as a culinary herb, and its presence can help keep some critters, such as squirrels, from digging in the garden. This tender perennial will need to be moved indoors during the colder months. Artemesias and the feathery rose-scented geraniums can be included too. Consider white-blooming Nicotiana alba; white sweet alyssum; the fragrant double purple datura (
D. eryngium
) or any of the white or silvery-purple flowered sweet peas; white stock; biennial salvia argentia with its thick, woolly silvery leaves; anise hyssop with licorice-scented foliage and purple spikes; the annual white mignonette; Cramer's yardstick artemesia (a shorter version of the old favorite Sweet Annie); and white sage with silver foliage. The latter was used by native Americans for smudge sticks. For contrast, try petunias, especially the oh-so-fragrant double purple Priscilla Supertunias from Proven Winners. They are all sterling choices. When it comes to fragrance, there are plenty of flowers and foliage that deliver wafts of perfume. Together, they make gardening scents easy.

Contributing Garden Editor Lynette L. Walther is the recipient of the National Garden Bureau's Exemplary Journalism Award and the IABC Silver Quill Award of Excellence. She is a member of the Garden Writers Association. She gardens in Camden.
Share this article:
Digital Edition Available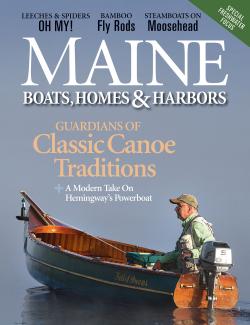 Can't get to the store to buy your magazine? We deliver the stories of Maine's coast right to your inbox. Sign up here for a digital edition.