Mainely Gourmet - Damariscotta River Grill
Sunday Brunch at the Damariscotta River Grill
By Peter H. Spectre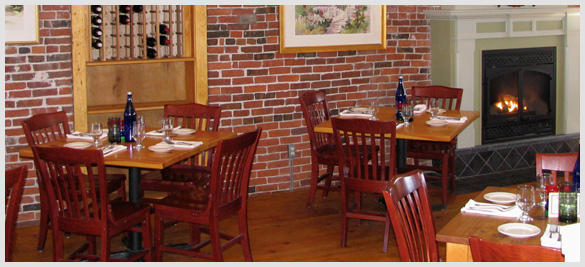 Downstairs was a tad noisy. We went upstairs. Photo courtesy Damariscotta River Grill.
Having grown up on Cape Cod, I know a thing or two about chowder. Fish chowder, clam chowder, corn chowder—we had them all, and as adults we still do. My mother made a mean quahog chowder, and my wife is a magician with fish and corn, as well as that chowder relative, lobster stew. Restaurant chowders these days—especially clam—can't compare. Too thin, too thick, too much butter, not enough salt, too much salt, too much cream, not enough clams, too many potatoes, too many ingredients that God never intended for a chowder in the first place. Tomatoes! Great Hornitoads, let's not have any more of those! I had given up on clam chowder outside my own house a long time ago, and then one day we took a Sunday drive to Damariscotta to explore the huge Whaleback shell midden along the shore where the Damariscotta River meets Great Salt Bay. A midden is essentially an ancient dump, and Whaleback is one of the largest left behind by the Indians when they harvested shellfish along the Maine coast. The millions of clam shells strewn about in great piles reminded me of a glorious past, and when we got to the Damariscotta River Grill for brunch, for an appetizer I ordered a cup of clam chowder ($4.22). (Yes, that strange amount is actually the price). The Damariscotta River Grill is one of those informal restaurants you find on the main street of most coastal towns of any size. It's on two levels, the front having a view of the street and the back overlooking the Damariscotta River. The downstairs is divided into two rooms with an open, walk-through kitchen between; the upstairs is a large, open room with a bar in one corner. Fine art by local artists decorates the walls. Downstairs was a tad noisy. We went upstairs.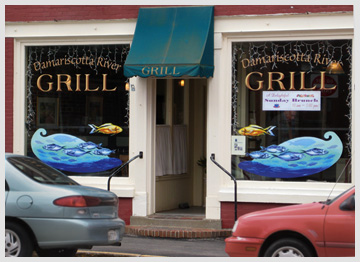 The clam chowder? It was first rate, first class, magnificent, with just the right amount of everything and an added something that I can't put my finger on and wish I could. It was accompanied by Westminster crackers. I know this marks me as a cracker snob, but Nabisco crackers or their clones are the ruination of any chowder, no matter how good it might be. Westminsters, throwbacks to the golden age of cracker baking, are firm without being hard, not too salty without being bland, and able to stand up to hot chowder for a long time before becoming mushy. (We've all heard about Nabisco's recent decision to discontinue their Crown Pilot cracker. When Westminster gets around to filling the gap—and I bet they do—you'll never get weepy-eyed about Crown Pilots again.) Eileen had a cup of onion soup ($3.87). An aficionada of the type, she said that it, too, was excellent. For the main course she had jerked swordfish with citrus sauce ($9.48), which is code for swordfish rubbed with spices, grilled, then splashed with citrus. "A nice luncheon-size portion," she said with approbation. She also had a generous salad with homemade dressing. Not being a salad man and looking forward to a little outdoor exercise after the fact, I went straight to the corned beef hash with poached eggs ($10.87). "Our Very Own Hash," the menu said, and they were right about that. Rather than your standard chopped corned beef and potatoes, pan fried, with two eggs on top and a cup of ketchup on the side, this had shredded corned beef, broken pieces of bacon, chopped white and sweet potatoes, onions, peppers, and a melon garnish. Other entrée choices included hangar steak & eggs ($12.57), vegetable hash & eggs ($9.67), eggs Florentine ($7.97; with crab $10.94), eggs Benedict ($7.97; with crab $10.94), spinach and crab crepes ($8.99), Maine blueberry crepes ($5.89), Pemaquid oysters ("mignonette, jalapeno relish, horseradish"; $10.95), lobster BLT (catch price), and more. This, of course, is from the Sunday brunch menu. Luncheon and dinner menus are different, as are the prices, though they are just as odd. For dinner: $18.93, short rib; $24.91, tenderloin; $18.94, Thai fish stew. If you love clam chowder and corned beef hash, you probably love bread pudding, too. I do but took a pass. According to my notebook, Damariscotta River Grill's version included "pear, cranberry, and Amaretto warmed, drizzled with butterscotch sauce, topped with whipped cream, sprinkled with toasted almonds," which means that it bore no relationship to my grandmother's but sounded delicious nevertheless. There's a lot to be said for a Sunday drive and Sunday brunch, but sooner or later you're going to feel—how should we say?—heavy. You'll need a walk, and that's where the Damariscotta River Grill's location shines. Damariscotta, bypassed by Route 1, is a walkers town. You can stroll along the riverfront, or down the side streets, or window-shop on Main Street, and while you're doing it you can be thinking about dinner. Pluses: * For Sunday brunch there's a menu and the meal is cooked to order, and a waiter brings it to you—a far cry from the usual brunch where nearly everything is prepared in advance and kept warm on hot plates or a steam table, and you lurch around with a plate in one hand and a serving utensil in the other and pray that you won't be spilling maple syrup on your clean, starched Sunday shirt. * They serve 100% real maple syrup. * The pace is relaxed. Minuses: * They charge extra for coffee refills. * The waiter makes a long speech about the daily specials and how they are prepared but doesn't say how much they cost. Damariscotta River Grill 155 Main Street. 207-563-2992
www.damariscottarivergrill.com
Hours: Tuesday-Thursday (11 a.m.-8:30 p.m.), Friday-Saturday (11 a.m.-9 p.m.), Sunday brunch (11 a.m.-3 p.m.), Sunday dinner (3 p.m.-8:30 p.m.). Closed Monday.
Share this article:
2023 Maine Boat & Home Show

Join Us for the Maine Boat & Home Show!
Art, Artisans, Food, Fun & Boats, Boats, Boats
August 11 - 13, 2023 | On the waterfront, Rockland, Maine
Click here to pre-order your tickets.
Show is produced by Maine Boats, Homes & Harbors magazine.