From Whence We Came - Issue 111
Issue 111 - Boatshow Issue 2010
By Peter H. Spectre
Classics in Their Own Way: Carl Alberg, Joe Richards, and Alf Loomis.
Remembering those who have influenced how we respond to boats, ships, and the sea—we continue our series of short biographical sketches.
Carl Alberg
Yacht Designer
For the most part, when the word "classic" is assigned to a boat, we can be reasonably sure that the boat was built of wood and was more often than not designed by someone whose last name began with A (Alden, Aas, Archer), H (Herreshoff, Hacker, Hand), or S (Schock, Stephens, Strange). Boats built of fiberglass, even though the medium has been around for decades, seldom make the cut, and the designers of the best of those boats are seldom mentioned, never mind lionized. Among the few exceptions are Carl Alberg and his designs.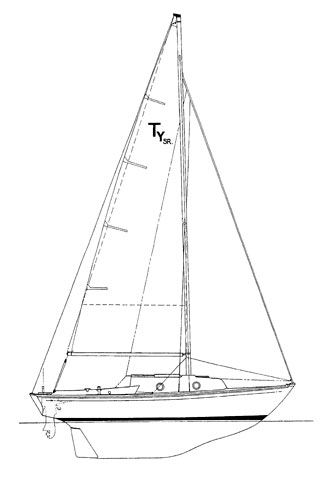 The Typhoon Senior, one of many designs by
Carl Alberg for Cape Dory.
Carl Alberg (1900-1986) was born in Gothenburg, Sweden, studied naval architecture as a young man at a local technical institute, and, when he was 25 years old, emigrated to the United States. He first went to work at the Fore River Shipyard in Quincy, Massachusetts, where he was a rigger, and then at the George Lawley & Son boatyard in Neponset, where he was a spar-maker. Eventually he took a job as a draftsman in the yacht design office of John Alden, in Boston, where he remained until the outbreak of World War II, when he went to work as a designer for the U.S. Navy. Alberg opened his own design office in Boston after the war, returned to the Navy during the Korean War, and then spent approximately ten years as chief engineer and naval architect for the U.S. Coast Guard. Meanwhile, he continued his own yacht design work on the side. Alberg's career—and reputation—really took off when he threw in his lot with the nascent fiberglass revolution. While most designers of the era shunned the new material, he embraced it, and designed a series of best-selling boats for the newly founded Pearson Yachts. Among his notable designs during that period were the Triton, the Ensign, and the Alberg 35. In the early 1960s, after Alberg had retired from the Coast Guard, he became the designer of choice for Cape Dory, which was building affordable fiberglass cruising boats suitable for "everyman." Of the 10 designs he created for Cape Dory, all were successful and at least two— the Typhoon and the Cape Dory 28—are considered by most observers to be classics.
Joe Richards
Friend of the Friendship Sloop
When it comes to classics, few would dispute the status of the Friendship sloop in that category or quarrel with the position of Joe Richards at the top of the list of writers who have romanticized that indigenous Maine coast type.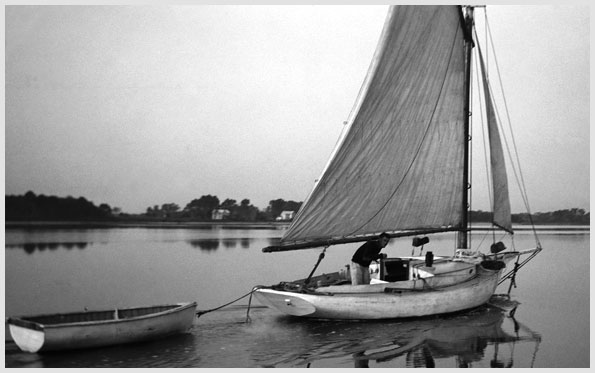 Joe Richards and his beloved Friendship sloop Princess get under way in a calm.
Credit: ©Mystic Seaport, Photography Collection, Mystic, CT, #1980.79.840
Joe Richards (1909-1992) was an artist and a writer with a serious case of romance-of-the-sea buried deeply in his psyche. While his art has some merit—interesting, but not great—his writing has a fascinating immediacy that anyone who has ever fallen in love with a boat needing work—a lot of work—will recognize in a heartbeat. Born in Yonkers, New York, Richards went to sea for the first time at age 18 aboard a freighter making a passage to India. However art, fine and commercial, soon became central to his working life both before World War II and afterward. During the war he served in the Merchant Marine, delivering tugboats for the U.S. Army, an assignment he wrote about in the book
Tug of War
. Joe Richards's book
Princess, New York
(later reprinted with an additional second part as simply
Princess
) is a nautical classic by anyone's definition. It is about his purchase of an old, rotting Friendship sloop, his struggles to restore it to sailing condition, and his adventures in sailing it south from New York to what he expected would be Paradise. Here he is on his first meeting with the boat that would come to dominate his life: "I bought a Friendship sloop in the early spring of 1938. She was lying in a boatyard in Flushing, Long Island. Her name was
Princess
. It was neatly lettered on her transom in the arc of an eyelid. 'New York' formed the lower lid. Where you might imagine an eyeball there was a two-inch iron pipe that broke through the lovely oval of her counter. She had been crying, too; the rusty stains dripped down to her water line....We have been through a lot together, and we are still in love." Cruising stories are a dime a dozen. Nearly all revolve around the sailor, not the boat, but
Princess, New York
is different. So well written, so much about the boat that
Princess
becomes in the reader's mind virtually the second person in a partnership, the book is up there in the hall of fame with Slocum's
Sailing Alone Around the World
and Griffiths's
Magic of the Swatchways
.
Alf Loomis
Sailor-Writer-Editor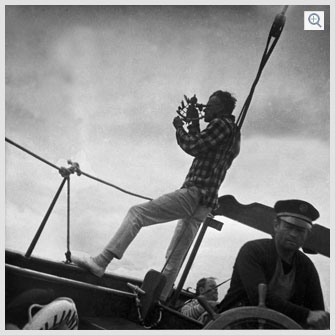 Alf Loomis takes a sight during one of his many offshore passages.
Credit: ©Mystic Seaport, Photography Collection, Mystic, CT, #1965.343.54
The best writers, amateur or professional, on any subject are those with experience in that subject and a passion for it. (Not surprisingly, "Write what you know," is the first piece of advice any aspiring writer will get from a teacher.) The above-mentioned Slocum, Griffiths, and Richards—all three gained their fame as writers after they had laid a groundwork of experience. So, too, did Alf Loomis. Alfred F. Loomis (1890-1968) was an avid yachtsman. Born in Connecticut, he grew up with an enthusiasm for sailing and cruising that led to a career as a boating magazine editor, a freelance writer on nautical subjects for general-interest publications, and the author of many books on cruising and racing. He spent five years at
Motor Boating
as a young man, several years in the U.S. Navy during World War I, and 34 years on the staff of
Yachting
when that magazine shared honors with
The Rudder
as one of the two most influential nautical publications in America. During his
Yachting
years, under the pseudonym "Spun Yarn," he wrote a column, "Under the Lee of the Longboat," that was a must-read for anyone who followed the sport. Loomis's first book,
The Cruise of The Hippocampus
, published in 1922, told the story of his cruise in a 28-foot yawl to Panama. Other writing—books and magazine articles—was about scores of other cruises he made and ocean races he participated in. He sailed across the Atlantic several times and participated in most of the great ocean races of his time, including 11 Fastnet races, 17 Bermuda races, and at least one Trans-Pac. Two of Loomis's many books,
Ocean Racing
, and
Ranging the Maine Coast
, easily fit into the classic category—the latter especially for those with an enthusiasm for sailing downeast.
Ranging
, published in 1939, is about Loomis's downeast cruise, joined by several friends at various times, in the 32-foot Linton Rigg cutter
Hotspur
; it is as much about the history of the Maine coast and the people he met there as it is about sailing. Here is one of the many stories Alf Loomis heard while he was sailing along our coast: "[It was] told me," Loomis wrote, "by a man whose father ran a steamer between Bar Harbor and Bangor on which he traveled when he was a boy. Her pilot, an ex-schooner captain, found himself in heavy fog in an unfamiliar place with reefs ahead, astern, and to either side of him. He rang bells for ahead, stop, astern, stop, ahead, and stop in such rapid succession that they sounded like a continuous jingle, and finally the engineer left his post and strolled out to the forward deck, where he found the mate. "'Powerful lot of bells ringin',' said the engineer. "'Yes,' agreed the mate, 'but if you knew your job you'd be able to sort 'em out and keep the vessel out of danger.' "The engineer spat into the fog and observed, 'Only thing I know what to do to get out of danger when bells come as fast as that is run the engine sideways.'"

Peter Spectre is editor of this magazine and is himself a small-boat enthusiast and story-teller.
Share this article:
2023 Maine Boat & Home Show

Join Us for the Maine Boat & Home Show!
Art, Artisans, Food, Fun & Boats, Boats, Boats
August 11 - 13, 2023 | On the waterfront, Rockland, Maine
Click here to pre-order your tickets.
Show is produced by Maine Boats, Homes & Harbors magazine.