Boatyard Dog - Issue 112
Villa Repeats as World Champion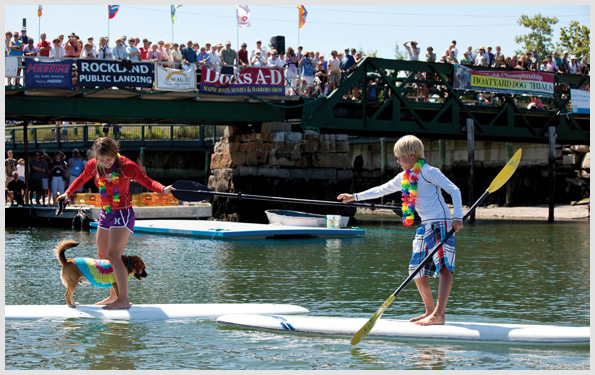 Pancho Villa and his people vie for the coveted "Pup Cup."
Photograph by Jeff Scher
For the second straight year, Pancho Villa, a puggle (half beagle, half pug) who hails from Camden, Maine, was crowned World Champion Boatyard Dog during the eighth annual Maine Boats, Homes & Harbors Show in August. Villa's diminutive size and Johnny-Depp-style eye makeup didn't fool anyone this year either; he proved once again to be a determined competitor who takes his job very seriously. He and his handlers, the brother and sister team of Abigail and Elliot Matlack, wowed the judges and the crowd with their speed through the obstacle course, agile moves into and out of a very unstable dinghy, and a freestyle event which included colorful costumes, surf music, and Villa at the bow (wow) of a paddle board that the Matlacks maneuvered around the inner harbor. A critical component of the competition, that either dog or handler must end up soaking wet, was aced by Elliot Matlack who did a back-flip off the dock and into the water. This aspect of the competition proved troublesome for Pancho in the past and this year was no exception, as he is not much of a swimmer (he claims that it ruins his mascara). The trials kicked off with a parade led by the Lobster Festival's newly crowned Maine Sea Goddess and a zany fleet of Shriners in lobsterboat go-karts. Then came a small flock from Project Puffin, a pack of volunteers and shelter dogs from the Humane Society of Knox County and the Camden-Rockport Animal Rescue League, and of course, the six competing canines and their handlers.
People's Choice Award
New this year was the People's Choice Boatyard Dog Award. Show attendees and exhibitors cast monetary votes for their favorite competing canine(s) at a purpose-built voting booth that urged everyone to "vote early and vote often." The money raised was matched by Maine Boats, Homes & Harbors, then split and presented to two midcoast animal shelters: the Humane Society of Knox County and the Camden-Rockport Animal Rescue League. A "mature" black Lab from Rockport named Hazel won the first People's Choice Award, paws down, by earning almost twice as many dollar votes as any other competitor. The eight-year-old keeps her girlish figure with daily ocean swims, and does community service via frequent visits to Woodlands Nursing Home. She delivered an excellent showing in the overall competition, and while she didn't take home the "Pup Cup" perpetual trophy, she did capture the hearts of show-goers with her upbeat attitude.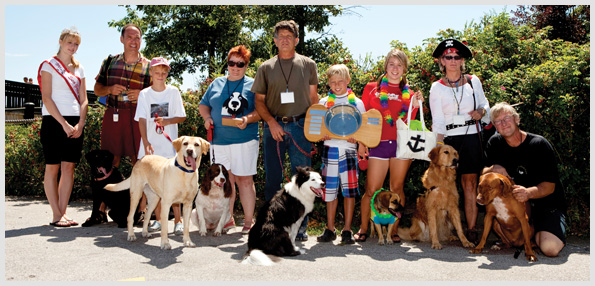 Competition was intense yet congenial at the 8th Annual World Championship Boatyard Dog Trials.
Photograph by Jeff Scher