Mainely Gourmet - The Seasons of Stonington
Fine food and wine year round
By Kim Ridley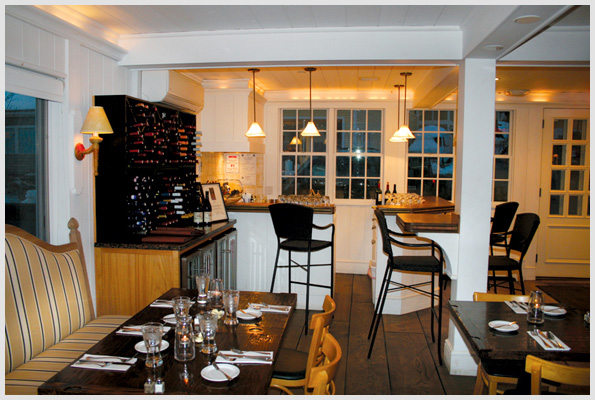 A cozy venue overlooking a working waterfront, The Seasons is favored by locals and visitors alike.
Stonington in the off-season isn't the kind of place where you'd expect to find an entrée spiced with anything beyond a shake of paprika. The local café offers excellent chowder and fried haddock, but that can get old as winter wears on. Mired in mud season and lacking a plane ticket to the tropics, I, for one, start craving food with heat, spice, and color. That's difficult to come by outside Portland, which is a three-hour drive from Brooklin, where I live. So I was intrigued to hear about The Seasons of Stonington, which opened nearby in 2010 on the waterfront of this scrappy fishing village at the southern end of Deer Isle. After friends gave the food high marks, we decided to give it a try. Our party of four was seated near windows overlooking Stonington Harbor, where lights from the pier shimmered on the water. The atmosphere was low-key and lamp-lit, with a dozen or so bare wooden tables adorned with simple oil lamps. On a cold, blustery night, the place was three-quarters full; just about everyone seemed to know everyone else. It soon became clear why chef Kristian Burrin has gained a following among locals and transplants alike. A British expat who has been a head chef at the Wimbledon tennis tournament and cooked his way around London, Burrin goes for pleasure over pretense. His recipe for success is a concise menu with six entrées, including a curry of the week and a dish from Old England, along with creatively prepared seafood and Asian fare. This is a man who makes even the old standbys his own with surprising little touches.
A former head chef at Wimbledon who has also cooked his way around London, Burrin goes for pleasure over pretense.
We started our meal with Burrin's version of the stuffed mushroom: a baked Portobello cap filled with olive bread crumbs, garlic butter, and goat cheese, nicely set off by a small, tangy salad of tart green apples and cucumber. I was also tempted by the onion tarte tatin appetizer, but I had been advised to save room for dessert. More on that later. Our British friend, Chris, went straight for the beef curry; he was even more inspired when our server told him that it was a five out of five in the heat department. His wife, Ann, opted for the steak frites, while my husband, Tom, chose the vegetable lo mein. After learning that the shrimp risotto wasn't made with local crustaceans, I decided on the grilled tuna. (Yes, that's hypocritical, because tuna isn't local this time of year, but there you have it.) The curry was served with rice and papadum, crisp Indian wafers. A curry connoisseur by birth, Chris pronounced it "a tad too spicy for a general audience," and took our server up on the offer of some cooling yogurt. I tried a bite and concurred. Still, beneath the heat of potent Thai chiles, the flavor was rich and complex with Burrin's own garam masala mix; the beef was nice and tender.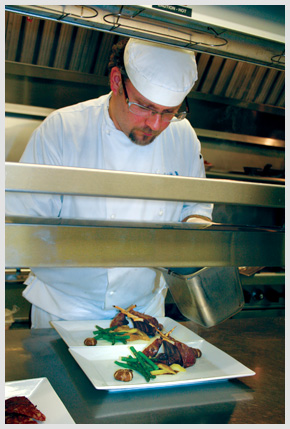 Chef Chris Burrin
Burrin makes good use of those rectangular plates that chefs favor these days, with presentations that cavort across his porcelain canvas. My tuna was a case in point: fresh and medium rare, it was cut and stacked in little planks alongside a stack of sweet potato fries, and flanked by baked tomatoes topped with black olive tapenade. Twin jots of roasted pepper salsa punctuated the dish, which was garnished with a small sheaf of sprouts and a grilled artichoke heart with a decorative length of stem. End result: a playful plate of well-balanced flavors that enhanced but didn't overwhelm the tuna. The steak was also grilled a flawless medium-rare and accompanied by toothsome, homemade frites, garlic mushrooms, roasted tomato, and a little pitcher of just-rich-enough brandy-and-peppercorn sauce. Bright with crisp snow peas, red pepper, and other vegetables, the lo mein noodles were tender and lightly tossed with a savory hoisin sauce. Although we didn't try "Toad in the Hole," the classic British combination of Yorkshire pudding filled with sausage and accompanied by mashed potatoes and onion gravy, it prompted an appreciative outburst at a nearby table. Now for dessert. Our table was unanimous on the one we would most want to be alone with: the sticky toffee pudding. Burrin uses his grandmother Audrey's recipe for this classic English dessert, and the result is a moist, date-rich, cakey "pudding" surrounded by a generous pool of toffee sauce. A small scoop of vanilla ice cream completed the decadence. Complementing Burrin's creativity in the kitchen is an extensive wine cellar overseen by owner and fellow British expat Graham Bolton, an entrepreneur who still keeps a hand in a Wall Street consulting firm and is an energetic Stonington promoter. Bolton's 200-bottle wine list, which features more than 30 wines for less than $19, won a 2010 Award of Excellence from Wine Spectator. All of the wines are also available in the nearby Seasons of Stonington Store, which Bolton and his wife Sue have run since 2008. The memory of a great dinner was still fresh when I returned to chat with Burrin and Bolton on a stormy Tuesday afternoon. Both Brits fell in love with Stonington the first time they visited. The two Englishmen met at a steel band concert on the Stonington town pier, and Bolton asked Burrin to consult for him. They both quickly realized that they shared a vision, and Burrin came on board full time. Burrin relishes expanding the culinary horizons of his adopted island. He said a local fisherman and his wife have become the restaurant's most loyal customers. "That's their table over there," he said, pointing to the window. "They don't even look at the menu. They just say, 'Tell Kris to cook us dinner.' I like challenging people's palates and getting them to try things they'd never think of ordering anyplace else."
SPANISH SHELLFISH SOUP

Ingredients:
8 oz. shrimp 6 oz. small clams 2 lbs. mussels 1 1-2 lb. lobster 8 oz. crab 1 large onion, diced 6 cloves garlic, minced 1 cup white wine 2 sticks celery, diced 1 red pepper, diced 3 bay leaves 1 bunch thyme 1 qt. crushed tomatoes 1 qt. stock (shellfish, fish, or lobster) 1 good pinch saffron 1 tsp. smoked paprika 1 tsp. ground fennel seed


Directions: Serves 8
Cook the lobster and steam the mussels and clams for about 4 minutes or until shells open (save the juice from cooking). Set aside to cool. Pick the lobster meat from the shell and cut into ½-inch pieces. Remove some of the mussels and clams from their shells; the rest will be added in the shells. Dice all the vegetables and sauté in olive oil for 6 to 7 minutes. Add the garlic, thyme, bay leaves, spices, and saffron, and cook for 3 minutes. Add the wine and boil for 5 minutes. Add the stock and crushed tomatoes, and simmer for 20 minutes. Add the shrimp and cook for 5 minutes. Add all the shellfish (crab, lobster, clams, and mussels) to the soup. Simmer for 2 to 3 minutes.

The Seasons of Stonington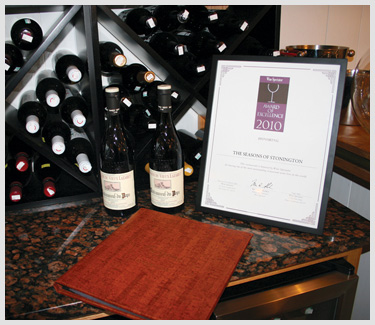 Delicious food and a 200-bottle wine list—yes,
in a scrappy island fishing village.
27 Main Street Stonington, ME 04681 207-367-2600 www.seasonsofstonington.com Open year round. Reservations recommended one week in advance. Appetizers: $7.95, entrées: $16.95-$22.95, desserts: $6.95. Prices may vary in summer. The restaurant also offers a reasonably priced luncheon menu, and lobsters and other Maine fare outdoors on the deck. Kim Ridley is a freelance science writer and editor who also writes about food, art, and architecture. www.kimridley.com
Share this article:
2023 Maine Boat & Home Show

Join Us for the Maine Boat & Home Show!
Art, Artisans, Food, Fun & Boats, Boats, Boats
August 11 - 13, 2023 | On the waterfront, Rockland, Maine
Click here to pre-order your tickets.
Show is produced by Maine Boats, Homes & Harbors magazine.