Maine Course - Boda, Portland, Maine
"Very Thai" Kitchen & Bar
By Kim Ridley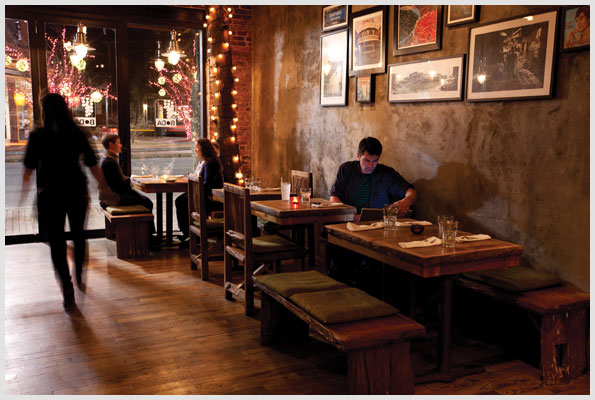 Authentic Thai street food, attractive setting.
Photos by Jeff Scher
As a teenager, Danai "Dan" Sriprasert would often pick up a snack from the street vendors that lined the sidewalk in front of his high school in Chiang Mai, northern Thailand's largest city. He remembers watching vendors prepare his favorite dish, woon-sen pat thai, a version of the stir-fried noodles wrapped in a paper-thin omelet. "The cook used a wok with a high flame, and the omelet came out really thin and perfect in less than ten seconds," Sriprasert said. "I was fascinated by that and always wanted to try to make it." Today, Sriprasert makes woon-sen pat thai the same way at Boda, the restaurant he opened in 2010 with fellow chef-owner Nattasak "Bob" Wongsaichua in Portland's Longfellow Square. Named for the chefs' nicknames (Bob and Dan), Boda serves the kind of Thai street food and home cooking they grew up with, which is still widely available there on busy street corners around the country.
You're surrounded by exposed bricks and beams, gray-tinted walls, concrete, and wood, and the tables and chairs are made from reclaimed teak. The vibe is low-key and warm, with big windows offering a romantic view of Longfellow Square lit up at night.
You can leave your assumptions about Americanized Thai restaurants at the door the minute you enter Boda, which occupies a storefront on Congress Street next to Joe's Smoke Shop. There's not a plastic flower or tacky travel poster in sight. Instead, you're surrounded by exposed bricks and beams, gray-tinted walls, concrete, and wood, and the tables and chairs are made from reclaimed teak. The vibe is low-key and warm, with big windows offering a romantic view of Longfellow Square lit up at night. We met our friends Nicole and Braden, fans of Bob and Dan's other restaurant, the vegetarian Green Elephant, for dinner on a frosty February evening. One look at the appetizers (incongruously called tapas, the Spanish word for small plates), made it clear this wasn't your run-of-the mill Thai place. Instead, try tiny kanom-krok quail's eggs with soy sauce and scallions, or miang kum som-oh, bite-sized pummelo fruit salad on betel leaves topped with coconut, peanut, lime, ginger, shrimp, and shallots in a palm-sugar dressing. Our table's favorite was a plate of four crisply fried shrimp cakes, which were made with ground Maine shrimp combined with a red curry paste made with dry red chili, lemongrass, garlic, onion, chopped green beans, and sliced lime leaves. A light sweet-and-sour sauce added complexity and tang to the shrimp cakes, which were topped with crunchy cucumber and ground peanuts. Among the more familiar offerings were skewers from the grill bar. Our pork satay was tender and perfectly grilled, and was served with a luscious homemade peanut sauce topped with cucumber salad. A spicy garlic-lime dipping sauce elevated salty-sweet bacon-wrapped scallops to a new and exotic level. I know pork hocks are basically pigs' ankles, but curiosity got the best of me and I'm glad I ordered this dish for my main course. Boda's pork hocks braised with star anise arrived at the table elegantly plated with jasmine rice, hard-boiled egg, and tofu, along with small dishes of Asian mustard green pickles and spicy-and-sour chili-lime sauce. Simmered more than four hours in a dark stock made with "parlor spice," or Chinese five-spice, the pork was amazingly tender; the flavors in this Thai dish of ethnic Chinese origins were layered and complex: savory, sweet, piquant. The rice proved the perfect delivery vehicle for the extra stock served with this dish.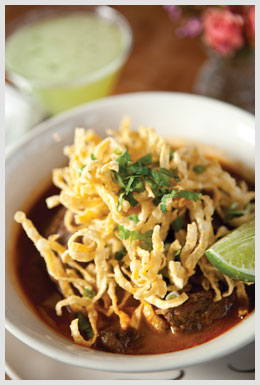 Fresh ingredients, colorful presentations,
complex flavors. Photo: Jeff Scher
On the lighter side, Tom ordered the jasmine rice soup with haddock and poached egg. Although it wasn't quite to his taste as we're more accustomed to rich chowders, the broth was light and flavorful, and the fish was fresh and delicately cooked; it was enhanced with large bright green leaves of cilantro. Nicole and Braden both chose traditional noodle dishes. True to Sriprasert's vision, the woon-sen pat Thai was a stunning presentation: stir-fried glass noodles with tofu, salted daikon, bean sprouts, shallots, and Chinese chive wrapped in a translucent omelet. Nicole's eke mao noodles were the table's other favorite. In this preparation, wide rice noodles were stir fried with tomato, onion, Thai basil, egg, peppers, and Chinese broccoli with a light and savory sauce. "The sauce is very simple—dark, sweet soy sauce and oyster sauce," Sriprasert said. "The fragrant Thai basil makes this dish smell great and have great flavor." Throughout dinner, Boda's amiable staff tended to our table with good humor and grace, making us feel happily at home. This restaurant is the sort of place that almost makes me want to live in a city again. If I lived in Portland, Boda would surely become a regular habit.

Kim Ridley is a freelance science writer and editor who also writes about food, art, and architecture.
www.kimridley.com
FOR MORE INFORMATION:
BODA
671 Congress Street, Portland, Maine 207-347-7557 Open Tuesday-Sunday, 5 p.m. - 1 a.m. Dinner served until 9:30, Tuesday, Wednesday and Sunday, and until 10:00 Thursday, Friday and Saturday. Late-night tapas and skewer menu served until 1 a.m. every day. Prices: Tapas and grill bar items run from $3 to $9, entrées cost from $12 to $19.
www.bodamaine.com
Share this article:
2023 Maine Boat & Home Show

Join Us for the Maine Boat & Home Show!
Art, Artisans, Food, Fun & Boats, Boats, Boats
August 11 - 13, 2023 | On the waterfront, Rockland, Maine
Click here to pre-order your tickets.
Show is produced by Maine Boats, Homes & Harbors magazine.