From Classic Icon to Iconoclastic
Hinckley sets new course with B-50
By Alessandro Vitelli
In the last decade of the 20th century, the Hinckley Company—for a long time associated with well-crafted, mid-size sailing yachts of classically traditional design—underwent a change of course, and launched a spectacularly successful series of jet-boats. By the mid-1990s the company's sailboat production slowed to a trickle. Those Hinckley owners who no longer had the time to go sailing discovered that they could still own a Hinckley yet get there fast.
Reputations die hard, though, and in this case refused to die at all. It was only a matter of time before a new generation of sailors again looked to Hinckley, drawn by its uncompromising dedication to quality. This renewed demand for sailing yachts gave Hinckley the chance to close an historical loop and at the same time make a fast-forward leap in design philosophy. The result is the Hinckley Bermuda 50—a dramatically modern looking, high-end sailboat whose impeccable pedigree offers reassuring cues.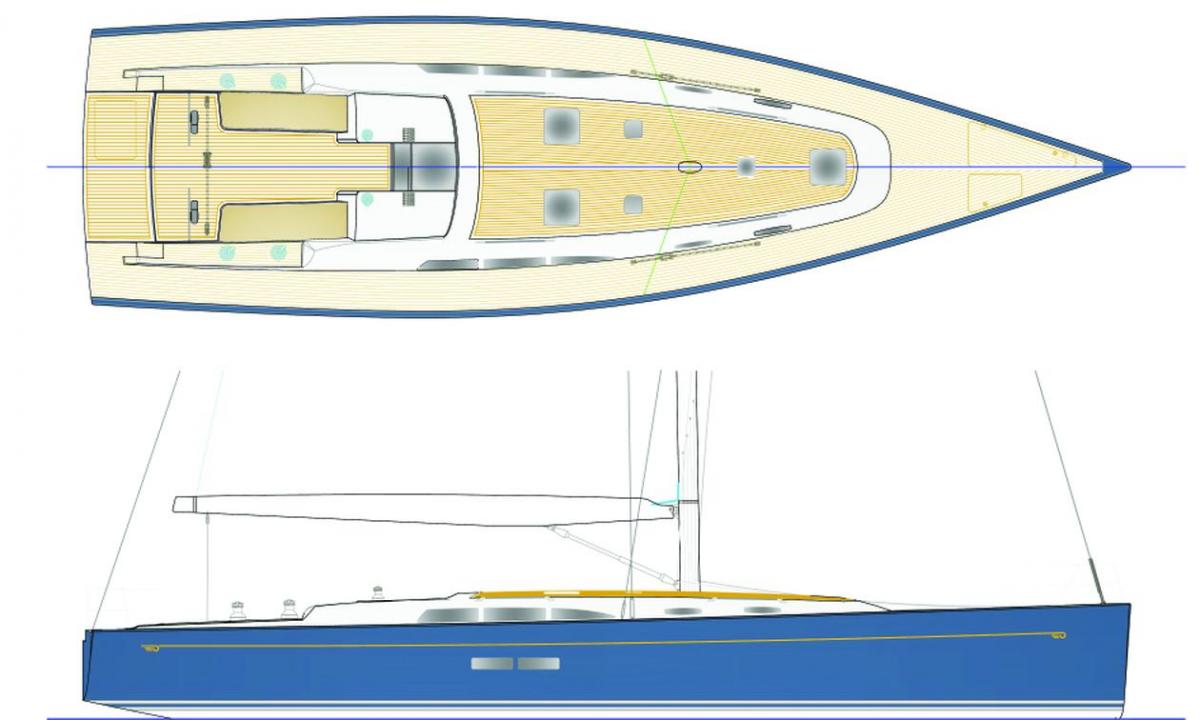 With its easy sailing rig, a lifting keel, and advanced design, the Bermuda 50 is designed for competition in club or offshore racing as well as for comfortable cruising. Drawings courtesy of Hinckley Company
The historical loop starts in 1959, when Hinckley launched the first Bermuda 40, a then-radical design (remember how odd that squared-off transom and wide beam looked back then?) from the drawing board of Bill Tripp, Jr. The B-40 was intended to be a hot racing boat. The last B-40 was built in 1991—surely some sort of a record for a production run. The loop continued through a series of different sailing models, until the jet boats intervened. 
The impetus for picking up the thread came three years ago, when Hinckley was asked to build a Sou'wester 42, a lovely craft, to be sure, but still quite traditional.
The loop line picked up strength and closed in on its beginning last year, when Bill Tripp, III, son of the B-40's designer, developed plans for the B-50. Hinckley had been thinking about sailboats, and it was only a matter of time before the company went back to its roots. The timing proved fortuitous: Hinckley has sold two of the boats so far, and the future looks promising for re-entry in the company's original market.
This is where things get interesting, and where the Hinckley Company had to make some difficult decisions. While no one would question the beauty and seaworthiness of the various Sou'westers that the yard built during its last two decades of sailboat production, they were, even then, a holdout of a tradition claiming a diminishing number of adherents. Racing boats certainly, but even cruising boats, were evolving in new directions. Fifteen years later, the sailboat world had moved on. 
The question is: after such a hiatus, when you finally decide to start building sailing yachts again, where do you pick up? The Bermuda 50, in no uncertain terms, represents a quantum leap forward, a reset if you will, of the Hinckley aesthetic. For all of us—and I believe I speak for many sailors who have been Hinckley devotees—the first look at the B-50's renderings comes as a surprise.  She is uncompromisingly modern, from her plumb stem to her squared off transom, her tapering coachroof and ample cockpit with twin steering wheels.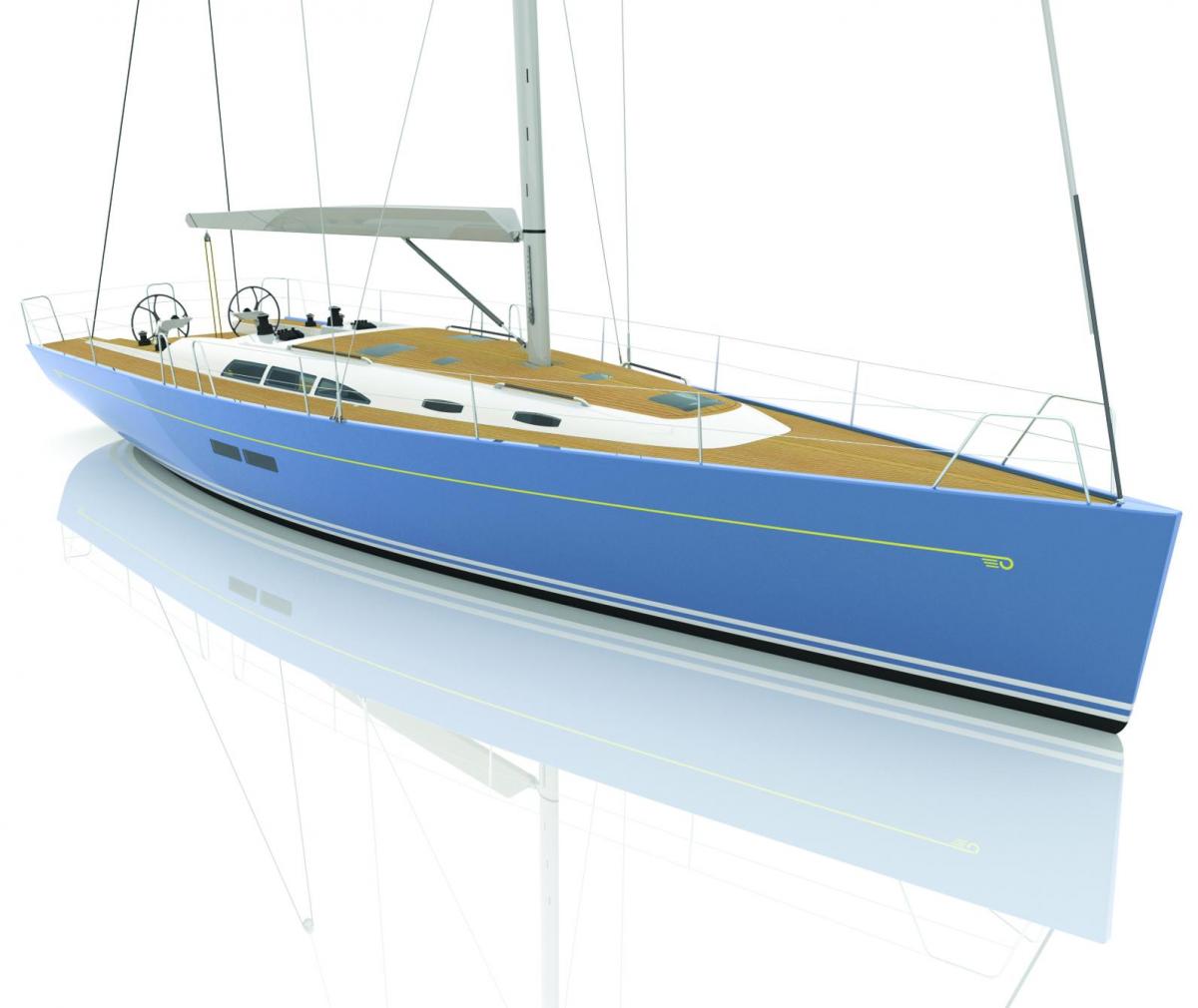 Hinckley B-50 Specifications: LOA 49' 10" LWL 44' 11" Beam 14' 3" Draft Keel up 6' 6" Draft Keel down 11' 6" Displ. 25,353 lbs. Ballast-keel 1,400 lbs. Sail Area 1,624' Builder: Hinckley Company 130 Shore Road Southwest Harbor, ME 04679 207-244-5531 www.hinckleyyachts.com
For a Hinckley, let's admit it, she is pretty radical. The problem for Hinckley was to convince all of us holding fast to those neo-classic memories that, had the company steadily continued to build sailboats, this is where they would have ended up anyway. That hiatus in sailboat construction also gave the company the freedom to make even more of a leap, to offer a truly contemporary yacht.  
Whatever your aesthetic opinion, the B-50 is all Hinckley—rock-solid construction, superb engineering, and flawless finish. A realistic appraisal of today's sailing practices results in a deck layout completely devoid of brightwork, although softened by the teak laid on the cabin top, side decks, and cockpit. And that plumb bow and beamy stern translate into an interior volume that allows for comfortable cruising indeed. 
The B-50 will feature a carbon hull with a high-tech foam core. It has a lifting keel, which combines deep-draft performance with gunkholing possibilities. Hinckley will offer an "L" keel shape, as well. The boat is intended to be used for both racing and cruising.
Hulls for two of the B-50s are out of the mold and are expected to be launched next spring, said Phil Bennett, Hinckley's vice president for sales. 
"People have an image of Hinckley as being traditional, but if you look back at boats like the B-40 or even the picnic boats, they moved the ball forward," Bennett said. "Rather than create a museum piece with this, we decided to stick with the tradition of this company and design a boat that is a racer-cruiser for today."
Aesthetics, after all, are a matter of opinion. And a sweet sailing yacht will often become increasingly attractive after you experience her performance. 
That Hinckley, for so long the standard bearer for seaworthy, impeccably crafted sailing yachts, has decided to give us a new sailboat is a matter for rejoicing.
"The reason Hinckley has been around for so long is because we are not afraid to break new ground," said Bennett. "We surprise people."
---
Alessandro Vitelli is a freelance writer who lives on the coast of Maine. 
Share this article:
2023 Maine Boat & Home Show

Join Us for the Maine Boat & Home Show!
Art, Artisans, Food, Fun & Boats, Boats, Boats
August 11 - 13, 2023 | On the waterfront, Rockland, Maine
Click here to pre-order your tickets.
Show is produced by Maine Boats, Homes & Harbors magazine.