Greenline 33
Like a waterborne Prius, this boat makes the concept of going green look easy
By Art Paine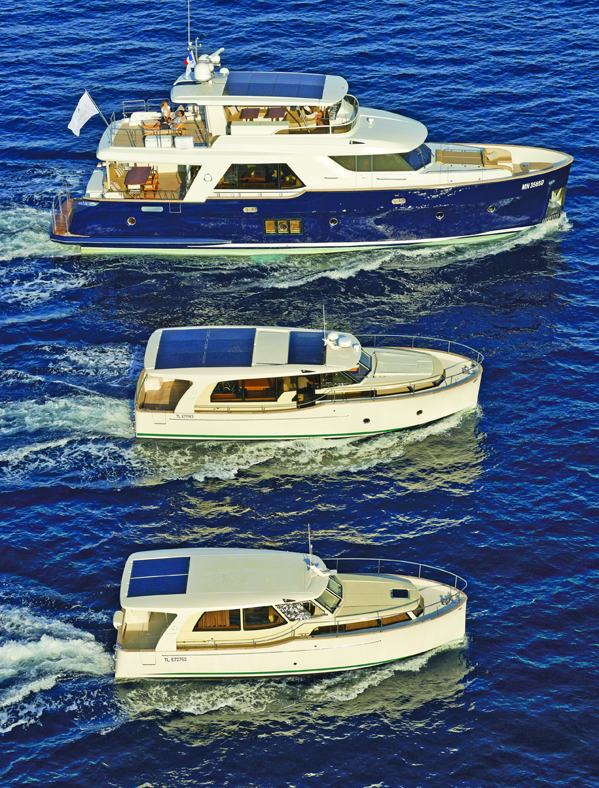 Nothing succeeds like success. Seaway Group presently offers three models of the Greenline, a 33-footer, a 40-footer, and a soon-to-be-introduced 48-footer. Photographs and rendering courtesy Russo Marine (4)
By Art Paine I keep a weather eye open for boats that are intriguing, and the Greenline 33 surely is. It's called a "hybrid" and that's apt. This boat is somewhat like a waterborne version of a Toyota Prius, with a blend of sailboat and powerboat attributes.
What makes the Greenline stand out as more than just an average trawler-style powerboat is the brilliantly engineered propulsion system.
The story behind the Greenline starts in France where the Beneteau yacht company began working quite a few years ago on the concept of an energy-efficient powerboat, a roomy craft that could be driven long distances on battery power in near silence. Beneteau went to the Seaway Group, which hails from Puconci, Slovenia, for much of its design work. Seaway Group is known for what we in the marine trades call "tooling." That includes generating new hull and deck shapes and making cavity molds, which then are used to lay up fiberglass boats. Seaway is also terrific at design. Its founders, Jernej and Japec Jakopin, assembled a cadre of industrial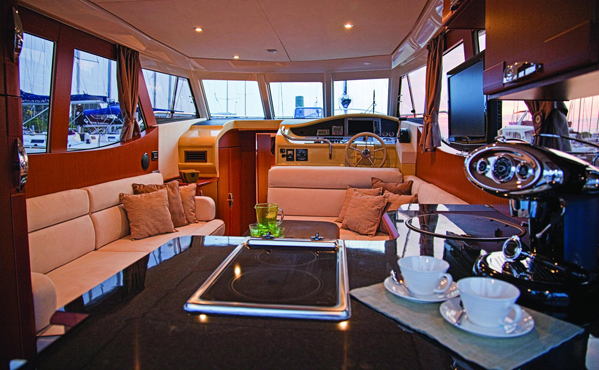 "Fit and finish" is an automotive term that applies to boats, too. A boat interior has to consist of durable surfaces that can hold up to use—and lack of use—in a humid environment. This one meets those criteria.
designers, who created a wide range of products from bus bodies and wind turbine blades to big, sexy sailboats. They have been doing this for 30 years, working for 48 boatbuilders in 20 countries. In the case of the Greenline 33, most of the work on design, electrical engineering, and tooling had been completed by 2008 in preparation for a big splash. Then came the financial crash, and the Great Recession. It took only weeks for the entire marine world to recognize the impact. Corporate giant Beneteau pulled the plug on its hybrid project. You could say Seaway Group was left holding the bag. But fate can be an optimist. Seaway acquired the rights to the Greenline, crossed their fingers, and twisted the rheostat to full-speed ahead. The company began selling Greenline 33 hybrids in 2009, during the first bleak midwinter of the Great Recession. Turns out they had a breakthrough product. Within a year 100 of the boats had been sold. In the same way that the Toyota Prius proved that there was pent-up demand for a quiet and reliable electro-combustion fuelled car, the Greenline 33 proved the viability of a hybrid powerboat. Now, three years later, more than 400 boats from the Greenline series have been sold worldwide. And only recently did America even catch wind of anything.

The heavy engine and heavy batteries are located low-down in the fat "canoe-body," providing stability that's both real and perceived.
My job is to delve into design, so here goes: Beneteau set the parameters. They weren't tempted toward speed. They knew sailors, and realized that many of us will age out of sail and into power. We sailors think that six knots is good speed. The Greenline geniuses knew that eight or nine knots would nearly astound us, especially dead into the wind. Under its diminutive diesel, the Greenline 33 can reach upward of 15 knots. It's not magic. The only trick is to stick with a full displacement hull, and at 33 feet it's just possible to reach 16 miles an hour. The Greenline hype calls the hull "super-displacement." In reality, the Greenline 33 is a trawler-yacht superstructure perched upon a typical, rotund sailboat hull. While that hull form is prone to rolling in a seaway, the designers anticipated this and included a pair of stabilizing fins that double as protectors for the running gear. They can also facilitate grounding upright on a tide, given a soft bottom, sheltered conditions, and driver discretion.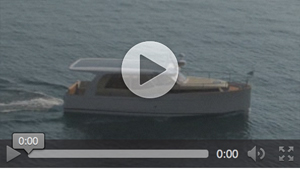 Click above to view a video of the Greenline 33 Hybrid system
What makes the Greenline stand out as more than just an average trawler-style powerboat is the brilliantly engineered propulsion system. This boat can be pushed by its big DC electric motor off batteries, or it can use the smallish, 75-horse diesel (most buyers opt for the bigger 150-hp engine which pushes the boat speed to 15 knots). A ZF (German brand) electric clutch selects between those options. The 5-cylinder diesel engine block is a common German product that is found in Audis and VWs. I delved into the guts of the Greenline on display at last summer's Maine Boats, Homes & Harbors Show, and found many more German products in the electrical system, from controls to switches to relays. Larry Russo of Russo Marine in Medford, Massachusetts, is the brand's New England dealer. He described Slovenia's attitude and location as "a blend of Italian aesthetic sense with German precision." Robert Bosch meets Guccio Gucci.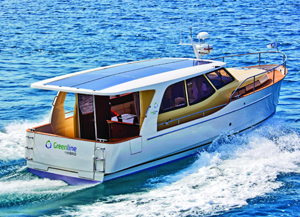 Seaway Group did its homework before introducing this boat. Those solar panels are protected against falling objects and hail.
There have been attempts toward "hybrid" powerboats in the past, in Maine and elsewhere. The Greenline 33 expands upon them. The lightweight lithium-ion batteries can be charged from shore power or from the engine, as well as from a large solar-panel array on the rooftop. At a full charge you can glide in silence at six knots for eight hours, which represents unprecedented speed and duration. This is a good place to mention an important fact: Greenline 33s have exhibited a near faultless record of reliability. With a huge amount of battery storage capacity, it isn't surprising that these boats have plenty of home-like conveniences such as electric galley stoves, refrigerators, optional air conditioning, and other marine and non-marine electronics. Each boat comes standard with both an electric bow and stern-thruster.
What first stopped me in my tracks when I saw this boat at the show was its unusual look—high-sided and boxy, a cross between a trawler and an RV. I thought it most resembled an English "narrow-boat," which is configured to squeeze through the locks of a canal. I hear there are a good many European canals a Greenline 33 can transit. Sounds like fun to me. The functionality of this different-looking superstructure won me over. Although there is no flybridge option on this model, its great headroom and ample fenestration provide excellent viewing all-around. Given that this boat is a groundbreaking new invention, you could argue against the need for supreme quality. But using an automotive term, the "fit and finish" was impeccable. It probably won't come as any surprise, given how success breeds success, that the Greenline division now has two larger and quite different models, a 40-footer introduced in 2011 and a just-announced 48. They say people who buy Priuses know they're weird (the cars I mean), but buy them partially for that reason. The very uniqueness suggests the occupants have prodigious brainpower. I predict the same compliment will accrue to the pilots of Greenline 33s. Contributing Editor Art Paine is a boat designer, fine artist, freelance writer, aesthete, and photographer who lives in Bernard, Maine.
Share this article:
2023 Maine Boat & Home Show

Join Us for the Maine Boat & Home Show!
Art, Artisans, Food, Fun & Boats, Boats, Boats
August 11 - 13, 2023 | On the waterfront, Rockland, Maine
Click here to pre-order your tickets.
Show is produced by Maine Boats, Homes & Harbors magazine.