Mainely Gourmet - Duckfat, Portland, Maine
Duckfat, Portland and Classic Custard, South Freeport
By Peter H. Spectre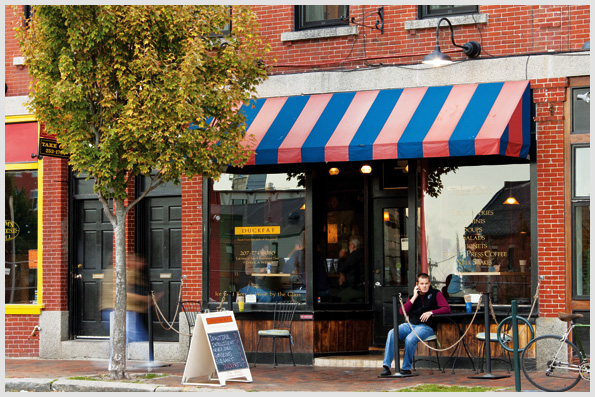 Duckfat, on a side street in Portland, has seating both inside and, in warm weather, outside. Photograph by Jeff Scher
On a slow news day back in August, the
Portland Press Herald
ran a story in the business section headlined "Campaign Aims to Spice Up the Image of Baby Carrots." It seems that A Bunch of Carrot Farmers (that's what they call themselves) hired an advertising agency to help convince consumers to reach for a baby carrot whenever their jones for a Little Debbie Chocolate Creme Pie kicked in. "Eat 'Em Like Junk Food" is now their slogan; "Baby Carrots Extreme" their theme song. It reminded me of a restaurant in Portland and an ice-cream takeout in South Freeport, both of which have lately taken what is generally considered junk food to a new, improved level. There comes a time, of course, when we've had it up to here with Char-Grilled Moulard Duck Breast, or Wild Mushroom Ravioli with Marsala Sauce. Every once in awhile we want to get down and dirty with a heap of fries and a soft-serve chaser. There are plenty of fast-food chains that will help us do that, but what they offer isn't called junk for nothing. We need something better than that. We found it at Duckfat for lunch, and at Classic Custard for dessert.
French Fries, Fried Dough, and More for Lunch
Located near the far edge of Portland's Old Port, Duckfat is open for dinner, too, but the atmosphere and the menu seem more appropriate for lunch. It's a tiny place—only a handful of tables and a couple of long counters inside; a couple of tables outside on the sidewalk in good weather—so think about getting there early if you don't like waiting in line. Belgian fries are Duckfat's specialty. They look like French fries but, if you define the French type as salted deep-fried sliced potatoes with a side of ketchup, they are not. They are served in a paper cone with a choice of dipping sauces that include truffle ketchup, garlic aioli, Thai chili mayo, and Raye's mustard. The sauces by themselves differentiate these fries from their more common cousins; duck gravy, an option, provides an added dimension. (An enhanced added dimension comes via what is called Duckfat Poutine—fries topped with cheese curd and duck gravy.) The real differentiation, however, is twofold: Duckfat's fries are cooked in what the restaurant's name implies, a special oil that includes the fat of ducks, and they are coated with a concoction that includes, according to our waiter, tomato powder, caper powder, black pepper, cayenne pepper, and salt. Let's put it this way: You might think that you've had the best fries in the Western World somewhere else. You haven't. But there's more. Panini, for example, in a variety of types from corned-beef-tongue Reuben to duck confit, and soups, and several salads. Eileen had the roasted beet salad with orange segments, goat cheese, mixed greens, and horseradish. ("Fabulous," she says as I write this. "I can still remember the taste.") But all of that is too good to be classified as junk food that isn't junk. The beignet, a.k.a. fried dough, can be, and in keeping with our theme, that's what I had. A staple at such venues as Old Orchard Beach and nearly every county fair in the state of Maine, fried dough—a deep-fried slab of plain ordinary dough sprinkled with sugar—almost by definition is junk food and should remain that way; anything better misses the point. Duckfat's, however, is a paper cone of dainty little balls that look like doughnut holes from you-know-where and taste about the same. We didn't have dessert—we were saving that for later—but if we had, it would have been The Duckfat Original Milkshake, "made with double Tahitian vanilla
creme anglaise
," i.e., a vanilla shake of a type from you-know-where but taken up a notch.
Ice Cream, Soft or Hard, for Dessert
I've been an aficionado of soft-serve ice cream ever since I was a boy. Considered by many to be among the junkiest of junk food—"Why?" my mother might have said. "Because it's just Wrong." — it is, to my mind, a way to eat a lot without going away feeling as if I ate a lot. I've never found one to be better than all the rest until we discovered Classic Custard on Route 1 in South Freeport. "The difference between Custard and premium ice cream is Custard has a touch of egg," says a sign at Classic Custard. "That is what contributes to its rich, creamy flavor and texture." Maybe it does, maybe it doesn't, but something does, and a cone or a dish of any flavor you like makes a fine coda to a Duckfat extravaganza. "Any flavor you like" is the operative phrase. There are the standard ones, of course, and then a special flavor of the day, every day. On our day it was butterscotch; the daily specials for the week following were chocolate chip, mocha, pistachio, mango, black forest, ginger, and
dulce de leche
. Eileen had hard-frozen butterscotch ("Anything else is just Wrong," she said.) I had soft-serve vanilla in what is known as Flavor Burst style: ice cream swirled with butterscotch. But there is more. Sundaes, floats, concretes ("mix in your favorite candy"), banana boats, smoothies, milk shakes, sprinkles, whipped cream, crunch coat, nuts, extra sauce, and more. Despite our theme of the day, we passed on all that, as well as the Titanic—4 scoops of custard, hot fudge, caramel & Heath Bar crunch, and whipped cream—but never fear, there is always another day.

Duckfat
43 Middle Street Portland, Maine 207-774-8080;
www.duckfat.com
Open all year.
Classic Custard
150 Route 1 South Freeport, Maine
www.mainelycustard.com
Open spring-fall.
Share this article:
2023 Maine Boat & Home Show

Join Us for the Maine Boat & Home Show!
Art, Artisans, Food, Fun & Boats, Boats, Boats
August 11 - 13, 2023 | On the waterfront, Rockland, Maine
Click here to pre-order your tickets.
Show is produced by Maine Boats, Homes & Harbors magazine.