View from the Porch - Issue 112
Issue 112
By Peter Bass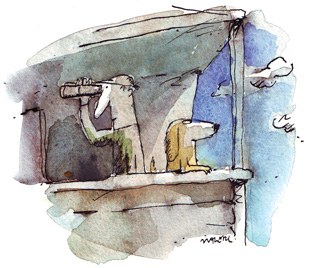 Illustration by Caroline Magerl
It doesn't take reams of climate data for us to realize that the past summer in Maine was splendid, especially compared to the previous one. If there was a problem it was that the weather was so good that some retail businesses suffered; nobody wanted to waste too much of a day shopping.
That concept is sacrilegious to a real shopper, but to those of us who would rather be on the water than (nearly) anything else, a nice day is never to be wasted ashore. Rainy days are for getting the boat ready for the next sunny one. This summer made it hard to keep the boat clean; a quick hose off, some fuel, and away again. Evenings were balmy and promoted great porch time for all.
Modest adventures in relatively small boats
Some time in my youth I read a book called
Great Adventures in Small Boats
by David Klein, first published 1948. I remember little except the title and the concept that the size of the boat is not necessarily related to the size of the adventure. I have proof of that. Last summer we capped off our Maine boating season with a run to Portsmouth, Virginia, in Etchemin, our Dyer 29. The departure date turned out to be the beginning of a five-day stretch of the kind that is dreamed of by small-boat fanciers. We left Maine on a Tuesday morning and slept in Virginia on Saturday night. Besides about 300 gallons of fuel and a lot of drinking water, the fluid of great value was sunscreen. The first old friend who joined me on the voyage was replaced by another in Manasquan, New Jersey, after a splendid ride down the East River. From Manasquan, we rode down the Jersey Shore to Cape May, got a great forecast for the next day, and decided to make a run for Portsmouth on the outside. It was perfect, 160-plus miles in 9 hours, flat calm all the way to Cape Charles. While it is true that we sacrificed two weeks of the high season in Maine, we had our boat in Virginia and thus would gain another Maine summer in the southern Chesapeake. It was odd to sit on the Porch in Boothbay on a fall weekend and not have a boat to worry about hauling out and covering up, but the anticipation of being on hand to welcome our stripers back to the Chesapeake blunted my nostalgic melancholy. I'll let you know if the loss of two weeks in August on the Maine coast is a fair trade for the gain of a couple of months in the Chesapeake.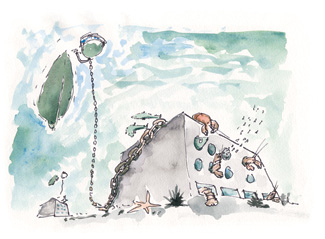 Illustration by Ted Walsh
Make your own reef
As Rocky the Flying Squirrel used to say, "Now for something you'll really like." Bill Trotter of the
Bangor Daily News
recently reported on the first trial of a concrete mooring designed by the University of Maine's Lobster Institute, and made and marketed by Wind Reef Group, LLC, of Orono. Fabrication was done by American Concrete in Veazie. The mooring, which has holes and hollows, is designed to provide habitat for young lobsters in their most predator-prone early stages. The Lobster Institute estimates that widespread use could significantly impact local lobster populations. While this particular mooring is optimized for lobsters, the concept is adaptable to other creatures as well. Think of the vast mooring fields of the more populated boating areas to our south and the inclination of boat owners to do their part to improve the biological health of their harbor. Price is competitive with other mooring styles. Currently, the mooring is sold by Hamilton Marine (hamiltonmarine.com), with a portion of the sale price earmarked for the Lobster Institute. The Lobster Institute mooring gets the 2010 Porchitzer Prize for Wicked Smartness.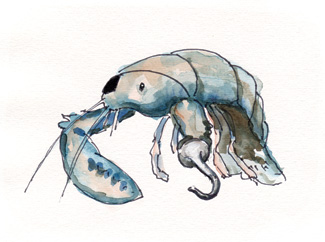 Illustration by Ted Walsh
Good lobster news, bad lobster news
Unknown to Porch regulars, Maine law had long banned the sale of lobster claws that were not attached to a lobster. Tails were okay, because some formula existed to impute the size of a lobster from the tail but that was not similarly possible with the claws. An online article in
Mainebiz
alerted us to a change in the law, which puts Maine processors on a level playing field with Canadian processors. Until the change, Maine lobsters were shipped to Canada, where they could be dismembered and sold in parts. Sounds like a car theft chop-shop operation. The Maine laws, known cheerfully as the "lobster mutilation laws," were changed this summer. Maine processors can now get licenses to sell claw parts in addition to whole tails. That's the good news. The bad news is that, in Rockland, a warehouse used by Linda Bean burned with three tons of lobsters inside that were destined for her lobster-roll shops. No injuries reported except, of course, to the lobsters (and the palates of consumers).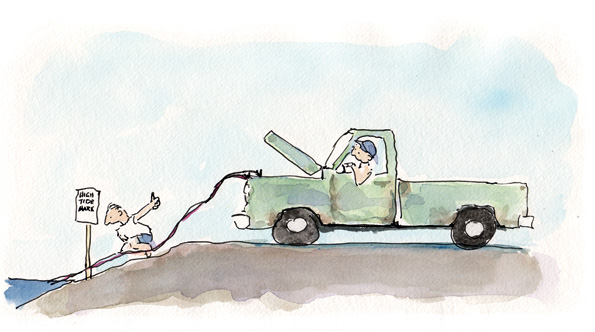 Illustration by Ted Walsh
Tide marches on
The tidal energy project under way in Eastport has passed its first test. The turbine built by Ocean Renewable Power Company has been successfully producing electricity since early August. In this test, the power generated is stored in a battery-like module and ferried ashore for use at the Coast Guard station. Future large-scale generation will go directly into the power grid. Chris Sauer of ORPC refers to Eastport as the "Kitty Hawk" of tidal power. The next stage, commercial production of power, is dependent on obtaining the necessary federal permits, the process for which is well under way. The next turbine built will be more than twice the size of the test model and will be hooked into the grid. The technology is being reviewed for river projects also.
Over the bar
From the
Bar Harbor Times
, we read of the passing of Maine boatbuilder Jimmy Rich, 78, of Tremont. Mr. Rich operated the James H. Rich Boat Yard for 52 years and left behind a wide circle of family, friends, customers, and fans of his boats. We send our condolences to all concerned.
Porch Department of Climatology
The summer of 2010 in the northeast was, as we like to say, a "scohtcha." Records fell everywhere in our region, although one of the Porch Pundits pointed out that daily high and low records are always falling and don't mean squat, because a record high one day could be followed by a string of slightly cooler days and the mean for the period might, in fact, be cooler. Ditto with a record cold day. The past summer was a record for the averages, however, not just a few daily highs and lows. The curious reader—and we hope there is one out there—might wonder where the Porch Pundits come down on the subject of Global Warming. We are scientists here on the Porch. How can you be a pundit without at least a few facts to mangle? We, of course, debate the usual science and political hooey that floats around, including sunspots, the North Atlantic Oscillation, greenhouse gases, and Capt. Pete's digestive emissions, which in recent years have just become measurable on a global scale. We have not yet formulated our opinion on the dominant engine of climate change, and whether it is natural or manmade. We are leaning toward blaming Capt. Pete, however, ever since he started preaching the virtues of whole grains and lentils. We do think the planet is warming due to whatever set of factors and we look to the ice as a guide. Go to the National Snow and Ice Data Center and look at the recent history of Arctic sea ice. (
http://nsidc.org/arcticseaicenews/
) The facts are pretty compelling. It can't help that we are befouling our own nest. Knowing the sea ice trends in detail also gives you a bully pulpit at a cocktail party and keeps you out of the politics of the debate, leaving that for lesser intellects.
CSI Frankfort (Maine)
We are indebted to the
Bangor Daily News
for affirming that some of Maine's petty criminals did, in fact, just fall off the turnip truck. Back in August, a Frankfort native broke into a Frankfort house, stripped out copper piping, and sold it to a Frankfort scrap dealer. A Sheriff's Department detective solved the copper caper in a few seconds and had the perp behind bars and the paperwork finished in time for supper. This rapid sleuthing would never fill up an hour-long TV crime drama. This reminded me of another story involving former turnip-truck riders. Many years ago, according to sources inside the Vinalhaven constabulary, a teen hoodlum on the island stole an automobile, which isn't difficult on a Maine island since cars are seldom locked and usually have the keys in them. The hard part is getting away with the theft; you can't just go down and get into the car line at the ferry and expect nobody to notice. Given the nature of the highway system on Vinalhaven, the teen was apprehended by two local officials who were heading around the island, on foot, in opposite directions, the Vinalhaven equivalent of a high-speed chase. I am sure the perpetrator's crime, or plea for attention in this case, was handled by the community.
Sideways
When the Hinckley Company, with its joystick controlled Picnic Boat, added sideways to the directions available to the recreational boater, they started a revolution in close-quarters maneuvering for small yachts. Bow thrusters were joined by stern thrusters, and twin-engined vectored-thrust installations, such as Volvo's IPS and Cummins's Zeus systems, demonstrated that the sideways maneuvering didn't always require a bow thruster. It didn't take long for similar independent control to be added to twin inboard/outboards.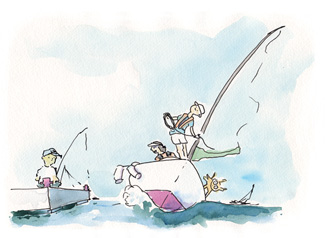 Illustration by Ted Walsh
Now sailboats get in on the action. Beneteau has introduced "Dock & Go," a system that combines an azimuthing (pivoting) saildrive with a bow thruster. The saildrive, for the uninitiated, is a streamlined drive system that couples an inboard engine with a through-hull unit that looks like the lower end of an outboard. Making this formerly fixed unit able to pivot through 180 degrees is what makes sideways work for a single-engine sailboat. So what's the downside? Just as the GPS chart plotter sent a lot of bozos to sea without the traditional piloting and navigation skills that they would need in the event that the black box went ka-flooey, a new generation of bozos will never know the fine skill of landing a single screw powerboat with a small rudder and no thruster. Will a $10,000 docking crash be a liability for the sail-drive maker whose gizmo didn't pivot because the boatyard didn't service it, or because water leaked on the black box? Or will the onus be on the owner who never learned how to dock a boat without electronically controlled aids? As could be expected, our wise but aging and somewhat confused resource on the Porch, Capt. Pete, has something to add. He suggests no one be allowed to purchase one of these electronic marvels until they can dock a single-screw powerboat using the emergency tiller and no reverse. All the better if one has to shout shift and throttle instructions to one's spouse at the inoperable wheel. Capt. Pete's second suggestion is to forbid the installation of such systems as "Dock & Go" until the manufacturers have dealt with the Y-axis also. Capt. Pete envisions "Brick & Bridge," which would levitate one's vessel over a rock and contract one's mast under a bridge. Thanks Cap, and have another rum.
Please pass the gin
In a rare change of heart, Capt. Pete has announced an amendment to his Rule of the Equinoxes, which you will remember calls for brown liquor only between the Autumnal and Vernal equinoxes. Having become quite fond of Maine's own Cold River Vodka during the white liquor months, the recent announcement that Cold River has added gin to its offerings sent the old captain back to his chart table to plot a modification to his code in order to provide significant time to assess the new beverage during the heretofore brown-liquor-only months. We are pleased to announce that the captain has added Cold River products to the exempt category of the Rule, which had until now only included rum, as it comes in both dark and light varieties and has profound historical implications for old sailors. We welcome Cold River to the special year-round category. Cold River seems to be quite a success story since its inception, garnering numerous awards and developing widespread distribution. As I write this, it is time to close down the Porch for another season, although we are well ahead of the process this year. My brother and his family were in residence in the run-up to Hurricane Earl and buttoned things up pretty well. We will spend one more weekend on the Porch plotting our defense against the Rodents of Winter and watching for the last few examples of dangling lines and un-stowed fenders. So beware. Feet up, binoculars at the ready.

Long-time
MBH&H
Contributing Editor, freelance writer, and raconteur Peter Bass is an owner of Maine Cottage Furniture.
Click here to read other articles by Peter Bass »
To submit your comments... newsy tidbits, photos, illustrations, clippings, rants, and raves for possible use in this column, use the form below. Or mail to "View From the Porch," P.O. Box 758, Camden, ME 04843 or fax to 207-236-0811. Items may be edited for length and clarity; materials become the property of Maine Boats, Homes & Harbors, Inc.
Share this article:
2023 Maine Boat & Home Show

Join Us for the Maine Boat & Home Show!
Art, Artisans, Food, Fun & Boats, Boats, Boats
August 11 - 13, 2023 | On the waterfront, Rockland, Maine
Click here to pre-order your tickets.
Show is produced by Maine Boats, Homes & Harbors magazine.