The Art of Flowers
By Carl Little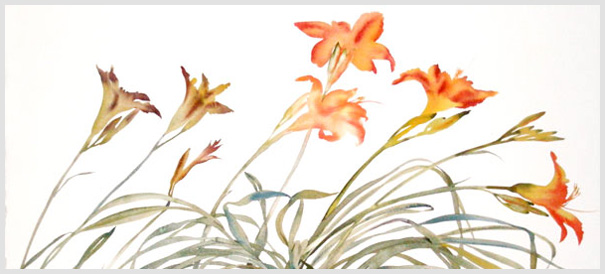 Daylillies
, watercolor, by artist Susan Headley Van Campen
Click on the images below for a gallery of each artist's work.
For a country of pointed and rather dark firs, for a region that spends eight months or so of each year in snow, ice and mud (and combinations thereof), Maine has been home to a number of outstanding painters of flowers. Perhaps it is just those landscape and weather elements that drive artists to turn to poppy and tulip, rose and lily, sunflower and hollyhock, seeking the light and joy of the blossom. To aficionados of floral art, two Maine painters immediately come to mind as masters: Carolyn Brady and Beverly Hallam. In her lifetime, photo-realist Brady (1937-2005) produced remarkable tabletop arrangements, many of them filled with the light and air of Vinalhaven where she summered for many decades. Hallam began painting flowers early in her career, but her large-scale airbrush still lifes painted at her studio in York in the 1980s stopped viewers in their tracks. (In recent years she has been creating bouquets using computer graphics.) Today the field of flower art in Maine is veritably abloom with worthy practitioners, yet only a handful of painters rise to that level that represents a passion made brilliant. The three artists featured here—Linda Funk from Rockland, Susan Headley Van Campen from Thomaston and Amy Pollien from Town Hill—are among the finest, turning watercolor, pencil and pastel to their bidding to capture the specimen bloom, the intimate array, in a manner enticing to the eye.
Linda Funk
traces her infatuation with the floral to growing up around gardens, both flower and vegetable. She remembers getting into trouble when she picked neighbors' posies (which she would give to her teachers), and the scent of violets and lilies-of-the-valley in her grandmother's yard haunts her to this day. A commission in 1981 from the journal
Wildlife in North Carolina
to illustrate, in color, an article about poisonous plants led Funk into the floral field. A largely self-taught artist, at the time she was working in black and white, but she purchased paints and colored pencils and started in. Since then, she has developed into a master botanical artist, winning major awards, exhibiting her work widely, illustrating books, and designing textiles. While she considers herself a part of a tradition of botanical art that dates back to ancient Egypt, over time Funk has pursued more contemporary forms of illustration. "I am committed," she states, "to satisfying the discerning eye of the botanist, as well as the untrained lover of flowering plants—depicting them accurately, but with flair and sensitivity."
plein air
painter, shifting, in her words, from "oil portraits to landscapes with cows." Gardening and flowers followed, as did Maine, where she moved in 1980. For Van Campen, watercolor is the perfect medium for rendering the color and comportment of flowers. "Watercolor lends itself to the delicate nuances of a petal or leaf," she notes. "With water, a brush and some pigment, the painting almost paints itself as I watch," she reports, quickly adding, "not really, but it feels that way after over thirty years!" Van Campen likens her painting process to a ceremony. Whatever catches her eye in the garden early in the morning is usually what she paints. She either sits on the ground to paint what is growing in front of her or she cuts the flowers and sets them up in her studio in one of many vases. "Arranging and rearranging can take quite awhile until I am happy with the composition," she explains.
Amy Pollien
, who studied at the Philadelphia College of Art, turned to flowers about ten years ago. She was, she recalls, "fond of citrus (like the Medici's), pastry and bread and objects, but not flowers. Flowers are hard." She grew to understand that they make the quintessential still life object, "fragile, infinitely variable in color and texture, and easily caught in all the stages of growth, from bud to desiccated seed pod." Pollien, who has lived on Mount Desert Island since 1994, chooses from a wide variety of flora, including the purple-spiked
liatris
(gay feather) and
Achillea filipendulina
(cloth of gold). With its many flowerets, the latter, a member of the yarrow family, proved immensely complicated, but fortunately for the artist it is "practically an everlasting." For the still life setups, Pollien uses objects familiar to her from daily life. The backdrop drapery is an apron, the vase, one that usually sits on the kitchen table. Her brown salt-glazed tea pot has a central role in several drawings and, she notes, "also makes a great pot of tea—and I've seen it in every possible combination of light and setting." She also frequently includes fruit, such as grapes, plumcots and strawberry apples. All three artists express a preference for flowers they have cultivated themselves, but they confess to purchasing them when necessary. They also eloquently address the fleeting nature of their subjects and the need to seize the moment—of a poppy blossom's splendor, of a fading spray of crab apple. "The flowering plant is a metaphor, easily observed, for the whole of life," Funk writes. "Everything is contained within the bud, which holds all the promise; but the glory of the open flower is beyond all anticipation."
Linda Funk on choice of subjects:
"When I choose a plant as a subject, I become educated regarding the meaning, use and any symbolism associated with that plant. But visual appeal is the major consideration in the initial choice of a subject for a fine art drawing of a plant. If, however, I am choosing a subject for textile design, or decorative painting, symbolism is indeed a consideration. Too, in the United States, there is a developing interest in the botanical art tradition and its contribution not only as a fine art form, but in its educational value, including its significance in raising ecological awareness."
Susan Headley Van Campen on the appeal of flowers:
"Flowers possess intense and very subtle color with everything in between. Plus their delicacy and fleeting life cycles. The motion and grace with which they bend and twist...even after being cut. Their smell. The way people react to flowers interests me. I like people who like flowers and any kind of gardening. I like watching how flowers die (the way they look and change) and then how they come alive again in the spring."
Amy Pollien on the process of painting flowers:
"I make sure I have a lot of them (replacement over time can be an issue). Then I do a charcoal drawing on the board and make a lot of color swatches with the pastels, switching out flowers as they fade. I like to be certain that I can actually make the drawing with the colors on hand. I don't physically mix the pigment. Visual mixing (through juxtaposition of distinct colors) can achieve a great deal, but there are colors I don't have and I don't like to set myself up for failure. I make a photographic record and then proceed with the finish drawing over the charcoal. I'm right-handed, so I work from top left to bottom right so as not to disturb the fragile surface of the pastels."
Linda Funk is represented by
Dowling Walsh Gallery
in Rockland and
Turtle Gallery
in Deer Isle; more of her work can be viewed at
www.lindafunkbotanicals.net
. She will have a solo show at Maine Coast Botanical Gardens in Boothbay, July 26-August 15, 2010. Susan Headley Van Campen most recently showed her still lifes at the Hirschl & Adler Gallery in New York City; Dowling Walsh represents her in Maine. She will be showing at the Midcoast Botanical Gardens August 23-Sept. 12, 2010. Her website is
www.vancampen.net
. Amy Pollien, also with Dowling Walsh, maintains a website and blogspot at
www.amypollien.com
. From February 4 through June 6, 2010, the Portland Museum of Art will present
Objects of Wonder: Four Centuries of Still Life from the Norton Museum of Art
, which includes a wide variety of floral paintings from the 17th century to today.

Share this article:
2023 Maine Boat & Home Show

Join Us for the Maine Boat & Home Show!
Art, Artisans, Food, Fun & Boats, Boats, Boats
August 11 - 13, 2023 | On the waterfront, Rockland, Maine
Click here to pre-order your tickets.
Show is produced by Maine Boats, Homes & Harbors magazine.