Gunkholing with Gizmo: Northern Islands Sweet Spot
Gunkholing with Gizmo: Northern Islands Sweet Spot
By Ben Ellison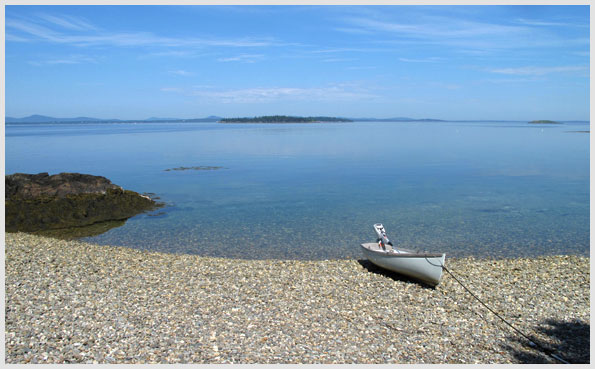 Great Spruce Island, with Islesboro in the distance. Photo by Ben Ellison
Click on image to expand.
Though settled for centuries and still enough of a community to have a mail boat, this cluster of islands doesn't seem to have a formal name. Given that it's just north of North Haven in north Penobscot Bay, let's go with the reference some locals use: the Northern Islands. An alternate might be Sweet Spot, as this location is protected enough from the open ocean that it once supported island farming and it still provides numerous peaceful, if open, anchorages in most summer weather. It's close enough to civilization that you can get there in a smallish vessel, but you won't feel that close. There are some mostly wild places to go ashore, and they illustrate the many types of public access that are evolving along the coast. Boaters are advised to follow all posted rules and generally observe a policy of leaving no trace of their visit. I'll start with Eagle Island (1), which is private, and has the feel more of a historical hamlet than a family island. The schoolhouse is now a museum, the "old post office" is one of several camps that are available for rent, and the same Quinn family that has owned many of the 263 acres since 1844 now runs the mail and passenger boat
Katherine
. Eagle's "main" road can be a wonderful walk back in time, but do check in with the Quinns before venturing ashore (207-701-9316, eagleislandrentals.com). Butter Island (2) was also once much busier, especially when an overnight steamer from Boston stopped regularly at the Dirigo Resort. Then it went fully wild and became a very popular spot with cruisers, windjammers, and hunters. This in turn became a problem when the Cabot family decided to build a home on the west end. These days, non-commercial boaters may still visit the east end, but the rules of use you'll find posted there are stringent. Please follow them faithfully so that our grandchildren will be able to enjoy the magnificent view from Montserrat Hill. The owners suggest membership in the Maine Island Trail Association (
www.mita.org
) as a good way to support public access. The Barred Islands (3) anchorage is the snuggest around, but getting ashore there used to be a conundrum. The northern Barreds are definitely off-limits as part of the Cabot estate, and the largest island (with dock) is for the owners' use only. It turns out that the uninhabited Barred Islands to the south (the Chain Links) and west (Little Barred) are protected by a conservation easement, and visitors may enjoy them "provided there are no fires; no camping; no pets above the shore and, no waste left behind." Signs are expected this coming summer. Note that there are two more Barred Islands about two miles northwest of this anchorage that are owned by the Maine Bureau of Public Lands (BPL) and part of the Maine Island Trail. Note also that there are many other Northern Islands that didn't make it onto the chartlet. The best news is that much of Great Spruce Head (4) is now a private nature preserve. The Porter family prefers that visitors check in at the compound on the east side. The rules—such as no fires—are simple but vitally important, and the trails are splendid but complex (handheld GPS recommended). Somehow I've failed to visit Bradbury and Crow islands (5) all these years. The former is protected by the Island Heritage Trust; the latter is a BPL-owned bird nesting area (closed April 1 to August 15).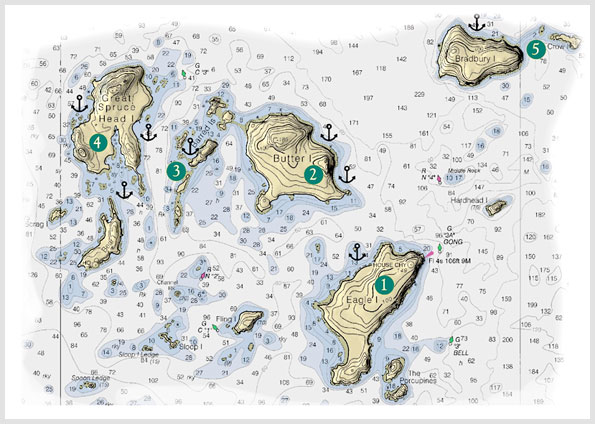 NOAA Chart 13313, 1:40,000 scale, relief by Memory Map
Click on image to expand.
Charlet Key: 1. Eagle Island 2. Butter Island 3. The Barred Islands 4. Great Spruce Head 5. Bradbury and Crow islands

E-mail Ben (
gizmo@panbo.com
) or leave him a note via the form below to tell him about restaurants, parks, and the like that he can visit aboard the M/V
Gizmo
.
Click here
to travel with Ben Ellison and
Gizmo
on other
coastal adventures
on the Maine coast.
Share this article:
2023 Maine Boat & Home Show

Join Us for the Maine Boat & Home Show!
Art, Artisans, Food, Fun & Boats, Boats, Boats
August 11 - 13, 2023 | On the waterfront, Rockland, Maine
Click here to pre-order your tickets.
Show is produced by Maine Boats, Homes & Harbors magazine.