A Quiet Exhibition
Visual arts must be seen to be appreciated, and finding a venue is the key
By Peter H. Spectre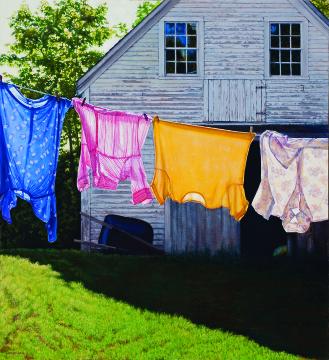 Early Monday Morning
, 30" x 27", 2010, oil on canvas by Christine Henehan. Henehan's paintings will be on display this summer at the Workshop Gallery in Spruce Head. Courtesy of Christine Henehan
If you are an artist, how do you show your art? Not being an artist myself, I never gave that much thought until one day I was visiting Christine Henehan, an artist who lives nearby in the summer, and idly asked the question. The answer? It's not easy. You can become affiliated with a commercial gallery, if they'll have you and you don't mind their taking a 40 to 50 percent cut of every sale. You can hire an agent, if you don't mind paying a commission almost as large. You can open your own gallery, if you have a large enough clientele to support the effort. You can throw open your studio, if people can find you. You can convince an institution to mount an exhibition, if they're receptive to your work. You can join the festival circuit, if you don't mind traveling long distances to become one of a mob of other artists suffering under the sweltering sun or the pouring rain. Henehan, who is from Canandaigua, in the Finger Lakes district of upstate New York, where she is well known and appreciated, has taken nearly all those routes at one time or another. (She currently has her own gallery in Canandaigua.) But she said that in the summer, in midcoast Maine, she would prefer more time to herself: more for art, less for promotion. What she would really like, she said, was a small, quiet space for a week or so each summer where she could exhibit her work and engage with visitors. Looking back, I don't know what got into me-though I don't regret for a minute that it did. I said with enthusiasm that my workshop would be the perfect venue. That is, if it weren't a workshop. Built by my son and me a few years ago, it is small, quiet, and being on a corner in the center of the village of Spruce Head, across from the Community Hall, it has excellent visibility. Hmm, I said, I suppose I could empty it out for an exhibition.... Henehan arched an eyebrow. And at that very moment I became the proprietor of an art gallery, if only for one week each summer. We decided this gallery, the Workshop Gallery as we came to call it, would be different. We would use it to mount an exhibition, intentionally using that word to indicate that it would be more to show work than to sell it, though sales would be welcome. There would be no commissions; exhibitors would only have to share the expense of promotion and refreshments for visitors. Also, we would be there all the time during the week to talk with visitors.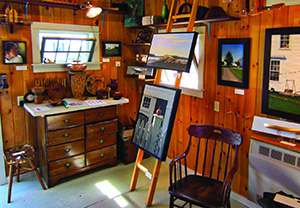 Blink and it's gone. The Workshop Gallery in Spruce Head opens for just one week every summer. Photo by Peter H. Spectre
I say "we," because while the principal reason for establishing the Workshop Gallery was to exhibit Christine Henehan's paintings, it seemed appropriate to balance them with three-dimensional works of art and a few items of what might be called artistic craft. We included wood turnings by Richard Kelly, weavings by Mary Kelly, and an eclectic collection of other works, including trompe-l'oeil furniture, and several books and prints. A long time ago an artist I knew told me that he spent only half his time creating art and had to spend the other half promoting it. Our experience with the Workshop Gallery bears this out. We painted signs and placed them at key road intersections on the St. George peninsula. We sent notices and reminders via email to those who we thought might be interested. We designed posters, had them printed, and posted them on bulletin boards and in the windows of businesses that would have them. (Our posters, I'm proud to say, were so popular that several were stolen.) We also wrote and sent out news releases. Considering that my workshop had to be disassembled for the duration, the artworks hung and arranged, and the workshop reassembled at the end, it was a considerable amount of work. How do you show your art? Yes, it's not easy, we can attest to that. But our exhibition in the workshop that became a gallery has been such a success that it is now an annual event.
Contributing Editor Peter H. Spectre lives in Spruce Head. The next annual exhibition at the Workshop Gallery is August 16-23, 2014, 10 a.m. to 5 p.m. located at 4 Patten Point Road, Spruce Head, Maine; on the corner, across the road from the Spruce Head Community Hall. For more information: workshopgallery@myfairpoint.net
Share this article:
Digital Edition Available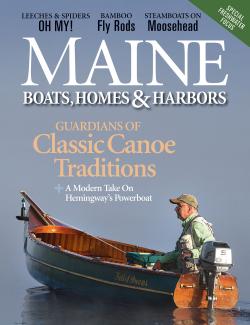 Can't get to the store to buy your magazine? We deliver the stories of Maine's coast right to your inbox. Sign up here for a digital edition.