University of Maine: 3Dirigo
World's largest 3D-printed boat
By Polly Saltonstall

A crowd of boatbuilders, students, federal and state officials were on hand when the University of Maine's Advanced Structures and Composites Center unveiled the world's largest 3D printer (on the left) and (center) the 25-foot, 5,000-lb. vessel it printed that set a record as the world's largest boat produced by 3D printing technology. Photo courtesy University of Maine
Maine is known for its custom boatyards, but when 3Dirigo was launched last fall it took boatbuilding to whole new level. The 25-foot, 5,000-pound vessel is the largest boat ever produced by a 3D thermoplastics printer, and it was produced by the University of Maine's Advanced Structures and Composites Center on the world's largest 3D printer in little more than 70 hours.
Just in case anyone might challenge those assertions, a Guinness World Records representative was on hand at the mid-October launching to present certificates for three world records: largest polymer 3D printer, largest 3D-printed boat (the previous record was held by a 40-pound rowboat) and largest solid 3D-printed item (the previous record-holder weighed 1,600 pounds).
After its unveiling before an audience that included boatbuilders, engineers, students, federal and state officials, and members of the U.S. military, 3Dirigo was installed in a pool in UMaine's Alfond W2 Ocean Engineering Laboratory where U.S. Senators Susan Collins and Angus King, U.S. Representative Jared Golden, and three others boarded it for a test ride. The offshore model testing facility is equipped with a high-performance wind machine in a multidirectional wave basin. While the group of officials stood at the vessel's console (all wearing lifejackets), the basin sent out waves that gently rocked the hull. It floated.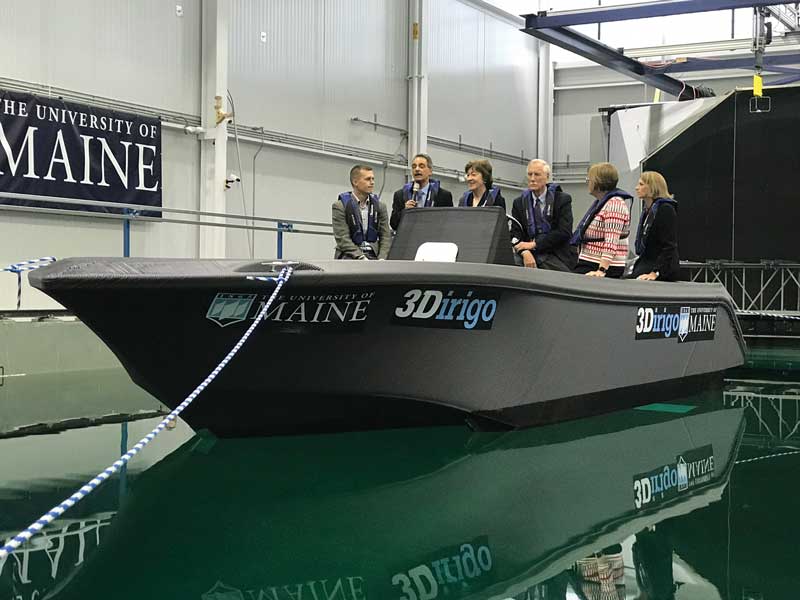 Named 3Dirigo, the boat produced by the university's new printer was based on the lines of a boat being built by Navatek at Front Street Shipyard in Belfast. On board for the float test in UM's wave simulation tank were, from the left, U.S. Rep. Jared Golden, the composite center's director Habib Dagher, U.S. Sens. Susan Collins and Angus King, UMaine President Joan Ferrini-Mundy, and Valri Lightner, from the Advanced Manufacturing Office at the Department of Energy. Photo by Polly Saltonstall
The 3D printing project puts Maine at the forefront of a rapidly evolving industry, and has the potential to make a ground-breaking difference not only for boatbuilders, but also for other
manufacturing sectors. The new printer, manufactured by Ingersoll Machine Tools, has the capacity to print objects 100 feet long, 20 feet wide and 10 feet tall; it's six times larger than the second largest 3D printer in use.
Habib Dagher, director of the composites center, said that the boat, which was based on a design from Navatek, was printed using carbon fiber-reinforced plastic to show what the new printer can do, but no one expects to see production boats emerging from 3D printers any time soon. The real potential for boatbuilding right now is to use 3D printing to make molds for hulls and parts more efficiently.
Navatek Deputy Director for Advance Planing Hull Forms Brian Barer said 3Dirigo was printed from specs for the hi-tech company's Seablade 25 model. While the company does not plan to sell 3D-printed boats like 3Dirigo, it does plan to have UMaine print the hull plug for the design, which will be fabricated this year at Front Street Shipyard from E-glass composites. (A plug is the first step in making a final mold.)
"We gave them (UMaine) this design because we had already planned on having them do tooling for us," Barer said. He noted that while 3Dirigo is not intended for offshore use, the production was an "incredible" feat. "What was illustrated here was building a 3D structure that was big, hollow, all in one piece, and it floated."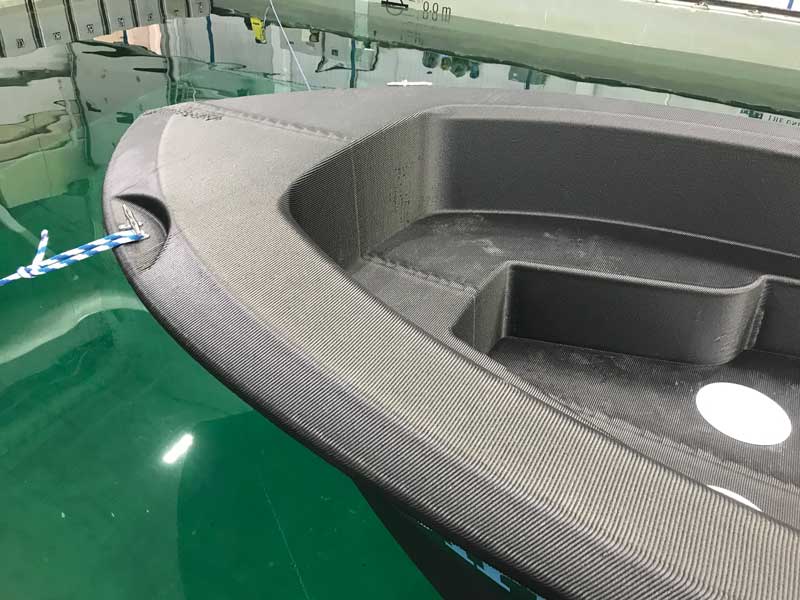 Unlike molds today, which usually are laboriously constructed in a two-step month-long process from fiberglass and wood, a 3D-printed mold made from thermoplastics and wood composites could be printed in just a few days. The 3D product can also be recycled, unlike  the traditional product, which must be disposed of in a landfill.
Dagher's lab has partnered with the U.S. Department of Energy's Oak Ridge National Laboratory in Tennessee to come up with ways to make 3D printing more useful in manufacturing, as well as find ways to use wood-based products in the process. UMaine also received a grant from the Maine Technology Institute to work with Maine boatbuilders exploring how large-scale 3D printing can be economical. On hand for the 3Dirigo launch were builders from Hodgdon Yachts, Sabre Yachts, Navatek, and Front Street Shipyard, which put a 150-hp Mercury engine on the 3D-printed boat, as well as basic seating and controls (all are for show since this boat will not actually be used).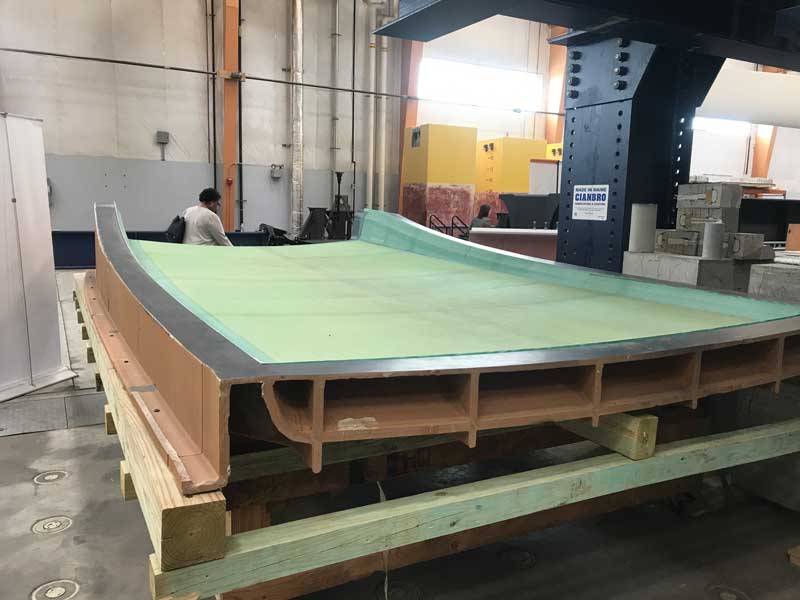 The best potential right now for the 3D printing process is making molds for boats and parts. Seen here is the mold for the roof of one of Hodgdon Yacht's limo tenders on the bottom with the roof part that it was used to create. Photos by Polly Saltonstall
Working from a computerized blueprint, a computer-controlled 3D printer makes three-dimensional objects by adding thin layers of liquid material over and over. Printing of the 3D boat began on a Thursday evening and was done by the same time the next Sunday evening, 72 hours in all, Dagher said.
A separate 3D printing project on display at the 3Dirigo unveiling was a mold for the roof of one of Hodgdon Yacht's limo tenders. Hodgdon already is using smaller parts produced by 3D printers, according to President Tim Hodgdon. The technology is a huge advance in terms of rapid delivery and construction of parts, he said. 
---
Polly Saltonstall is editor of this magazine.
3Dirigo / Seablade 25
These specifications are for Navatek's Seablade 25. The main difference from 3Dirigo is the weight, as the printed boat is about 400 lbs. heavier.
LOA:  25'
Beam:  8' 4"
Draft: 1' 7"
Displ.:  4,600 lbs.
Propulsion:  Twin outboards (500-hp total)
Cruising speed: 25 mph
Max speed:  40+ mph
Builder of Seablade 25:
Navatek LLC
Honolulu, HI & Portland, ME
Brian Barer (Portland) 207-749-1486
Printer of 3Dirigo:
UMaine's Advanced Structures and Composites Center
Watch the time-lapse video:
Share this article:
2023 Maine Boat & Home Show

Join Us for the Maine Boat & Home Show!
Art, Artisans, Food, Fun & Boats, Boats, Boats
August 11 - 13, 2023 | On the waterfront, Rockland, Maine
Click here to pre-order your tickets.
Show is produced by Maine Boats, Homes & Harbors magazine.