The Golden Mean
Finding the perfect lake boat
By Art Paine
One evening a couple of years back I was surprised by a phone call from a friend I used to sail with in Marblehead, Massachusetts. Forty years ago we'd been a hot racing team. Like me, she had long since moved to Maine. Still a keen sailor, she'd come across one of my boat reviews in this magazine and wanted some advice about a new boat.
"What sort of boat?" I asked. Her quick reply: "I live on Golden Pond."
It turned out that her search was not so much about the boat, as it was about finding the perfect boat for a specific place—she wanted a fast, comfortable boat for lake sailing. Over time we conspired to choose one boat, then another, until we settled on her present one, a Harbor 20.
During this time, I revisited the merits of boats across the small-sloop spectrum, ranging from the old Pearson Ensigns to the Hawk 20, an English-built sloop with a pivoting aluminum centerboard.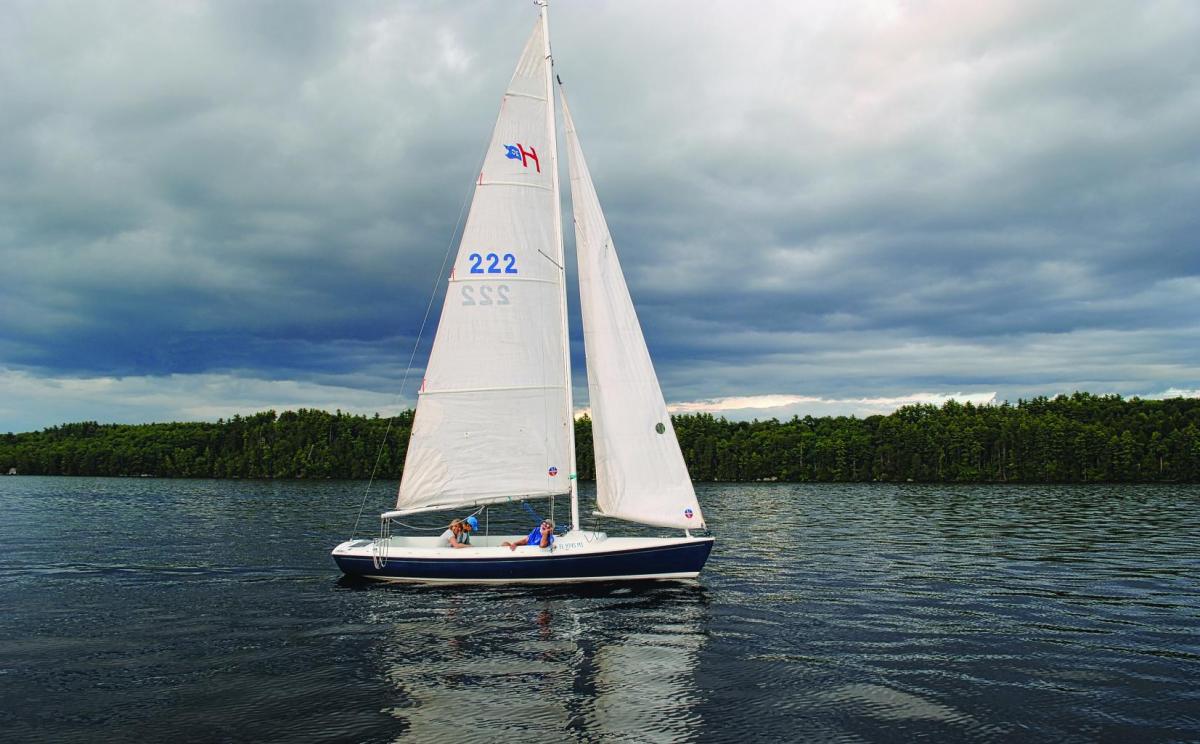 The author tests the large cockpit on his client's new Harbor 20 on Belgrade's Great Pond. The Harbor 20 is fast, comfortable and stable and a very good lake boat. Photo by Bob Donnell
Eventually we teamed up to race together again on her home lake, which is actually Great Pond in Belgrade. To clarify, the movie On Golden Pond, while filmed on Squam Lake in New Hampshire, was written by Ernest Thompson who spent his summers on Great Pond in Belgrade, hence my friend's nickname for the lake where she boats. My friend introduced me to the delights of a Maine lake in the summertime racing against the varied fleet of the Great Pond Yacht Club.
By now it may have become evident to the reader that this client was more the consultant, myself the initiate. She kept discovering great boats, old and new. The features my friend was looking for were speed, a huge cockpit so she could sail with friends, enough of a cabin for her husband to take a nap, and shallow draft, or at the least an ability to shrug off contact with a rock.  
In considering all this, I recognized the special assets of keel-centerboarders. I also awoke to the reason many lakeshore owners haul their boats out on a lift—a small stationary frame with a cradle that can raise the boat above water level. These lifts are particularly useful to protect boats from unpredictable lake weather.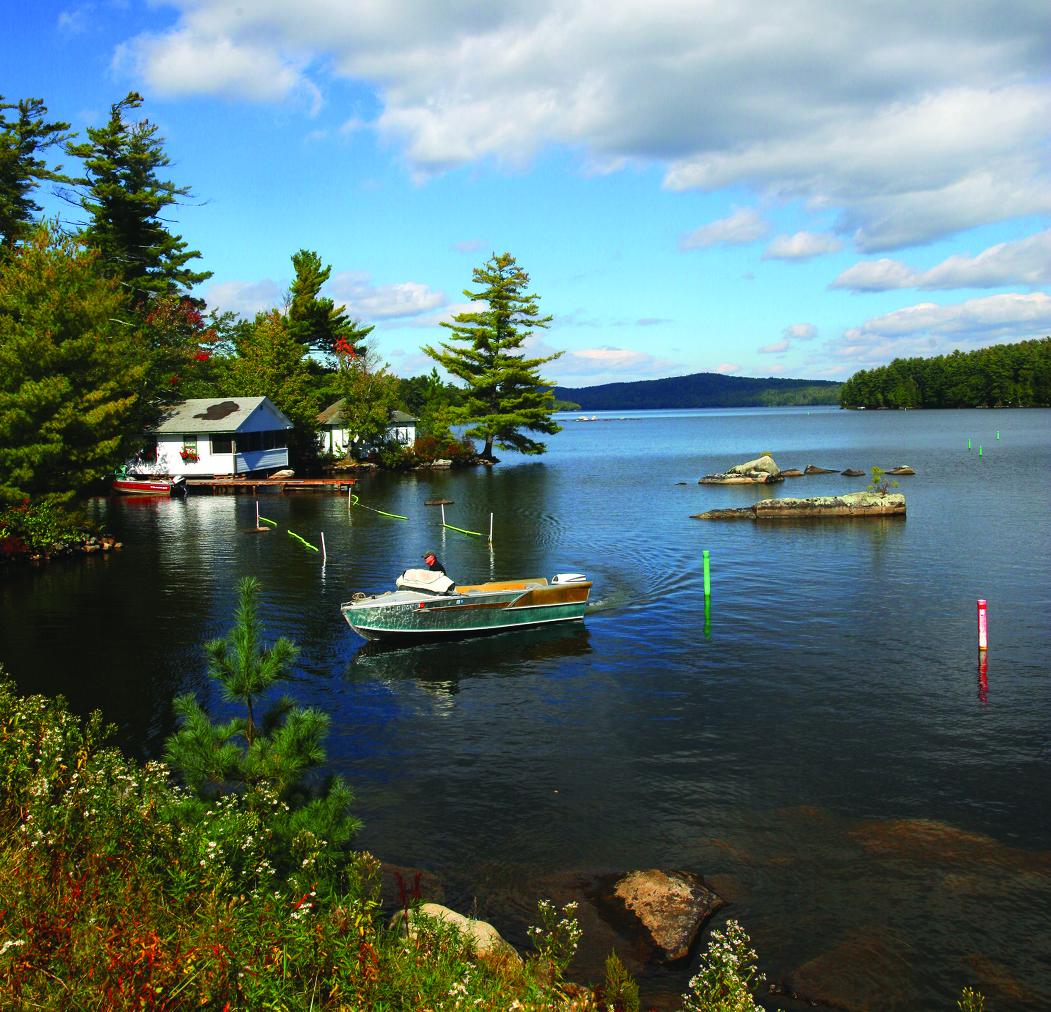 Most Maine lakes offer up a bumper crop of submerged rocks (here on Long Pond in Belgrade). Shallow draft and the ability to withstand rock strikes are key factors for a lake sailboat. Photo by Art Paine Most of the myriad Maine lakes and ponds across the central plain were scoured out during repeated ice ages. Glacial till created a series of natural spillways and dams, each catchment being part of a daisy chain of lakes and streams and ponds. None of our lakes are particularly deep, and most of them have their share of rocks, some buoyed, but in many cases simply there. Accurate charts are rare, although you can purchase "fishing maps" for most navigable waters.
Most of the time sailing on a Maine lake means limited waves, warm clean fresh water, and of course, a subliminal understanding that no matter how much you screw up you're unlikely to be swept off to Spain. Despite the fact that Great Pond in Belgrade is not a low-rent district, boat size is limited because the shore is never that far off and because of the constant blunt reality of rocks limits draft. 
One can discern what's best for a lake sailboat by following the lead of the members of the Great Pond Yacht Club. The club's yacht roster includes a great variety, with only two duplicates, two Lightnings and two Minuet Class keelboats. The Lightning draws four feet, is fairly roomy and very fast, with a metal centerboard that can survive most encounters with hidden glacial erratics. The Minuet is a small, very pretty keelboat design from Nova Scotia. It draws less than 3 feet overall, and also is likely to clear most shallows that are evident to the naked eye.  
Most of the other Great Pond Yacht Club boats are small centerboarders, pretty, athletic little speedsters that can capsize. Remember, though, that on Golden Pond capsizing midsummer is analogous to choosing to take a delightful swim. Even if, as can be the case with a Lightning, self-rescuing and sailing away is a chore, helpful powerboaters are often nearby. There are dozens of Sunfish, Sailfish, and Lasers stashed in the woods surrounding the lake, and for good reason. These boats are easy to sail, fun to capsize and re-right, and fairly immune to contact with subsurface topography. 
Finding a larger lake sailboat is a bit more of a challenge, though. The largest practical boat would top out at about 25 feet due to the limitations imposed by overall draft and the practicality of hauling up on a hoist. A boat that large oughtn't be capable of capsizing or swamping. Given a desire for upwind performance, which always involves draft, while at the same time providing immunity from a rock-strike, those hybrids called "keel-centerboarders" make great sense on a lake. They also enhance trailerability, for those who wish to visit the scores of gorgeous Maine lakes with launching ramps.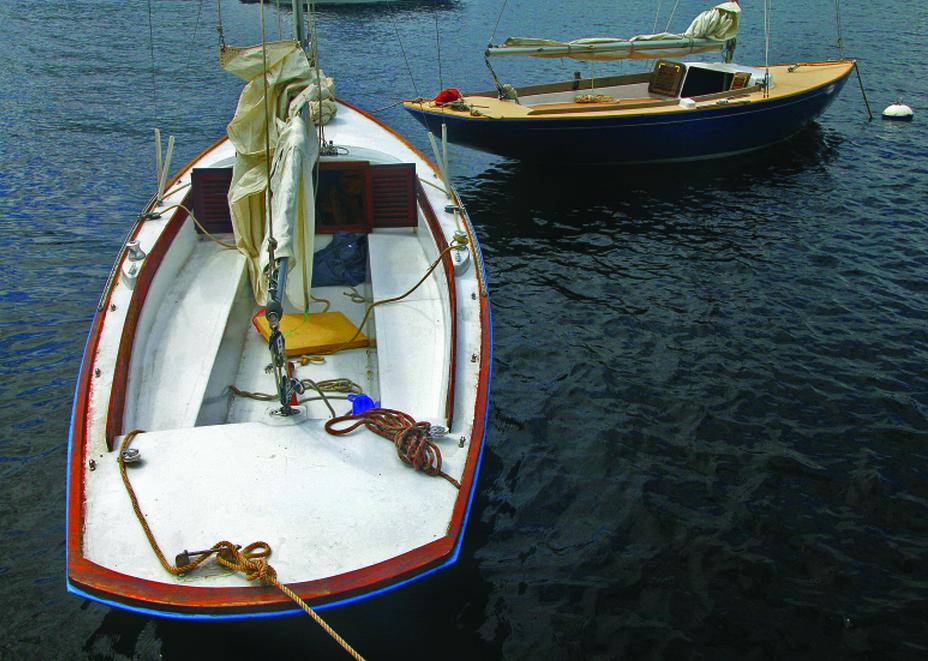 These two Minuet Class keelboats sail on Great Pond and draw less than 3 feet, a plus for lake sailing. Photo by Art Paine My friend has owned two sizes of the "Precision" brand of keel-centerboarder, an 18-footer and a 21-footer, both excellent modern Jim Taylor designs. They both worked nicely with her inshore boat lift, because with the board up these larger boats could easily venture into the shallows where her lift sits. There are not many small, uncapsizable keel centerboarders, which is how she came to investigate the Hawk design in England. It's a long trip to get a Hawk here, but that boat could be ideal for a Maine lake. And let's not forget the Norseboat, built in Rockland, which would be another fine and logical choice.
In the end, choosing a lake boat, or any boat for that matter, involves some amount of compromise. 
For now my friend has compromised on a fiberglass Harbor 20. Built by WD Schock Corporation in California, the Harbor 20 has a 900-pound torpedo-like bulb keel that provides stability. It sails superbly (my friend almost always finishes first in local races), the jib is self-tacking and rolls up, the cockpit is huge and comfy with room for eight people, and it has an electric auxiliary motor—a practical choice for a lake where battery-charging is easier. The downside is, well, down. The fixed keel draws 31⁄2 feet and is less forgiving than a centerboard.
My friend, still angling for perfection, is on the hunt for some latest-model forward-scanning bottom-sounder that will give adequate warning about rocks. Install that, and perhaps she'll have conspired to achieve the golden mean for Golden Pond.
---
Contributing Author Art Paine is a boat designer, fine artist, freelance writer, aesthete, and photographer who lives in Bernard, Maine.
Share this article:
2023 Maine Boat & Home Show

Join Us for the Maine Boat & Home Show!
Art, Artisans, Food, Fun & Boats, Boats, Boats
August 11 - 13, 2023 | On the waterfront, Rockland, Maine
Click here to pre-order your tickets.
Show is produced by Maine Boats, Homes & Harbors magazine.