View from the Porch - Issue 104
Issue 104
By Peter Bass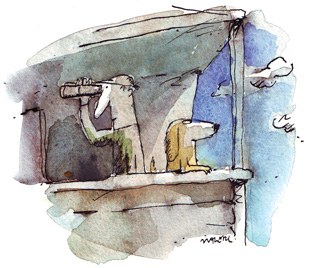 Illustration by Caroline Magerl.
The publication of this issue of
MBH&H
, the return of the Maine Boatbuilders Show, and the vernal equinox are the closest things to astrological events that boat nuts among us celebrate. The secondary pursuits we winter holdovers use as distractions—skiing, snowmobiling, ice fishing, or reading the "Boats of the Year" issue over and over—are cast aside at the first harbinger of our watery lust, our happy disease. For most of the last ten years of my dad's life, we marked the spring with an outing to the Maine Boatbuilders Show. That pilgrimage ceased when the stairs became too steep and the walk from the parking lot a little long for him. For us it was a ritual of long standing; we had been going to boat shows together for nearly 50 years, first with him as the guide, later with me. My mother always went to the shows when I was a child, probably to demonstrate to all of us that she was in fact the most knowledgeable about boats.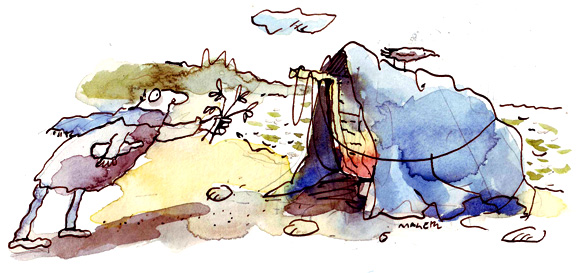 Illustration by Caroline Magerl.
Capt. Pete's commissioning tips
Every boating magazine has to feature spring commissioning tips to get its avid readers ready for the coming season. None of our other faithful correspondents have taken on this task for
Maine Boats, Homes & Harbors
, so that burden falls to this column. I visited with Capt. Pete, who, you may remember, kindly supplied us in a recent issue with his Rule of the Equinoxes to guide our seasonal liquor choices. Herewith, his insights regarding getting the boat ready for the season. 1. Approach your vessel warily; it has been out in the cold and may be grumpy from lack of attention. 2. Crawl under the cover, find what's left of last season's booze, and drink it all before starting less important tasks. 3. Check muffler, if there is one, for squirrels. Dash off a quick note to any in residence advising of impending engine start-up. 4. Check bank account for available funds. 5. Crawl out, refasten cover, come back in July. That's about it. Capt. Pete was unable to offer much else, busy as he was ensuring that he would have a little brown liquor left over at the vernal equinox.
Dancing over the waves
While we're in the spring commissioning mode, consider this new piece of boat equipment: the marine dance pole. We received a note from a PR company regarding the adaptation of the ever-popular dance pole for marine use. It seems that the company, Lil' Mynx (lilmynx.com), which produces a removable (as opposed to permanently installed) dance pole for home use, felt that there was an unfulfilled need for a seaworthy version, which mounts between a water-ski-towing or electronics arch and the deck. The home versions are billed as entertainment and exercise aids. I suppose that seeing one in use on a boat could in fact be very entertaining, although in Maine the principal use would be as a mosquito feeding station. My old Bristol 41.1 had a permanently mounted pole cleverly disguised as the conduit for the centerboard pennant, but I moved the pennant to another location, so there was no need for multi-tasking. I bet if I search high and low for the Lil' Mynx booth at the Maine Boatbuilders Show I won't find it.
Bucky Fuller goes down
From the Manchester (New Hampshire)
Union Leader
and
Mainebiz
, we learn of a new development in aquaculture that utilizes a geodesic dome-like cage for fish farming. Ocean Farm Technologies. (oceanfarmtech.com) of Searsmont, Maine, has a license to develop and manufacture the Aquapod™ sphere for deep-water fish farming. The sphere can be towed at up to 3 knots and positioned vertically, semi-submerged to facilitate maintenance and access, and fully submerged for protection from storms and traffic. The wire mesh fully encloses the sphere and provides better protection from predators than netting. Ease of movement and deep-water locations mitigate the spot pollution problems that have hampered large-scale fixed-pen operations. The spheres can be adapted to a wide range of species and conditions. The system is being tested by Great Bay Aqua-culture (greatbayaquaculture.com), of Portsmouth, New Hampshire. Great Bay currently produces fingerlings of four species for sale to fish farmers internationally. The mighty cod will rise again.
Fox Island wind
A theme we keep seeing in the Maine press is the interest in sustainable energy production. Ever since the Maine Yankee nuclear power plant closed, Maine's reliance on foreign oil for electricity has gone from around 30% to 70%. Setting the debate about nuclear power aside, Maine clearly has much to benefit from shifting to local alternatives. A Vinalhaven special town meeting has overwhelmingly approved changes to the guidelines for a wind power project by the electrical cooperative, allowing the project to move forward. The guidelines defined projects based on size and established setback, height, and view impact standards. The last item is always going to be qualitative and contentious; one viewer's definition of acceptable visual impact can be vastly different from another's. Let's hope that a project like this can avoid the battles faced in other places. There is a lot of information available from the Island Institute (
islandinstitute.org
) and their companion newspaper
The Working Waterfront
(
workingwaterfront.com
). They are great resources for the watchers of the Maine coast.
A reason to know the way to Vassalboro
Speaking of wind, a lot has been expended in the blogosphere about the following news tidbit from central Maine. In January, the Vassalboro Planning Board, observing that there was no ordinance guidance to the contrary, approved the application of one Donald Crabtree to open a donut shop featuring topless waitresses, which we take to mean sans clothes, not sans torso or simply balding. As one might imagine, the ruling drew a lot of opposition from many citizens. But, as the Waterville
Morning Sentine
observed, "Planners said they could not bar a business simply because of employees' uniforms, or lack thereof." Here on the porch we take no side in this debate, preferring to simply observe the rich tapestry of life in Maine. One recommendation I might make, however, is that any interested parties Google® the words "Vassalboro topless" and sample some of the news and the blogs that have weighed in on the subject. It seems to be a story with "legs" outside our little corner of the country.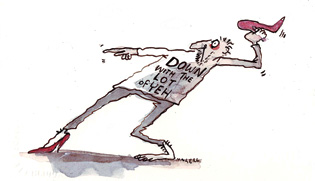 Illustration by Caroline Magerl.
Flying footwear
Cruise ship visits are not the only way to add vitality to Maine towns. The stars have recently aligned to present an opportunity to bring back shoe manufacturing. First, a little history. In the 1920s, G.H. Bass of Wilton, Maine (in the interests of full disclosure, I am a descendent), produced a shearling-lined flying boot worn by Charles Lindbergh on his epic flight. Until the last days of the Bush administration, this was the most famous pair of flying shoes of which I was aware. The reporter's shoes hurled at our ex-President have now supplanted that image in my mind and suggest that we might revive our nearly extinct footwear manufacturing industry in Maine by focusing on the aerodynamics of shoes in flight. I contacted some of my former colleagues in the trade to help identify the several features to consider when designing footwear for this new sport. Here are some design features under consideration by the best minds in the business: 1. Ideal throwing size. What size would provide the ideal balance of mass and low resistance at different ranges and velocities? 2. Color. Background colors of press rooms worldwide need to be studied to provide a selection of shades that would blend best into the ambient environment. Many world leaders keep themselves in good shape these days and are able to react quickly. 3. Aerodynamics. Bear in mind both the Bernoulli principle in estimating flight path and ground effect lift as the shoe passes over the podium. 4. Quick removal. How easy is the shoe to remove in a crowded room? 5. Impact damage. While difficult to throw, a stiletto heel could have serious effect upon impact. Collateral damage should be considered, however. As always we invite your suggestions.
Cruisin' in Rockland
Coastal towns in Maine often think longingly of happy throngs of passengers disembarking from cruise ships and wandering the picturesque downtowns and hopefully eating, drinking, and shopping at local enterprises. Hereabouts, such activity by large ships "from away" has been limited to Portland and Bar Harbor, although we recently learned from
Mainebiz
and
Village Soup
that Rockland is taking steps to get into the business also. The City Council resolved to request that U.S. Customs designate Rockland as an official Port of Entry, the first step of many steps in receiving foreign-flagged cruise ships. The next steps are more problematic: local investment is required for infrastructure, pollution mitigations, and pedestrian access, and to deal with the social consequences of hordes of visitors in a small area at certain times of day. Whether or not such traffic actually benefits a particular downtown is debated, on one side by those who feel that roving packs of cruisers disrupt more business than they provide; and on the other, by those who think ice cream, tee shirts and plastic lobsters represent economic growth. Most passengers dine and drink aboard, activities usually prepaid by the passenger. Studies have shown that locals often avoid areas and businesses during peak shoreside visits by roving packs of disembarked passengers. Unless locals check the ship schedules religiously, they are apt to avoid downtown at all times in fear that a ship might be in port. For example, go to St. Thomas when there are no cruise ships in port, and it can seem deserted. Notwithstanding the promotional fluff of cruise ship associations, actual economic benefit may not be worth the investment and disruption of frequent visits, and could damage the very charm of a city that brought visitors to begin with. "Maine" is a brand name and deserves the same careful defense and development that companies bring to their brands. Voters have repeatedly fought off casinos, with but one inconsistency, in large part because of a sense that they will damage the brand and that other development might have better long-term payback. Cruise ship opportunities should be examined in the same way. Many studies are available online for the interested citizen-researcher to access as the Rockland project moves along.
Over the bar
The boating press has published many extensive reflections on Tom Morris, founder of Morris Yachts, whose death we noted in the last issue. Those of us in and around the boat business over the years remember him with great affection and respect. A fine, fine guy. Andrew Wyeth, whose life and work is beyond my skill to describe, died in January in Pennsylvania. Most readers will have by now read comprehensive accounts by others better skilled than I in the art field. The Wyeth family's long connection to the Maine coast causes this loss to loom large in our relatively small world. One loss to downeast Maine that stirred memories for me was the death of former Ellsworth basketball coach and businessman Charlie Katsiaficas. His name was all over town (he had a successful real estate and insurance business) and, since 2006, also on the Ellsworth gym. My next-door neighbor in Northeast Harbor was the late, great Mount Desert Island coach, Bernie "Bunny" Paradis, who had lots of stories about Charlie Katsiaficas. (I'm sure that Charlie had lots of stories about Bernie, too.) My only contact with Mr. Katsiaficas was watching him officiate at high school games in the 1970s, which he did with great intensity and enthusiasm; various obituaries have noted that these were common elements in all aspects of his life.
So buy a boat already
As I write this, I have visions of hundreds, nay thousands, of satisfied readers wandering the
Maine Boatbuilders Show
, eyes downward into the revelations of this column, pausing but briefly to take in the splendor of teak and fiberglass before their attention is inexorably drawn back to the printed page. Well, a boy can dream. At the very least I hope to see a happy horde in Portland in mid-March, celebrating boats and Maine, the vernal equinox, and the coming of the first gin-and-tonic. If you're looking for me, I'll be upstairs with a chili dog in one hand and a beer in the other. That's where there's a great view of the harbor. Feet up, binoculars at the ready.

Long-time
MBH&H
Contributing Editor, freelance writer, and raconteur Peter Bass is an owner of Maine Cottage Furniture.
Click here to read other articles by Peter Bass >>
Submit your comments... newsy tidbits, photos, illustrations, clippings, rants, and raves for possible use the form below. Or mail to "View From the Porch," P.O. Box 758, Camden, ME 04843 or fax to 207-236-0811. Items may be edited for length and clarity; materials become the property of Maine Boats, Homes & Harbors, Inc.
Share this article:
2023 Maine Boat & Home Show

Join Us for the Maine Boat & Home Show!
Art, Artisans, Food, Fun & Boats, Boats, Boats
August 11 - 13, 2023 | On the waterfront, Rockland, Maine
Click here to pre-order your tickets.
Show is produced by Maine Boats, Homes & Harbors magazine.