Dancing Around
Tango catches fire in Maine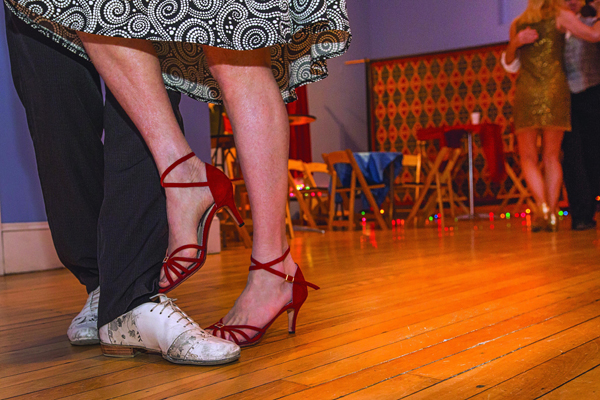 Dancers Donna Doughten and Dominic Tracey demonstrate a
parada
(musical stop) and show off the all-important tango shoes.
By Brooke Williams Photographs by J. Felice Boucher For one weekend in July, sultry tango music floats over the St. George River and through the streets of Thomaston. If you follow the sound to its source, you'll see couples pivoting and walking in unison on the front deck of an old sail loft—dapper men paired with women wearing high heels and brightly colored dresses—looking like exotic birds as they dance all day and into the night. This is Saltwater Tango, a three-day event that draws people from Montreal, New York, Los Angeles, even as far away as Thailand, to Thomaston every summer, giving the historic community a newfound notoriety as a place to tango. The people who come to this event will travel hundreds of miles for tango dances, which are called
milongas
. Many come from Portland, Maine, where a growing community of dancers meet weekly to tango.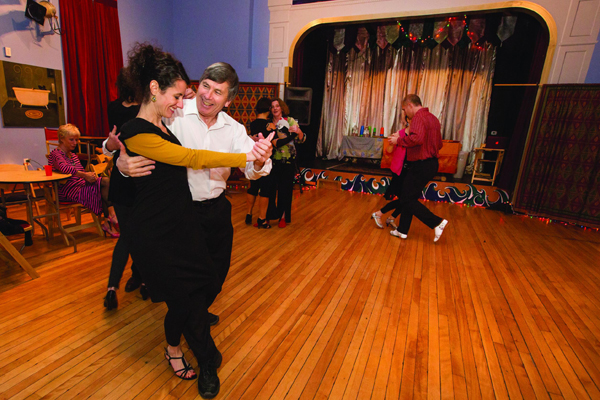 Dancers Celine Fournier and Gerald Hebert work on their
ganchos
(leg wrap moves in Argentine Tango).
A couples dance that dates back to the late 1800s in Argentina, tango requires the leader and follower to move as one responding to the staccato music and other dancers moving counter-clockwise around the dance floor. "Tango brings you into the moment," said Laura Balladur who attends Saltwater Tango annually, and is part of the Portland tango community. When you are dancing you have to be attuned to the music, your partner, and the other people around you, she explained. While tango is very intimate, "it's just a dance," said Balladur, who thinks that is part of its attraction. "We live in a world that gives the illusion of being together through social media. Coming together in dance communities is filling that void."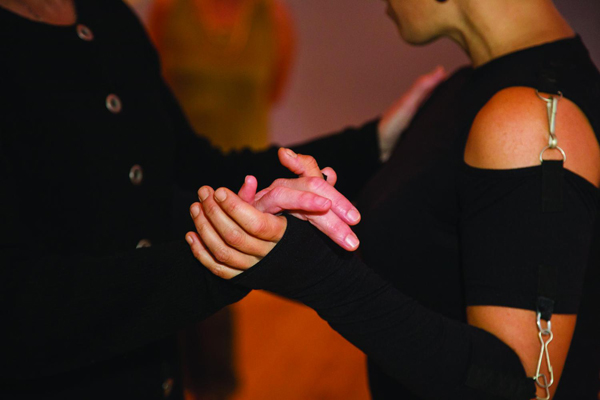 Argentine Tango teacher Emma Holder (right) and her partner dance a slow tango in an open embrace.
Started in 2008 by professional yacht captains Brian Doughty and Chris Biggart in Biggart's old waterfront sail loft, Saltwater Tango has become a revered event on the national tango circuit. Tickets sell out in a day, with as many as 80 people attending in some years. Last summer, Grammy-nominated bassist Pablo Aslan, who was born in Argentina and is known for his tango music, stopped by to give the live tango band some pointers. Biggart met Doughty 20 years ago while co-captaining a 60-foot sailboat on Vinalhaven. Doughty introduced Biggart to tango after discovering the Portland community. Neither sailor had a dance background, but both got hooked and started seeking out new ways and venues to improve their skills. "Tango is all about a community of people practicing an art form," said Doughty. His concept was to start a dance event that itself would become an art form. The open layout of the sail loft's former workspace with its 140-year-old floors creates an ideal dance space and lends an element of industrial charm.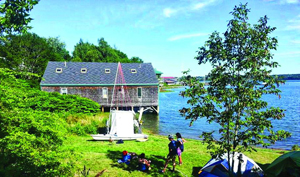 Photo by Mary Morgan. The tango experience in Thomaston includes camping and an outdoor shower rigged in a Laser.
The drama and passion often associated with tango are a Hollywood cliché, said Doughty. "Tango is like a pot luck," he said. "It attracts people who like community and the challenge of the dance." Once you start, tango becomes addictive, said Biggart, who drives to Portland regularly for Wednesday tango practicas at the Maine Ballroom Dance Studio and monthly
milongas
at Mayo Street Arts. Tango addicts will go a long way for a
milonga
. Emma Holder, who teaches tango, is a prime example. She stars in a television commercial for the Maine Turnpike's EZ Pass, talking about her love of tango that keeps her driving places on the turnpike. Holder even travels with her own plastic rollout dance floor. "It's the new version of the Deadhead," said Balladur. "Just switch the tie-dye shirt for high-heeled shoes." Shoes are a dancer's biggest indulgence. "It's all about the shoes," said Holder who, at last count, had 22 pairs of high-heeled tango shoes in every color displayed on a shelf in her office. Some of Holder's shoes were made by Northport resident Robin Tara. She started Tara Tango Shoes after a dancing trip to Buenos Aires left her feet so sore that she realized she needed more comfortable heels. Tara is now planning a retail shop and manufacturing facility in Camden, where she will make tango and other luxury women's footwear. Before Balladur committed to taking a new job in Maine as a lecturer at Bates College, she Googled "tango" and "Maine" and was relieved to learn there was weekly tango dancing in Portland. "OK, I can move there," she said. That was 10 years ago when Maine's tango community was just getting started. Today about 40 dancers regularly attend the Portland events. James Rohman, a database administrator at a credit card company, is one. He is happy to explain the basics to newcomers. Argentine tango is totally improvisational, he said. "There is no plan. Tango is a toolkit of moves that you can string together however the moment leads." You don't need a partner to go to tango events, and for those who have one, be prepared to change. Social codes dictate that a person dance three or four songs with one partner. When the music changes that means it's time to switch. Participants technically are not supposed to ask people to dance, rather they make eye contact or nod, a move known as
cabeceo
. For people just starting out, Holder and Balladur co-teach beginning classes through Portland Adult Education. "We both lead, and we both follow," said Holder. "That is how we teach so people can learn to experience both sides." You never know where the dance will take you, which is part of the allure, said Balladur. "Tango is like a story, you don't know where it is going, or where it will end." Brooke Williams lives in Thomaston. Her work has aired on
NPR
and has been published in the
Christian Science Monitor
,
The Washington Post
, and
The New York Times
. For more information about tango events in Maine, go to
www.porttango.com
.