Letters to the Editor 135
Issue 135
First word? Boat, of course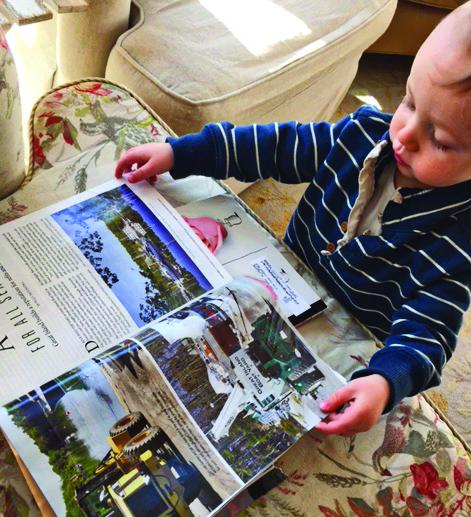 I wanted to let you know that because of the most recent issue of MBH&H, "boat" is one of my child Cedar's first 10 words. Cool, huh?!
Marie Malin
Rockport, ME
---
The talented McIntosh brothers
I've been a subscriber for many years and really enjoy your publication. In the last issue you mentioned Bud McIntosh, a great man indeed. He graduated from Harvard and decided to spend his life as a naval architect and boatbuilder.
There is another noteworthy McIntosh boatbuilder, his cousin Robert E. McIntosh, "Mac" to all his friends. I was his neighbor in Manchester, Connecticut, and grew up with his son, Bobby Jr. 
Mac built several boats and for years had a franchise on Oak Street in Manchester selling Dunphy Boats and, initially, Scott-Atwater then Johnson Motors. He could fix any outboard with a screwdriver and pair of pliers. He bought a bare hull of a Nova Scotia boat and installed a used diesel truck engine, shaft, etc., and built the entire superstructure by himself. An avid hunter, he had a deer camp on the Machias River downeast for many years. He motored his Nova Scotia hull down to Mystic, Connecticut, where we would catch fluke off Fisher's Island.
He had a huge moose head hanging in his boat shop that had been shot by his grandfather.
I fished with Mac for many years on the West Branch of the Penobscot, where we loved to pitch camp along the dead water.
Bud and Mac were both great teachers and left a great legacy.
Ken Bird, M.D.
Higganum, CT
---
Awesome fiddlers
I am writing to comment on the recent article (MBH&H April/May 2015) about Steve Muise and the Franklin County Fiddlers. The article and pictures captured the essence of Steve and his incredible gift of teaching and musicianship. Steve is a dear friend and colleague who is also a neighbor. He was my children's teacher and is a valued friend. His love of music is infectious, as is his perpetual smile. He tells his "kids" and audiences, "Don't be afraid to be AWESOME!" He lets them know that he believes they truly can be. Steve and his wife Debbie are a gift to the community and I am proud to call them friends.
Carla Miller
Farmington, ME
---
Taking care of the classics

A new Morris Annie, back in the day. I just bought a 1980 Morris Annie, designed by Chuck Paine and built by Morris Yachts. It is going through a thorough refit in the shop of Guy Polyblank of Englishman Marine in Rockland, Maine. He is one of many extremely talented craftsmen who either started out in Maine or found their way and stayed for many reasons, including the love of the sea and the beautiful things that can often be seen floating on top of it.
Since buying my boat, which will hail from Vinalhaven, I have learned of others built by Morris and other Maine yards that have recently exchanged hands and are also enjoying "facelifts" and mechanical upgrades that will keep these classics sailing for years to come. The work is being carried out by the bigger yards, as well as the smaller independent craftsmen and shipwrights like Guy Polyblank (Classic Boat Shop in Bernard comes to mind). Guy, by the way, singlehanded a small boat from England to Rockland some 21 years ago, and stayed on in Maine. Craftsmen like him are making sure the world-renowned classics that are from and of Maine will be around for a few more generations in better-than-new condition, instead of languishing in the back of some yard.
Chuck Paine himself has visited the shed a couple of times, happy knowing that his creations are still treasured. One fellow just purchased another Annie and had her trucked to Alabama where it, too, is being spruced up!
This letter is about the Guy Polyblanks of this world who have found a way to keep the beauty in this world's creations, obsessing over them as if they were their own, and the Chuck Paines of this world who imagined them and found a way to add such joy to the lives of others—those who are lucky enough to own them, as well as those who just read about them in your magazine. 
I love your magazine for celebrating these people and the lives they live.
John Wasielewski
Alexandria, VA