Small Adventures: Tenants Harbor
Timeless port of call
By Mimi Bigelow Steadman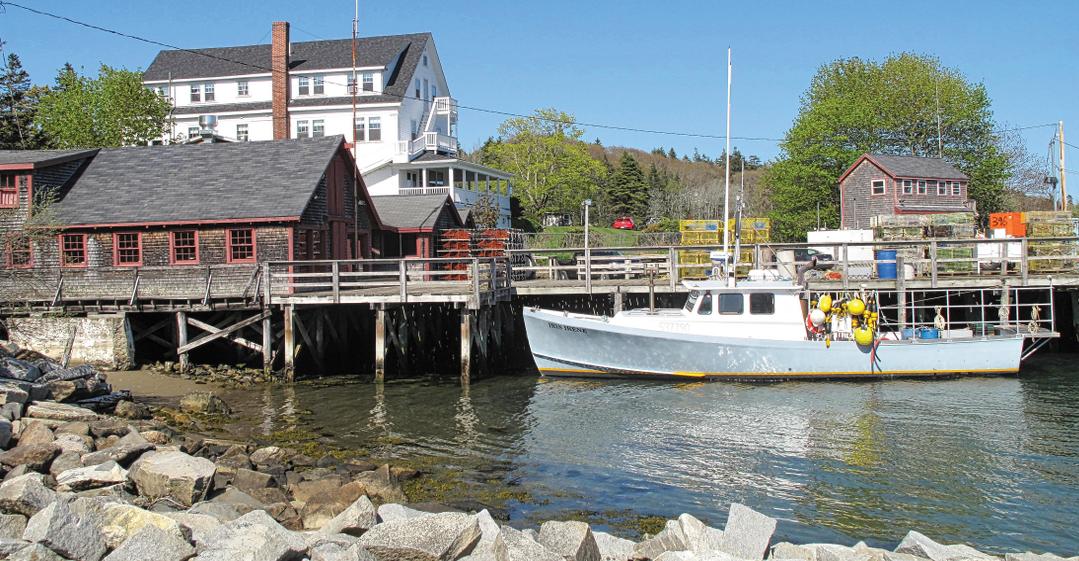 About 100 lobstermen work out of Tenants Harbor, offloading their catch on the docks. The big white building that houses the East Wind Inn was built in the 19th century as a sail loft. Tenants Harbor is notched into the southeastern edge of the St. George peninsula at the heart of the midcoast. A comfortable day's cruise from Camden or Boothbay Harbor, it's an appealing Saturday-night stopover for weekend sailors like us. Its perch near the intersection of Muscongus and Penobscot bays means it's also a convenient landfall for yacht-club fleets and vessels arriving from farther away.
"I think it's one of the nicer harbors," declared Dave Schmanska, harbormaster for the town of St. George, which encompasses both Tenants Harbor and Port Clyde. "It's well protected, except from the east. And you can look right out at Two Bush and the Muscle Ridge Channel."
A short walk up from the dock, creaky-floored Tenants Harbor General Store is stocked with fresh produce, live lobsters, and a good selection of staples. Schoolhouse Bakery is the place for pastries, pies, and sandwiches on just-baked bread. At the East Wind Inn, you can choose creative, upscale cuisine in a water-view dining room or pub fare in a downstairs tavern. (The inn also has 19 country-style guest rooms.) The Happy Clam serves seafood plus, unexpectedly, authentic German dishes. There's free Wi-Fi at the new library, and a scenic, marsh-side trail begins right behind it.
So with all that this snug, welcoming harbor has to offer, why are locals seeing fewer cruising yachts?
Fuel has been unavailable to pleasure craft since 2013, when Cod End, a local institution, closed its fish market, restaurant, and fuel dock (they do continue to offer moorings). 
"People call to make reservations," said Stuart Farnham of Tenants Harbor Boat Yard, "but when they learn there's no fuel, many go to Port Clyde instead."
Traditionally a lobstering harbor, Port Clyde is increasingly attracting cruising yachts. Schmanska theorizes this is due, at least in part, to promotional efforts by Linda Bean, who owns the Port Clyde General Store (which sells fuel). Schmanska also thinks pleasure boats are being lured away by the burgeoning marine facilities, restaurants, and shops in Rockland.
Yet for me, timeless Tenants Harbor remains a perfect port of call. It's quieter than Port Clyde or Rockland, and more protected. If need be, we can top up the tanks somewhere else before or after our visit.
Harbormaster Schmanska is usually available to guide yachts to rental moorings (there are at least 30, maintained by Tenants Harbor Boat Yard, Cod End,  and East Wind Inn). He tells those who prefer to anchor about the good holding ground just around the corner in Long Cove. "Keep the nun at its entrance close to your starboard side," he advised us.
High Island rises just inside the cove. Schmanska might mention the pocket beach on its northern side where you can tie your dinghy and explore the cross-island trail (Maine Coast Heritage Trust is raising funds to purchase the island; visit mcht.org to contribute). Long Cove offers good gunkholing, too. "Between half tide and high water, you can take your inflatable or kayak all the way into Jones Brook," Schmanska noted. "There's lots of wildlife, including eagles."
Cruising families might want to check out the St. George Sailing Foundation (stgeorgesail.org), which runs half-day sailing classes for kids in July and August. Full sessions last two weeks, but it's possible to enroll for one week. 
While your offspring are away learning to love boating even more, you could enjoy a shower at Tenants Harbor Boat Yard without depleting your water tank.
"Showers are $3 each, or two for $5," Farnham told me. Then he added with a chuckle, "You don't have to shower together to get that rate." 
But with the kids off sailing, you could if you wanted to.   
---
Mimi Bigelow Steadman lives on the Damariscotta River in Edgecomb.
Share this article:
2023 Maine Boat & Home Show

Join Us for the Maine Boat & Home Show!
Art, Artisans, Food, Fun & Boats, Boats, Boats
August 11 - 13, 2023 | On the waterfront, Rockland, Maine
Click here to pre-order your tickets.
Show is produced by Maine Boats, Homes & Harbors magazine.